In early December, Tencent became the second-largest shareholder of hyaluronic acid (HA) giant Freda Biotech. The biotech leader increased its shares publicly by introducing strategic investors. After a subscription of 315-million-yuan shares, Guangxi Tencent Venture Capital, a wholly-owned subsidiary of Tencent, make its shareholding ratio reach 8.04%.
HA is a sugar molecule naturally present in the skin, which helps to bind water and collagen, making the skin look plumper, fresher, and more hydrated.
Freda Biotech is the first domestic cosmetic technology company focusing on HA and polyglutamic acid. Its business includes research, production, brand marketing, and ODM/OEM of skincare products.
Bloomage Biotech, another well-known HA manufacture in China, correlated deeply with Freda Biotech.
In 2001, Bloomage International Investments Group invested in "Shandong Freda Biopharm," which altered its name into "Bloomage Freda Biopharm" in 2012. The honeymoon between the two did not last long. In 2018, after a series of alterations in shareholding, the company renamed itself "Freda Biotech," while "Bloomage Biotech" became an indie company.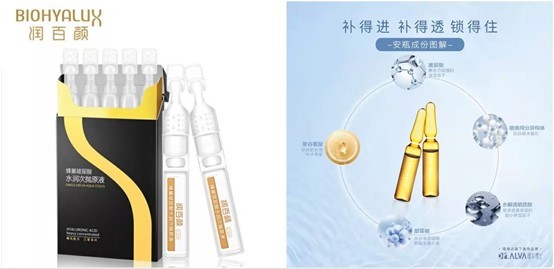 The two giants now do not associate in shareholding, but their strategies, concepts, and product lines remain similar, making each other the most significant competitor. For instance, Freda Biotech owns HA skincare brands RELLET(颐莲), Dr.Alva(瑷尔博士), while Bloomage Biotech owns BIOHYALUX(润百颜), QuadHA(夸迪).
According to Statistics, in 2020, the market size of hyaluronic acid for medical aesthetics amounted to 5.1 billion yuan in China, and it was projected to expand to more than double within the next four years.
Along with China's booming medical aesthetics industry, biotech companies like Freda and Bloomage have made more public presence. Components of skincare products have become a significant element in some Chinese consumers' decision-making. They buy skincare products based on skin problems, defining certain ingredients as the problem-solver.
Among the practical component crazes, "HA craze" is the most well-known one, as you can find it in many other products besides skincare. Freda owns HA eyewash care brand "Newborn Loveye" (心生爱目); Bloomage added HA in bottled water and branded it as "WHATER" (水肌泉)(water+HA), and its alcohol drink brand "by. Mr. Calm" (休想角落) contains HA and "emotion vitamin" GABA.
Look beyond biotech companies; there are a bunch of e-commerce sellers who have widely used HA as a tag in product names, including condoms, shampoo, underwear. The point is to make products persuasive. Tencent's bet on biotech implies its faith in the practical component craze in China. The HA craze might end soon, but the craze on other components still goes on.