After releasing its first "Dunhuang" style NFT in June, Alibaba continues to increase its presence in the NFT space. The Chinese e-commerce giant has released 50 mooncake NFT on its e-commerce platform Taobao ahead of the Mid-Autumn Festival.
Detail:
Issued on Ant Chain, a consortium blockchain operated by its affiliate Ant Group, Alibaba sold out all 50 copies of the limited NFT through lucky lotteries over the past weekend. Winners in the lotteries can buy a copy of the NFT at CNY1 (USD0.15), and they can view their NFTs on Alipay's mini-program Fensili.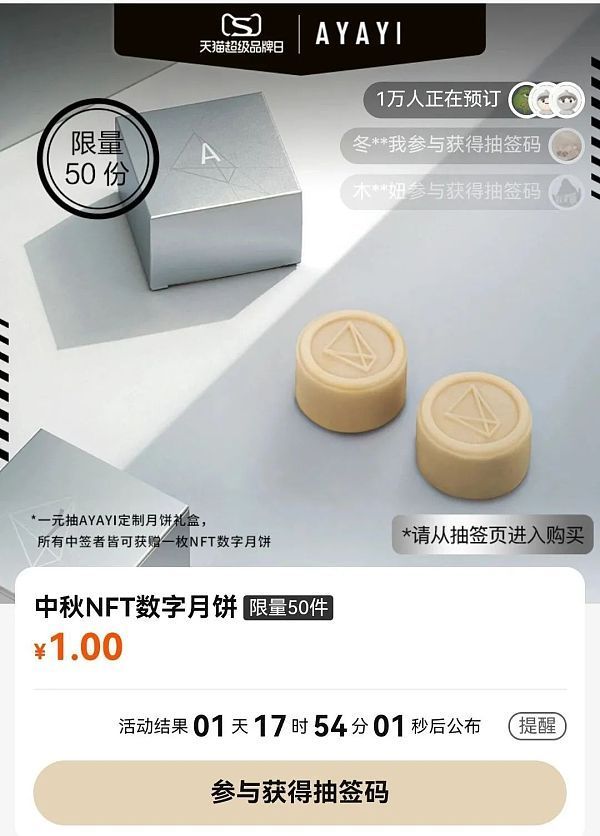 Mid-Autumn Festival is a traditional festival widely celebrated in East Asia and Southeast Asia to celebrate the fall harvest. Eating mooncakes is part of the tradition in Chinese culture while appreciating and watching the moon.
The latest sales followed Alipay sold 8,000 limited-edition NFTs based on two pieces of artwork to commemorate ancient art from the Dunhuang Caves.
Chinese social network and gaming giant Tencent has also entered into the NFT sector after launched its NFT trading platform named Huanhe that built on its Zhixin chain. The debut sale on the platform featured 300 audio NFTs created based on the well-known Chinese celebrity talk show Shisanyao.