Popular Chinese blind box brand Pop Mart made its first step to expand into Europe with its first store in the UK.
Located at Shaftesbury Avenue, central London, the Chinese art toymaker will start selling lovely toy series such as Molly, Dimoo, Pucky to British consumers from January 20. In order to reach a vast fan base and pre-market its first UK store, Pop Mart had already participated in MCM London Comic Con and DesignerCon UK last year.
Pop Mart may not yet be well-known in Europe, but it dominates China's booming art toy market, estimated to reach 76.3 billion RMB ($12 billion) in 2024. As of September 30, 2021, Pop Mart operates 187 brick motor stores and 1,351 robotics stores in 77 cities across mainland China. It holds 85 intellectual properties (IPs), of which 67% are self-designed, and the remaining are co-designed toys.
Dimmo, previously the company's second-largest revenue generator, surpassed duck-mouthed goggle-eyed girl "Molly" to become Pop Mart's most popular release that racked up 205 million RMB ($32.3 million) in sales last year.
Popmart has already partnered with global brand names to bring top-quality IPs to China's large and growing fashionable toy collection community. In November, Popmart partnered with the US-based global licensing agency Artestar to release the MEGA Collection 1000% Space Molly x Keith Haring art toy, bringing together the art style of Keith Haring with Space Molly character.
Space Molly is a series of the Mega collection of Pop Mart that aims for high-end markets. At 70cm in height, Space Molly is an extra-large-sized version of regular-sized Molly in an astronaut suit. With a price range between 4,999 and 8,999 RMB ($788-1419), it is at least eighty times more expensive than a standard Molly sealed in Pop Mart's blind box.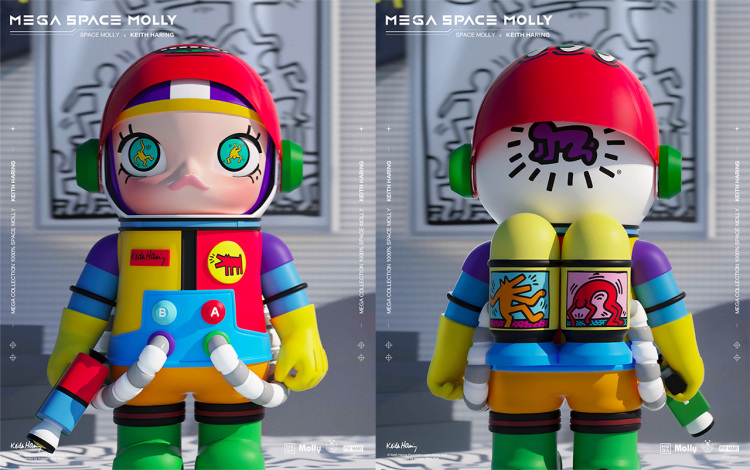 Pop Mart has not yet released its financial figure for 2021, but Pop Mart's recent financial results announcement detailed that it booked a year-over-year growth of 75%-80% for the third quarter ending September 2021. According to its half-year financial reports, the company registered total revenue of 1.77 billion RMB ($279 million) for the first half of 2021, jumping 116.8% year-over-year.
International sales make up a small percentage of Pop Mart's overall sales thus far because the company's overseas expansion just started. The toymaker commenced its first overseas store in South Korea in September 2020.
In its latest earnings call with investors, Pop Mart said it would significantly increase its overseas expansion in 2022, planning to open 30+ brick-and-mortar and 100+ robotic stores in the upcoming months.
"Our plans to open more store in South East Asia, North America, Europe were delayed due to Covid-19. Asia contributed 80% of the total overseas sales last year. We expect this number going down to 60% this year with more stores opening in other regions in the upcoming months, "the company said.
Starting in 2010, Pop Mart sold a wide variety of products like a grocery store, and its main focus was on cosmetic products at the initial stage, soon finding it difficult to break even. To maintain profitability, it gradually removed various types of products from its category and focused on selling toys starting from 2014.
Pop Mart's founder Wang Ning got the business idea of selling toys in blind boxes from gachapon, which means vending machine in Japanese. As the name suggests, you don't know what you are buying until opening the box; all you know is the art toy series behind the box.
What is the selling point?
The surprise element is a key attraction for shoppers who buy the toys online or from Pop Mart's local stores or vending machines.
But beyond that, owning a popular art toy offers a form of social currency. Owning a limited edition or high-end toys such as the Mega Collection gives collectors of the art toys value in the social status and acceptance from the community, especially among Gen Z.
Browsing through Chinese microblogging site Weibo, you can come across thousands of accounts with Dimoo, Molly, or other art toy series — from images of Molly's limited editions to short clips of Space Molly Mega Collection — all using their collections to show off online.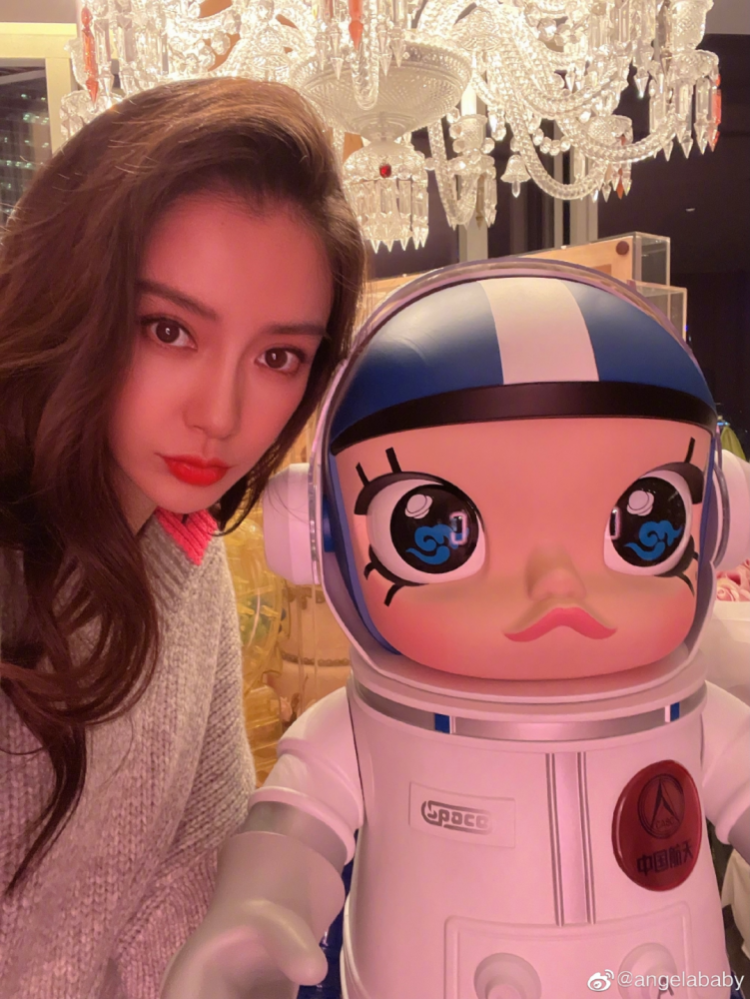 "Owning a respected art toy and posting it online can have reputations like recognition, respect ,and status within the collection community," a collector explained in a post on Weibo.
Contributing to the popularity of the art toys is also the fact that art toys, especially limited editions or the Mega Collections, can be bought, sold, and resold on secondary markets, presenting an investment vehicle for consumers, similar to buying a piece of art, which can appreciate value over time.
On Alibaba's second-hand online marketplace Xianyu, the price of the Mega collection 400% Molly shot up from its starting price of 899 to 18,000 RMB. Some buyers of the Mega collection 1000% are reportedly resold collection for as high as 30,000 RMB ($47,310) on Xianyu. In comparison, the MRSP of the same model is just 4,999 RMB.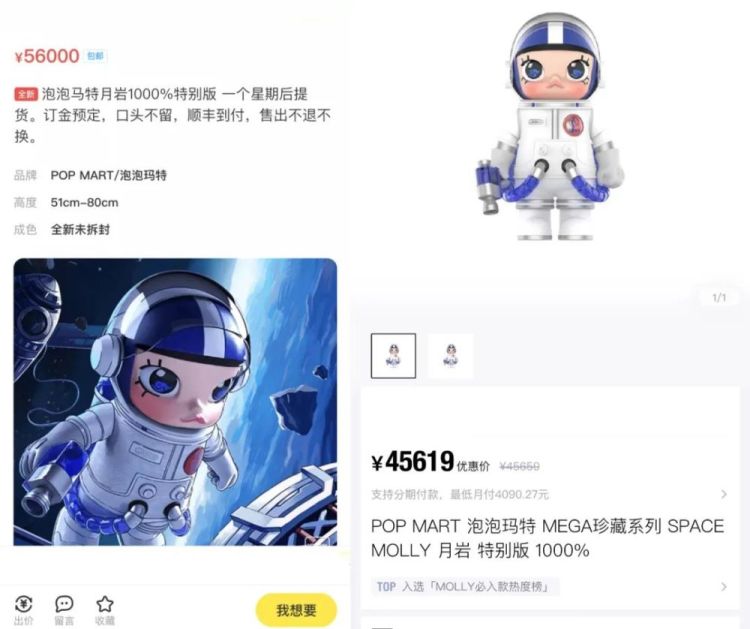 However, Pop Mart came under fire last week after scalpers hype up the price of its limited-edition collections. China Consumer Associate criticized that the collection mania in Pop Mart x KFT limited art toy has resulted in customers' irrational buying and food waste.
In order to celebrate the 35th anniversary of its first restaurant in China, KFC has partnered with Pop Mart to release seven special editions of Pop Mart's popular Dimoo dolls. However, obtaining a complete series required customers to purchase at least seven meals, but there is a very low percentage-roughly 1-72 chance of getting the rarest one in the series.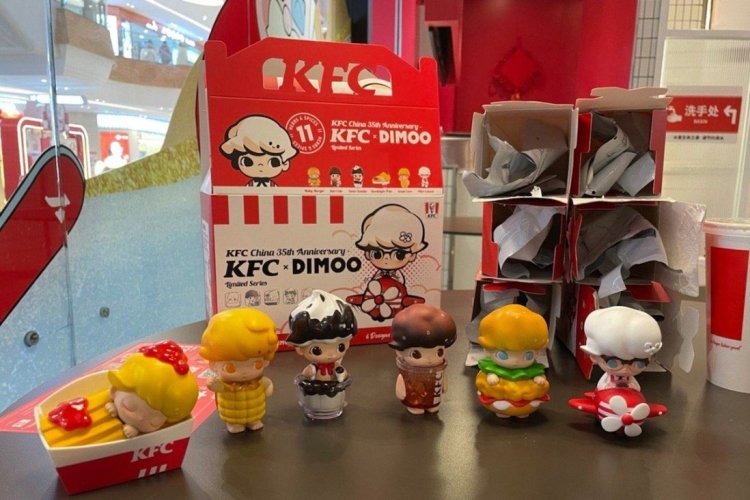 According to statics issued by China Consumer Associate, a consumer needs to spend 10,494RMB ($1,650) on 106 meals to collect the entire series. The association points out that such a marketing strategy is dangerous because it encourages wastefulness. Specifically, scalpers who hoard unnecessary meals to complete the series or get the desired model are under criticism. Some critics also worried that some buyers only want to resell the rare ones on online marketplaces. Some collectors also revealed that some scalpers bought the toys behind the scenes from KFC employees before hitting the market.
Previously, China's state media Xinhua News Agency also wrote that Pop Mart's blind box could bring overspending and gambling issues.