China's Winter Olympics is set to be held from February 4 to February 20. The much-anticipated winter event will not only be an exhilarating sporting event but will also be a showcase of how advanced technology impacts people's lives in China. The Beijing 2022 Winter Olympics will be the first "Cloud Olympics" in history, with core systems fully operated on cloud, according to Beijing Winter Olympics Organizing Committee.
Historically, to prepare for and manage an Olympics, the Olympics Organizing Committee needs to build computing units and IT offices and dismantle them after the event, not only prolonging the preparation process but also creating a waste of resources.
The core IT system of the Beijing Winter Olympics is 100% running on Alibaba Cloud, which is a solid preparation for the upcoming Winter Olympics, according to Yu Hong, director of the technical department of the Beijing Winter Olympics Organizing Committee.
The Beijing Winter Olympics has completed the "historical migration project," migrating core operating systems such as event results, event broadcast, information release, athlete arrival and departure, medical, accommodation, and transportation to Alibaba cloud.
As one of the important initiatives of hosting a Green Winter Olympics, cloud computing is 100% free of mechanical cooling. Instead, the cloud data center uses natural air cooling, submerged liquid cooling, and intelligent temperature regulation, and reducing over 70% thermal energy consumption.
"Go green" is an important theme in the upcoming Winter Olympics. According to Yu, all venues and sporting sites of the Olympics will be using green power, and 85% of the transportation vehicles will be powered by sustainable energy. Even the torch will be hydrogen-fueled and adopts a self-developed depressurization system.
In addition to cloud computing, the Beijing 2022 Winter Olympics also embraces cutting-edge technology such as AI virtual humans. CCTV has collaborated with Baidu AI Cloud to create an AI sign language virtual host, with short hair, lifelike facial features, and a full vocabulary of the Chinese sign language.
According to national surveys of people with disabilities, there are over 27.8 million hearing-impaired people in China. The virtual host will be able to sign standard sign language according to China's National General Sign Language Dictionary and provide commentary for hearing-impaired viewers during sports games.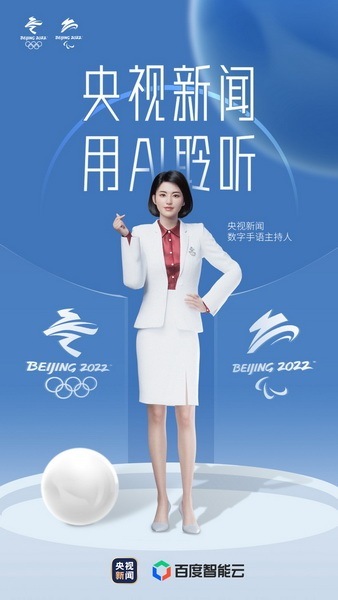 Baidu AI Cloud uses artificial intelligence technologies such as speech recognition and natural language processing to build a complex and accurate sign language translation engine, which realizes the translation from text and audio/video content to sign language; then through the natural action engine optimized for sign language, it carries out virtual image driving and renders sign language into digital human expressions and actions in real-time.
The Beijing 2022 Winter Olympics will not only be using advanced technology to benefit the audience and viewers, but it will also make the Olympic experience more convenient for athletes and foreign visitors.
Bank of China has designed and deployed a special type of ATM machine, designated for the Winter Olympics. The ATM machine can direct exchange foreign currency to Digital RMB. The machine currently supports the exchange of RMB and 18 types of foreign currencies.
Users can insert banknotes into the machine, confirm the amount and exchange rate, then get a physical card from the ATM. The card will not be a debit card or credit card, but a physical digital RMB wallet, with an ink screen that displays real-time transaction amounts and balances.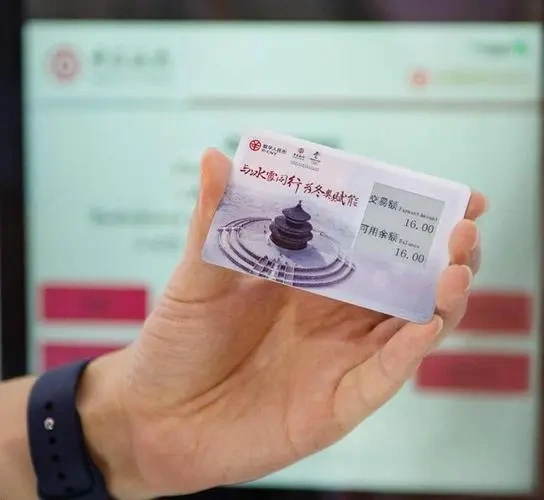 In addition, in order to ensure the upcoming Olympics will be a safe and COVID-free one, organizers are using advanced technology to protect athletes, audience and everyone involved in the game. Disinfecting robots and patrolling robots will be deployed, saving man power and safeguarding the facilities.
Zhu Jianhong, deputy director of Beijing Science and Technology Commission, said that the power of science and technology effectively supported the epidemic prevention work of the Winter Olympic. "We orderly promote the practical application of many key technical achievements in the key aspects of epidemic prevention such as personnel entry, environmental disinfection, detection of pathogens in the environment, and monitoring of personnel body temperature, to fully guarantee the epidemic prevention and safety of all organizers, participants and spectators. "