Despite the fact that Alibaba's marketplace Taobao, as well as short video platforms Douyin and Kuaishou, have dominated China's overcrowded live commerce sector, Tencent still expects to count on WeChat Channels to give it a try.
Officially launched in early 2020, WeChat Channels has always relied on WeChat, which holds over 100 million daily active users (DAU), to draw traffic, but its performance hasn't made any headlines. It wasn't until Westlife's live concert on the platform on December 17th that more people became aware of the presence of WeChat Channels.
On that day, the legendary Irish pop band has brought nearly 28 million views and an astonishing 160 million likes, in the meantime, reposts about the livestreaming flooded into many users' WeChat moment pages.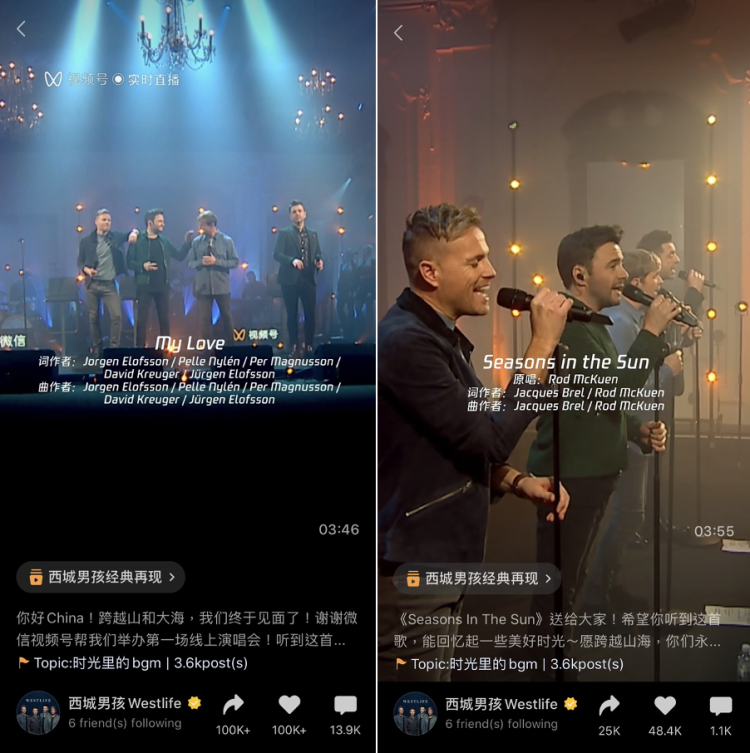 This kind of sensation is likely to catch the attention of the public in a short period of time and boost the growth of the user base, but the user retention rate may not be optimistic. In the Spring Festival of 2021, Jay Chou, the musician with unparalleled fame in the Chinese community, host a live concert on Kuaishou, sending the platform's DAU almost to its record high. But it didn't last long, and the DAU of the platform entered a downward trend afterwards.
It's even more challenging for WeChat Channels to avoid the similar dilemma faced by Kuaishou, since the less-than-two-year-old product is far inferior to its major rivals in terms of content richness, and the stagnant growth of Chinese Internet users will make acquiring new users more difficult.
Nonetheless, the live concert's bonanza has given Tencent hope, as it has been testing the waters in the sector of livestreaming and short video but failed to stir up any splashes before. Prior to this, the giant has launched multiple short video products, including Weishi, Yintu (音兔), Sukan Video (速看视频), and Yoo Video, with the aim of breaking into the short video and livestreaming field, but none of them succeeded.
Since 2021, WeChat has been making WeChat Channels more visible within the social app. By continuously providing various traffic and policy support, it empowers WeChat Channels to reach 500 million DAUs after two years of development.
Today, although it has not accumulated sufficient content and enough dedicated users, WeChat Channels, as the only survival, is carrying Tencent's ambitions and hastily started the commercialization process. On the other side, WeChat Channels is constantly iterating livestreaming functions, enriching service tools, and bringing convenience to merchants.
Following the live shopping event in November, WeChat Channels announced that it will launch another week-long shopping event on January 6, and promised to introduce seller-friendly policies.
Different from Douyin and Kuaishou, WeChat Channels calls itself a decentralized platform, because the distribution of traffic mainly depends on the browsing, like, and favorite behaviors of users' WeChat contacts, supplemented by algorithmic recommendations.
And this is where WeChat Channels believes it can differentiate itself in the live commerce sector, because content distributed based on social connections is more likely to build trust among users and result in efficient conversions for businesses.
Lily, a womenswear seller, told PingWest that she thinks doing live commerce on WeChat is a smart way to retain relationships with existing clients while also reaching out to new ones. "The majority of my contacts are existing clients. So when I start livestreaming, they will jump in and check out what's new, meanwhile, the system will recommend my livestreaming to these clients' friends. This trust-based promotion can expand my client base and increase sales," said the small business owner.
Although being a latecomer to live shopping, WeChat has already offered a comprehensive set of e-commerce services. Within the supperapp's ecosystem, WeChat Official Account, an interface that brands can use to gather followers, send them push notifications, and redirect them to a website/e-commerce, WeChat Pay, the digital payment service, and WeChat mini-program, which provide advanced features to users such as e-commerce, virtual store tour, coupons, and other services, are functioning adequately.
As China tightens up practices in live commerce, WeChat, like other platforms, has to operate the business more compliantly, which implies that the previously less-regulated rapid growth may calm down. E-commerce is a practical way for WeChat to monetize, but better combining it with other services to assist SMEs in ​digital transformation is more conducive to long-term development.