ByteDance, the parent company of TikTok, has raised the importance of cloud business in pursuit of new opportunities, as the growth of consumer-oriented business slows down.
On December 2, Volcano Engine, ByteDance's cloud computing arm, launched 78 cloud-based services, ranging from cloud infrastructure, video and content distribution, data platform, development platform to artificial intelligence.
It is the largest product launch event in Volcano Engine's history, as well as the first launch event since the department was elevated to an enterprise-level business unit.
Almost a month ago, the hectocorn unveiled a reorganization plan that would split the company into six business groups, including TikTok, Douyin, workplace collaboration platform Lark, e-learning subsidiary Dali Education, gaming business Nuverse, and enterprise-facing cloud service unit Volcano Engine (or known as BytePlus for overseas market).
The reshuffle appears to make the company's structure "more intelligible for investors looking at any potential prospectus, making it easier to find cash cows and future growth engines," Michael Norris, senior research analyst at Shanghai-based consultancy AgencyChina, said.
Volcano Engine was officially rolled out in June 2021, with an initial product set that commercialized the recommendation algorithm and analytics used in ByteDance's products, including TikTok, Douyin, and Jinri Toutiao.
It's the first time the social media giant has made its data-driven technology that fueled the success of TikTok, Douyin, Jiri Toutiao, and others available to public as a marketed service. Before the official launch, the cloud service department has been in a semi-stealthy operation for more than a year, serving limited customers both external and internal.
But it was only the beginning. After more than half a year of deliberation, Volcano Engine added agile, a critical technique for ByteDance to gain the moniker of "app factory" in addition to data-driven, into its entire cloud product line. (Note: Agile is a term used to describe approaches to software development emphasizing incremental delivery, team collaboration, continual planning, and continual learning, instead of trying to deliver it all at once near the end)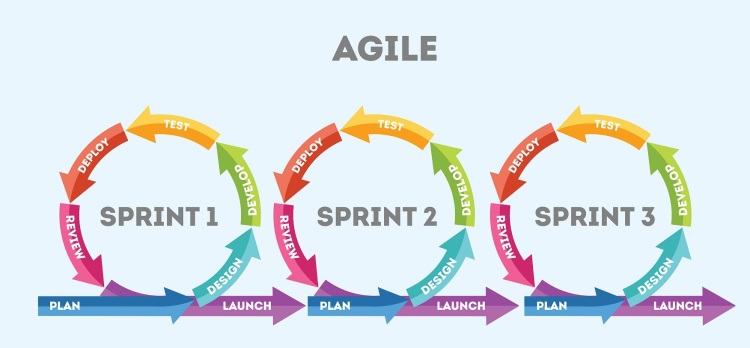 The firm has long been known for its efficient routine, which allows it to swiftly churn out apps using a comprehensive back-end of shared resources spanning from engineering to marketing support.
At its peak, ByteDance reportedly added 1,500 A/B testing and conducted 20,000 commitments per day, and the design and launch of new apps can be completed in as fast as 3 weeks. (Note: A/B testing is a way to compare two versions of apps to figure out which performs better)
The company attributes the unique scalability to its cloud-native architecture with agility as its core, as well as the integration of technical capabilities like big data, artificial intelligence.
As a strategy that emphasizes short production cycles, agile allows ideas to be implemented and tested fast in order to gather feedback and make data-informed decisions, which is vital for startups that need to respond quickly to market or investor demands.
By commercializing its secret sauce agile and data-driven algorithm, ByteDance has taken a step forward in the cloud computing industry. So far, Volcano Engine has formed a relatively comprehensive cloud service architecture involving IaaS (Infrastructure as a Service), PaaS (Platform as a Service), SaaS (Software as a Service), etc.
But it lags far behind competitors including Alibaba, Tencent, Huawei, and Baidu, which have been rooted in the cloud sector for years. In terms of total expenditure, the top four cloud service providers account for 80% of the market share in China. Alibaba leads with 33.8%, followed by Huawei with 19%, and Tencent with 18.8%.
Although ByteDance came late, the cake is growing as China's cloud infrastructure service development continues to outstrip the rest of the globe. IDC predicts that the global share of China's public cloud service market will increase from 6.5% in 2020 to more than 10.5% by 2024.
"The cloud market in China is broad enough to accommodate various cloud service providers," Tan Dai, Volcano Engine's general manager, said. The company aims to help customers make more advances in the future digital transformation.
Volcano Engine, which has absorbed a lot of nutrients from ByteDance's exceptional scaling history, may be able to deliver more suitable services for enterprises seeking high-speed growth. Meanwhile, as the owner of the viral short video apps Douyin and TikTok, ByteDance's expertises in audio, video, recommendation, search, content creation, etc. are also merged into cloud services to assist customer to grow.
"We feel optimistic that ByteDance is aggressively deploying the enterprise-oriented market through Feishu and Volcano Engine, but the company must acknowledge its shortcomings, such as inadequate infrastructure, limited cloud product services, and so on," CITIC Securities pointed out.
According to the cloud business unit, its customers span from the Internet to smart phones, finance, automobiles, advanced manufacturing, new retail and other fields.
Raising focus on enterprise-oriented service is the latest effort by taken ByteDance to seek diversified revenue and growth. In an internal meeting held on November 18, the social media behemoth disclosed that its domestic advertising revenue, which accounts for a significant portion of its total revenue, has ceased expanding in the past six months.