KK Group, a Shenzhen-based retail startup, submitted an IPO application to the Hong Kong Stock Exchange on Thursday. KK Group received investment from a number of institutions before filing for IPO. With total financing of RMB 4.2 billion yuan, its post-investment valuation amounts to 20 billion yuan. KK Group recently finished a round of financing of roughly 300 million USD in July, led by JD.com.
Founded in 2015, KK Group is parent to four retail chains, KKV, X11, KK Mall, and most notably, THE COLORIST. The company has opened 680 stores in China and Indonesia, according to its prospectus. Like China's retail giant Miniso, KK Group offers products from cosmetics, toys, food, office supplies, and household goods.
In 2020, CB Insights named KK Group as the only unicorn company in 2019 with physical stores in its "State of Retail Tech: Ahead in 2020" report.
KK's rapid expansion can be primarily attributed to its brand strategy — to imprint consumers with unique aesthetics and a "landmark-like shopping space", according to the company's founder Wu Yuening. "KK Group targets the new consumer group of Generation Z. The characteristics of said customers can be summarized as 'appearance is justice, social is currency and personality is power,'" said Wu.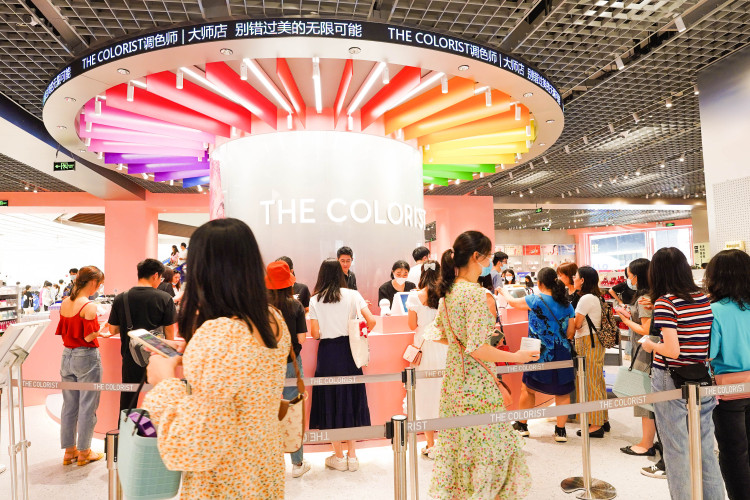 KK Group prides itself as a trend-based retail provider. The retail model is characterized by novel concepts and stylish products, creative and fashionable design, entertainment functions, and an immersive shopping experience.
The trend-based retail market has grown exponentially in recent years, according to a report by Frost & Sullivan. It had increased from 129.8 billion yuan in 2016 to 195.2 billion yuan in 2020, and it's forecasted to reach 475 billion yuan by 2025.The research report identifies the following as drives for the market: the pursuit of personalized products, the need for surprising and immersive shopping experiences, and the influence of social media and KOL.
KK Group explores the new retail market in China, and share a lot of similarities with the internationally successful chain store Miniso. Both KK and Miniso are based in Guangdong, providing them with the geological benefits of expanding overseas markets like Indonesia. They both feature low-priced goods, targeting young consumers.
The two still have some fundamental differences. KK group orientates towards female consumers, while Minoso's minimalistic style appeal to consumers of all genders. Minoso also boosts its brand impact by developing their own product lines and launching collaborations with well-know IPs such as the Marvel Universe, while KK group relies on other brands' influence. KK group carries brands like CHIOTURE, ZEESEA and Focallure -- all domestic brands that feature less expensive but heavily packaged goods, appealing to female consumers in their early 20s.
KK group benefits from the established impact of the aforementioned brands to build consumer trust, yet it also faces a dilemma of not building a brand impact of its own, as brands like Focallure don't solely depend on KK as a sales venue, they utilize e-commerce platforms too.
Brand building isn't the only dilemma KK Group is facing, as the Gen Z consumers market is not easy to tap into, evidenced by KK Group's financials disclosed in its prospectus.
The prospectus shows that even though its revenue has maintained high growth, its losses are significant. For 2018, 2019, 2020, and the first half of 2021, KK Group's operating revenues were RMB 155 million, 464 million, 1,646 million, and 1,683 million, respectively; the corresponding net losses were RMB 79 million, 515 million, 2,017 million and 4,397 million, respectively.
Since KK group's chain stores all feature low-priced goods, revenue from sales can hardly compensate for the high rent costs in popular malls. According to a Lanjing report, KK Group's cosmetics chain THE COLORIST's store closure rate is conservatively estimated to be over 30%, with an average of five stores closing each month.
The company explained that it has continued to incur losses due to ongoing investments in developing its retail brand portfolio and expanding its store network. The company expects to improve its financial performance further and achieve profitability in the future through further expansion and optimization of its store network.