"Forget about the low-priced clothes on SheIn, they are not environmentally friendly. You should try to buy household items on the platform, and I totally get lost because there are too many options with surprisingly low prices," Sharon shared her experience on social media Red (AKA Xiaohongshu in mainland China).
"Agreed. I love browsing Shein's home decor category, which reminds me of Alibaba's online marketplace Taobao. There are too many cost-effective things, I just can't stop purchasing," another user replied.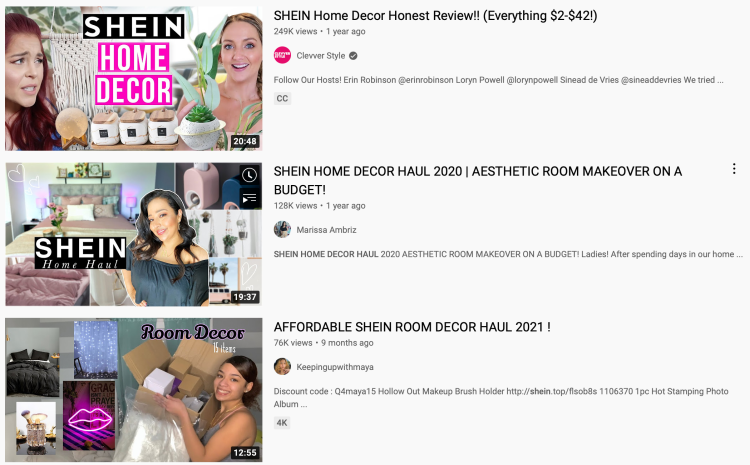 Also, on Youtube, videos about the Shein home decor haul have generated massive views and comments, proving its popularity among target consumers.
Founded in 2008, the company initially started as a wedding dress company. After being rebranded from Sheinside to Shein in 2014, it began its rise to the top of online fast-fashion brands. According to data from OnlineCasinoMaxi.de, Shein has become the leading shopping app in combined downloads from the Google Play Store and Apple App Store worldwide with an estimated 17.52 million downloads in July 2021, more than double of Amazon Shopping's total downloads.
Currently, Shein's home category provides a total of more than 20,000 products, covering home decor, bedding, kitchen, pet supplies, gadgets, etc.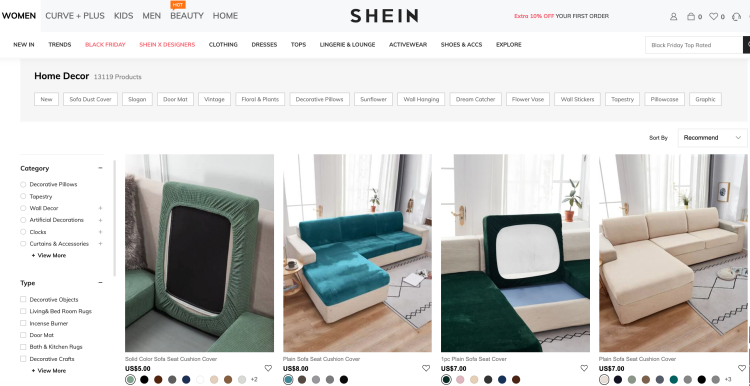 And just like the apparel department, merchandises in this category are well-accepted by the consumers. The $2 vegetable cutting mold received 5,500 reviews, the $9 sofa cushion cover collected more than 3,000 reviews, and the $1 clear iPhone case has accumulated more than 10,000 reviews.
Ellen, who lives in California, told PingWest that she has reduced the frequency of using Amazon and AliExpress since she was told by a friend that Shein also sells a wide range of household items.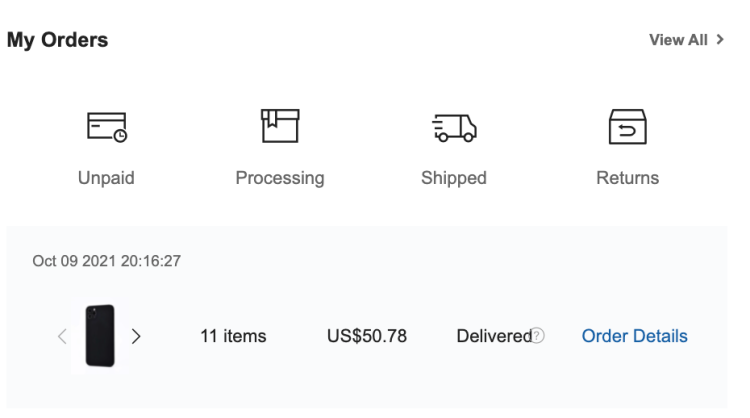 "Earlier this month, I bought more than ten items, including iPhone cases, chopsticks, doormats, blankets, etc., which cost around $50 in total, and they all look great," she said. "Shein's products are more designed, but the price is lower than that of Amazon, and the delivery speed is also acceptable, faster than AliExpress, so it's quite competitive."
Ellen said that usually her packages from Shein can be received in 7-9 days, which is faster than Alibaba's cross-border e-commerce platform AliExpress. "Although AliExpress sells similar products, the delivery is unstable, sometimes it may take more than two weeks. Considering that domestic delivery in the US usually takes three or four days, Shein's logistics speed is very reasonable," the housewife said.
As a direct-to-consumer (DTC) company, Shein's ability to leverage China's well-developed manufacturing industry and efficient logistics system makes it stand out when competing with third-party platforms.
Instead of hosting retail sellers, the company works with manufacturers to directly sell the goods on its own platform, enabling it to delight global consumers at inexpensive prices. It relies on thousands of third-party clothing manufacturers, mainly located in Guangdong Province, a manufacturing and export hub in China.
Citing one of Shein's suppliers, Wall Street Journal reported that it estimated that at least 5,000 factories work directly with the brand. In Panyu District, where Shein's main office in Guangzhou is located, almost all companies supply Shein.
Faced with such a heavyweight buyer, the bargaining power of the manufacturer is minimal, and it is always Shein's turn to have the final say. In 2020, Shein's revenue reaches around $10 billion, but the EBIT (Earnings Before Interest and Taxes) margin is as less as 6%, which means a product priced at $10 (approximately 64 yuan) will leave suppliers with less than 4 yuan ($0.63) in profit.
In addition to the low-price approach, the company's strong coordination capabilities in logistics also uphold its scale. According to Chinese news outlet Jiemian, Shein's warehousing department has more than 4,000 employees worldwide, accounting for nearly 80% of the manpower in the entire supply chain center.
Currently, the fast-fashion brand operates three types of warehouses around the world, namely, domestic central warehouses, overseas transit warehouses, and overseas operating warehouses, and most of its products are shipped from the domestic central warehouse in Foshan, Guangdong.
An industry insider said that Shein prefers more time-sensitive courier services to postal services. Although the prices of its products are inexpensive, the average order value is higher than that of competitors, so more expensive logistics services can be accommodated, the man explained.
In June this year, Shein's daily parcel volume exceeded 1 million, with an average order value (AOV) of $70, while Amazon's AOV was $52.33 on its 2021 Prime Day. AliExpress has not revealed the number, but it is expected to be lower than Amazon.
Obviously, the company believes that its strategy in the womenswear sector can be replicated in other categories, so it keeps growing its business scope, from menswear, cosmetics, household products, to most recently pet supplies. Besides, together with Sequoia China, it invested in the outdoor furniture brand Outer in January this year.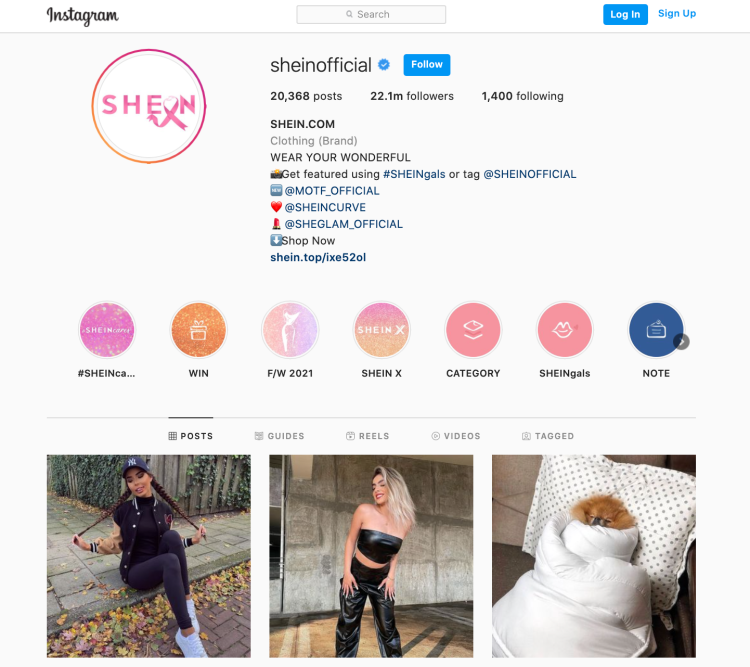 The brand, which specializes in social marketing, has built a vibrant community among its target consumers, that is, a digital-savvy generation. Therefore, by expanding services, it can better keep consumers with ever-changing needs in the community and attract more people to join, which to some extent poses a threat to platforms like Amazon and AliExpress.
But there is no guarantee that Shein will always be on a stable path, because the expansion of categories and SKUs (stock keeping units) could lead to high inventories and drag down the company.
After the latest funding round last August, the company is now valued at $20 billion. Following the frontrunner's steps, more latecomers have realized the importance of directly facing consumers, building brands, and integrating the supply chain. Alibaba launched Shein-like website Allylikes, and Nanjing-based DTC fashion brand Cider received investment from top venture capital firm A16Z.