As Chinese regulators launch stricter measures to crack down on cryptocurrencies, Singapore is becoming a hotspot for Chinese crypto companies and executives. They came to the city-state to migrate their businesses because of its crypto-friendly attitude and flexible regulations.
Huobi Global, China's second-largest cryptocurrency exchange by volume, is relocating significant parts of its operations from China to Singapore.
The move followed the announcement of Chinese regulators, including the central bank, financial, securities, and foreign exchange regulators. All the state-level bureaus vow to work together to root out all crypto-related transactions considered illegal financial activity.
Huobi had been trying to develop more overseas operations since 2017 when Beijing told multiple local exchanges, including Huobi, to stop transactions between fiat currency and cryptocurrency. In fact, Huobi's Beijing subsidiary had remained a non-operational entity for years and did not bring in much revenue.
But senior management and some tech staff continued to base in the country until recently.
Jun Du, co-founder of Huobi, and He Jinkai, head of Binance Custody, are among the executive to relocate to Singapore.
Du and He has already enrolled in the executive MBA program of the National University of Singapore (NUS) for Fall 2021, according to NUS's official WeChat account.
In a Twitter post, Du Jun said Huobi will continue ramping up overseas hirings following the company's announcement of suspending new registrations for mainland Chinese users in order to comply with China's new policy on cryptocurrencies trading.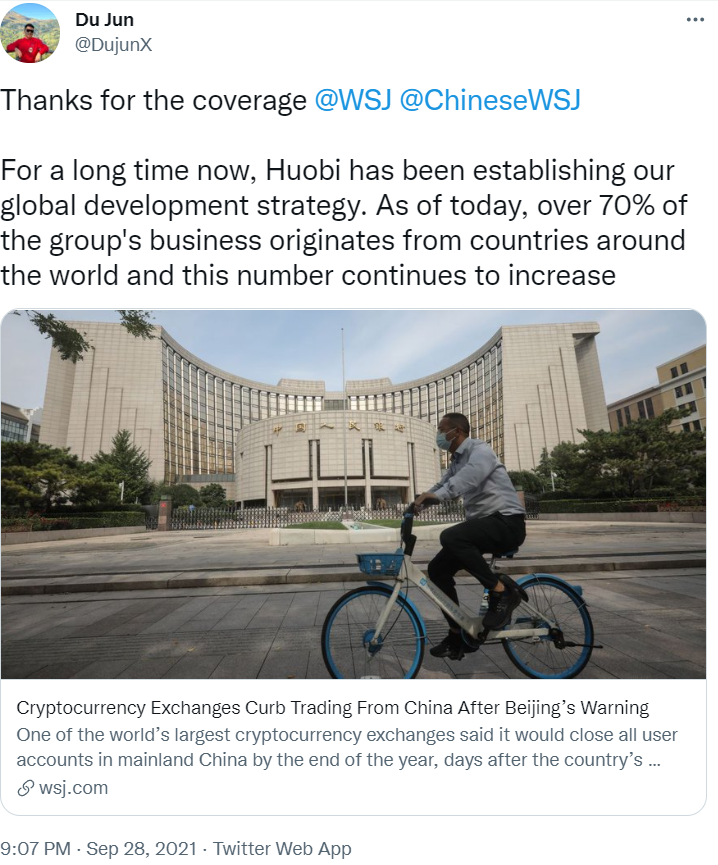 "Singapore is becoming the center of crypto communities, Chinese people whose business career associate with cryptocurrency have moved here,"said Vitalik Buterin, the founder of cryptocurrency Ethereum.
Huobi has continued to downsize its operation since May of this year. In May, China began a crackdown on cryptocurrency related-activities after Chinese authorities extended bitcoin mining bans in several major crypto mining hubs in the country, including Inner Mongolia and Yunan, Qinghai.
Later, the People's Bank of China held talks with a number of Chinese banks and payment institutions on cryptocurrency trading speculation, asking them to stop providing services for digital asset trading and cut relevant payment links.
In response to the new policy, Huobi has suspended its bitcoin mining service Huobi Mall, stopped sales of mining equipment in the country, and added China to its list that prohibits customers in countries or regions from trading derivatives. Then in July, it announced to shut down its subsidiaries in Beijing.
Binance, which was also originally founded in China like Huobi, also announced that it is no longer accepting new account registration from mainland China. The company has successfully achieved globalization and launched its public blockchain network "Binance Smart Chain" after it had been blocked in China since 2017. Binance is one of the most well-known cryptocurrency groups to set up a branch in Singapore, with CEO Changpeng Zhao having moved to the city-state in recent years.
Although Binance stopped offering some of its services due to regulatory scrutiny, including trade in Singapore dollar, Singapore's Monetary Authority Services (MAS) said Binance can continue its operation in Singapore while reviewing its application.
Besides Binance, a number of other companies are also seeking a similar license to legitimize their operation in Singapore, including crypto firms New York-based Gemini Trust LLC and Hong Kong-based Crypto.com.
Singapore has yet to issue licenses to cryptocurrency companies, but it has granted exemptions to some of the industry's biggest players, including Binance, allowing them to continue serving local retail and institutional investors.
Amid the crackdown, other types of Chinese crypto companies have been moving out of China over the past months. Cobo, a crypto asset management and custodian platform, also recently moved its headquarters from Beijing to Singapore.
Bitmain, which runs some of China's largest bitcoin-mining collectives, had set up its regional headquarters in Singapore in 2018. It thus became one of the earliest bitcoin miners to move abroad after Chinese regulators banned transactions between fiat currency and cryptocurrencies. Jihan Wu, the co-founder of Bitmain, has set up a fintech platform called Matrixport in the city-state.