One after another, companies of China's once-burgeoning community group-buying industry are falling apart.
PingWest's Chinese site has exclusively learned that Chengxin Youxuan, the community group-buying e-commerce platform formerly controlled by ride-hailing giant Didi Chuxing, is laying off employees heavily in anticipation of a future sale of the entire business, while other of Didi's community group-buying efforts are also laying off people and shutting down.
Business news outlet LatePost first reported back in early August that Didi is scaling back Chengxin Youxuan's operation, while Caijing, another outlet, reported last week that Didi is planning to shut down its community group-buying business and had laid off half of its research and development teams.
Didi purposefully diluted its shares in Chengxin Youxuan in several fundraising rounds by the latter in hopes of demonstrating healthier financials as it was planning on going public in the US earlier this year and the community group-buying arm was burning through cash. However, after the Chinese government launched a high-profile cyber security investigation against the ride-hailing giant, Didi's US IPO plan had since been scrapped.
Didi's downfall on the community group-buying front followed similar events in which other competitors have also significantly stepped back from the incredibly costly competition.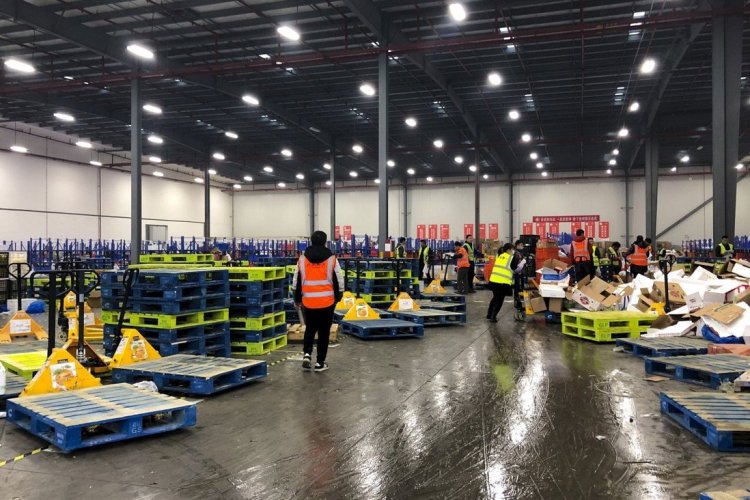 For example, Tongcheng Life (同程生活) filed for bankruptcy in July, while Shixianghui (食享会), a Wuhan-based company that prospered amid the city showing promise in the grocery group-buying aspect during the Covid-19 pandemic, shut down its service and vacated its former headquarters.
Suppliers for Tongcheng Life claimed that the company had severe troubles with inventory management as the market fluctuates heavily, constantly issues orders, and had already been months behind on back payments that added up to more than 300 million RMB nationwide the bankruptcy.
While Tongcheng Life was one of the major incumbents of the community group-buying industry prior to big techs' entry around 2019/2020, it does not mean that the challengers were living their best lives, as Didi and Chengxin Youxuan has demonstrated. The big techs have their big problems, such as heavy cash-burning in the community group-buying business, as well as antitrust criticism and scrutiny from China's market regulators and state media.
Just a few days ago, local services giant Meituan reported that although it added 60 million transactional users to 630 million in 2021Q2, an increase more than the entire 2020, the company's "New Businesses," which include community group-buying, is at a loss of nearly 10 billion RMB for the quarter, adding up to a loss of more than 23 billion RMB in the past nine months. The numbers represented an incredibly high customer acquisition cost of roughly 145 RMB per user.
While big techs with big war chests can barely maintain afloat amid fierce competition, other participants of the business, especially those whose business has been restructured or even taken away by the big techs, hardly find the burgeoning market prosperous for themselves. Many grocery shop owners, supermarket managers, suppliers across the country have been organizing against the entry of big techs due to their inability to compete with or participate in the price reductions by the internet community group-buying companies.
Speaking to LX Insight, a tech and business outlet, one supplier claimed that serving these internet platforms is "not profitable at all" since they dictate contract terms so selfishly that one of them writes, "unsold items will be returned at the cost of the suppliers'." The internet platforms also have unstable merchandise loss rates, and the suppliers also often carry the losses alone, further reducing their profitability.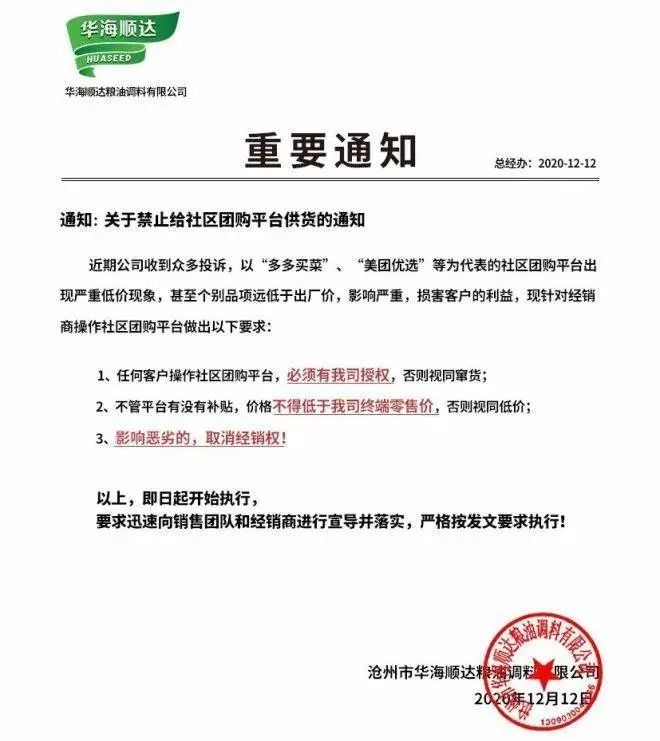 Inconsistent supply also causes headaches for "group heads," often accredited personnel within communities, such as leaders in the elder citizen groups or local grocery shop owners, who will serve as liaisons between the platforms and their neighbors. Platforms lure these group heads by promising them official commissions or informal kickbacks for onboarding more users or achieving higher sales numbers. Still, the credibility issues are also their own to bear when supplies become inconsistent. A report by China Merchants Securities also indicated that the top 5-10% group heads contribute roughly 80-90% of the sales, meaning newcomers lured by the pretty promises are almost sure to become also-rans. In the case of Chengxin Youxuan, many of its group heads also found their customer recruitment efforts diminished as the platform set up centralized pick-up locations in select cities.
Eventually, China's community group-buying becomes a scene where end customers constantly jump among platforms to secure the new best deals while increasingly being supplied with merchandise of inconsistent quality; individual parts of the machine, like group heads and suppliers, find themselves manipulated by the rule-makers; former competitors like brick-and-mortar groceries and convenience stores suffer from decreased customer flow and are ultimately forced out of businesses. Platforms are the only winners, and the winners take all, but none besides them are happy.
A machine can't be operated without functioning key parts. Many platforms have faced increasing expansion hurdles since last year. They are finally unable to maintain afloat as time goes by, which is why we are watching one community group-buying company after another fall apart. In contrast, those still hanging on can barely maintain merchandise quality.
While some optimists suggest that the current rate of misfortune shared by many smaller community group-buying companies is normal and reminiscent of previous industry reshuffles, like 10+ years ago for group buying, and 6, 7 years ago for ride-hailing, however, the downfall of major internet players like Chengxin Youxuan and Tongcheng Life indicates that the industry's economy may be at a tipping point, and burning more cash isn't likely going to help make the journey to the bottom smoother.
*Personal interest disclosure: the Beijing-based writer of this piece, who is not remotely a frequent customer of community group-buying, recently had unsatisfactory orders twice in a row, with 2 different community group-buying platforms, in which the meat products delivered were already nearing expiration date and decomposing.
Top Image Credit: China Daily