Recently, Apple announced that it would allow "reader" apps that provide content including text, audio, music, and video, to add in-app links and redirect users to apply external payment methods.
This announcement marked one of Apple's most significant compromises in a decade because the concession enables app developers to sidestep the 30% commission fee Apple previously charges for using their in-app purchases (IAP) system.
Apple's new policy quickly stirred up chatter around the world. While others are calling it "huge" and a "good first step," Chinese developers are saying otherwise — "We are already doing it this way. I honestly can't tell what the big fuss is about."
A payment ban was never lethal for Chinese developers.
To app platform operators, China's market is new territory with its own set of rules, which even a conglomerate like Apple needs to adhere to humbly.
App Store, along with its IAP system, was launched in 2008. Although it has a pole position of five years against dominant mobile payments such as WeChat Pay, Apple's only virtual store payment method had not blended in what is now considered as the most prominent application market until November 2011, when it finally accept payments in RMB, which is issued by Visa, Master, and Amex nevertheless.
Another three years have been taken for Apple to support Union Pay debit and credit cards, while Alipay and WeChat, which have even more extensive reach and user viscosity, were added to the list in 2016 and 2017, respectively.
As WeChat became China's biggest super app, the disagreement between WeChat and Apple regarding IAP rules had once sparked out. In 2017, the WeChat team announced a halt to Official Account's "tipping" feature after Apple updated the developer's terms and conditions to insist that "apps may not include buttons, external links, or other calls to action that direct customers to purchasing mechanisms other than IAP."
Initially, the tipping function was launched in 2015. A QR code of WeChat Pay was embedded in posts from Official Accounts, allowing users to transfer funds to authors' WeChat Pay accounts.
The tip economy generated by WeChat was influential that Apple conceded by acknowledging tipping in their updated terms in September.
As the winning side of this turf war, WeChat set a precedent for others to bypass IAP and its staggering 30% commission. And other apps also find a way to lure users away from IAP and get their subscription done outside the app.
Chinese app developers often utilize bundle memberships or implement price differences between IAP and alternative purchase methods. Major video/music streaming providers like iQiyi, Tencent Video, Youku, and NetEase Music make their subscription more expensive for Apple users than Android or PC users, as well as partner up with Taobao or Jingdong to offer cost-efficient bundle memberships.
For example, Taobao offers an "88VIP" bundle membership for ¥88 a year. In addition to discounts on Taobao purchases, it includes a yearly Youku subscription, which would cost users ¥228 with IAP.
There's an entire section showing bundle memberships on the "member" page in the Youku iOS app. The default login options to access these memberships are Alipay and Taobao, not one's Apple account. Users can also tap the "share link" icon on the right side of the screen and open the link elsewhere. A ¥218 bundle membership will cost ¥188 if you use the link.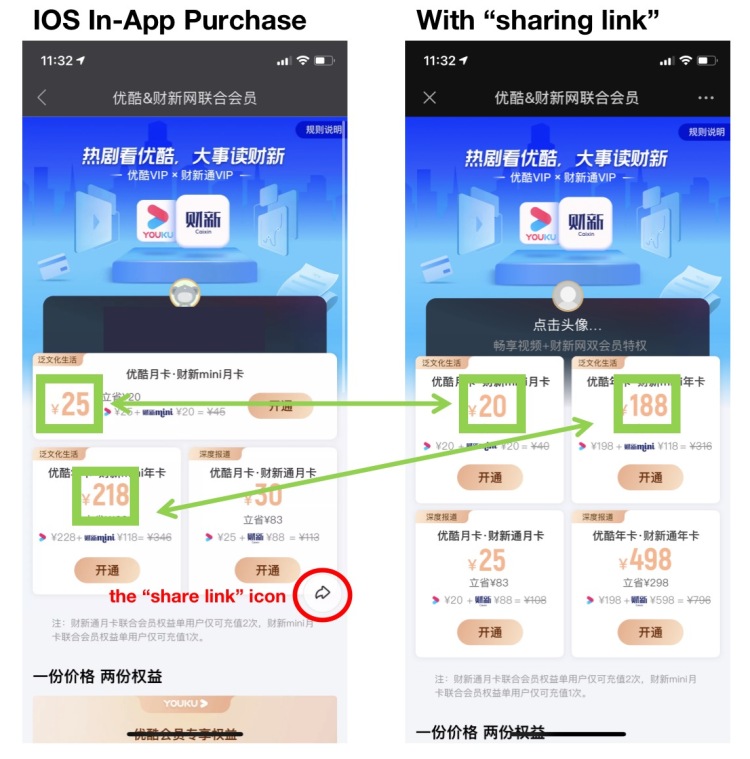 Spotify briefly tried similar tactics before but failed and ultimately opted out of Apple's payment system in 2016 — because Apple was not so gentle when it came to Spotify. It was curbing Spotify by launching Apple Music with a lower membership price, rejecting Spotify updates, etc.
Meanwhile, Apple's App Store monopoly is under scrutiny around the world:
Japan: The Japan Fair Trade Commission (JFTC) closed the antimonopoly investigation on Apple after it agrees to allow media apps to include in-app links so that users can set up or manage accounts.
South Korea: South Korea's National Assembly passed a law banning major app platform operators like Google and Apple from requiring developers only to use their payment systems and charging commission.
India: Non-profit organization "Together We Fight Society" filed a complaint about Apple to the Competition Commission of India (CCI). The CCI is currently reviewing the case.
United States: Apple settled a lawsuit by letting App developers use emails to steer users to payment methods outside of IOS.
Europe: Epic Games sued Apple in the US and Australian court last year. While the trial is still ongoing, Epic Games filed an antitrust complaint about Apple to the European Commission earlier this year.