China's Henan province continued to suffer from the torrential rain that caused city flooding and many casualties, especially in Zhengzhou, the provincial capital.
When people were trapped inside buildings, subways, and rail tunnels due to rapidly rising floodwater, netizens found online collaborative tools fast and effective to share warning information and aids in need.
One shared file created on the Tencent Docs has played a vital role throughout the save, which has amassed more than 2.5 million views, a record high for Tencent Docs.
Similar to Google Docs, Tencent Docs enable multiple users to collaborate and edit simultaneously. In just two days, Tencent Docs has been widely used by people in different ways that share everything from locations of the flooded areas, contact numbers of injured people, list of hospitals nearby to a collaboration and medical service platform, templates, and memos for rescue teams to share and list the most and less dangerous areas that are affected by floodwaters.
The phenomenon began with a doc titled "vulnerable people waiting for rescue." It was created by a local university student nicknamed Manto when she thought it was necessary to share contacts of rescue teams with anyone who needed help.
In just one hour, the document was updated for 23 times with some volunteer confirming the information and offering helps.
As information gradually piled up, the spreadsheet became more organized with different colors and fonts to differentiate each section, all thanks to anonymous contributors.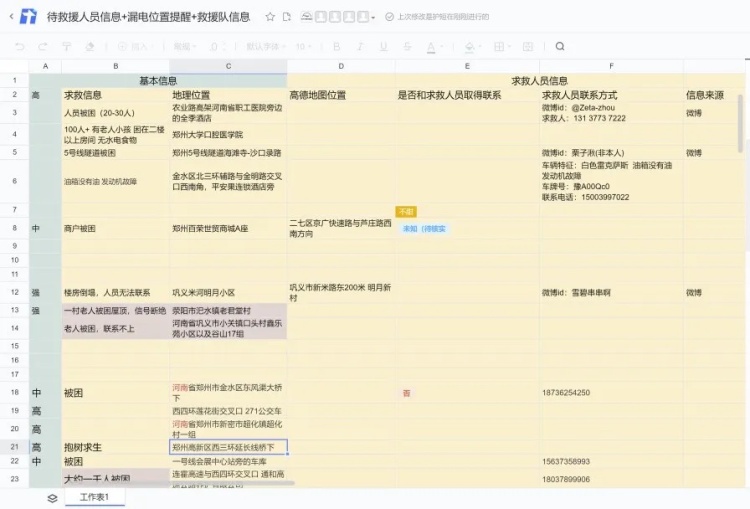 Three hours after Manto created the document, some citizens panicked and posted a message that read: "the water inside here is chest-deep. I can almost see nothing, please help! Meanwhile, the document was updated with an adult confirmed his family was out of danger."
"Me and my children, we have arrived home, thanks for the helps!" the parent noted.
After more than 420 updates, the file evolved from only a spreadsheet of basic information to a real-time platform of anti-floods resources. People can access to many 24/7 anti-floods medical and psychological assistance hotlines and consulting services launched by charity foundations right from the file.
People outside Henan Province also used it as a way of cheering vulnerable one up and offering medical and psychological consulting services during this extreme weather.
"Cheer up, Hang in there Henan ! We are all here with you," many netizens noted in the comment section of the document.
Now the file has amassed more than 2.5 million views, a record high for Tencent Docs.
In addition to Tencent Docs, Tencent has also launched a package of cloud-based collaboration tools such as Tencent Cloud Doctor to facilitate communication and offer free medical service.
Image Credits: Chris Gallagher on Unsplash