China's Henan Province is suffering from a disastrous flash flood caused by a historical level of precipitation. Particularly in the province's capital Zhengzhou, the city and its surrounding areas saw several months, if not years of regular rainstorm activity crunched into a few days beginning on July 18. Local and national meteorological departments have issued and then raised warning levels multiple times. It is reported that as of the morning of July 21, more than a dozen have died, while an unspecified number of people are still missing due to flash floods.
As is the tradition of Chinese companies, many of the major internet and tech giants in China have announced that they are working internally and externally to contribute to disaster relief in specialized ways.
Internally, companies are updating their social and map products with new features to help surface the most critical information, like distress signals, or showing layers of maps with the most severe flood level so people can avoid those areas. Externally, these big techs are also donating money and supplies that go to both imminent needs and long-term relief projects.
Alibaba announced on July 21 that the Alibaba Foundation is making a donation of 100 million RMB, while the Jack Ma Foundation, under the name of its founder and former CEO, is chipping in 50 million yuan. The funds will be at the disposal of the provincial government for emergency needs and disaster recovery. Meanwhile, Ant Group announced another 100 million yuan donation through the Alipay Foundation.
The larger Alibaba ecosystem is also utilizing its various fintech and charity platforms to funnel public donations to local humanitarian efforts. Participating charity organizations include the China Foundation for Poverty Alleviation and the One Foundation initiated by famous actor Jet Li.
For product updates, Alibaba directed its Amap unit to launch a dedicated map warning layer showing areas suffering from rainstorms and floods. The company also stated that AliCloud, which had previously been providing AI-powered services known as the "City Brain" to the Zhengzhou government, is also helping with ambulance dispatching and other relief needs. Regarding physical contribution, the company also claims that it is adjusting logistics forces, including those of the Cainiao Network (a logistics network) and Hema Fresh (a supermarket chain), to directly increase supply to Zhengzhou and its surrounding areas.
Shenzhen-based Tencent Also announced today that it would be making the first batch of donations of 100 million yuan and working with frontline relief and charity organizations to help with the safety of local residents and securing more disaster relief supplies.
Tencent's news service launched a special section for the Henan rainstorm to help with the information flow, while its online collaborative document services, similar to Google Docs, launched a new template designed to help disaster relief forces reach residents in distress more quickly and safely.
ByteDance, the company behind Douyin and TikTok, two popular short video apps among young users, made sure that its 100 million yuan donation will be prioritized to the children. "Priority is given to providing services for the safety, living and learning of children in the disaster-affected areas," said ByteDance in a statement, adding that the recipients of the fund will include children in aid stations, orphanages, and disaster resettlement sites.
Meanwhile, the company is brute-force adding help channels into some of its most prominent apps, including Douyin, Toutiao, Xigua Video, etc. People can use any of these apps to make distress calls.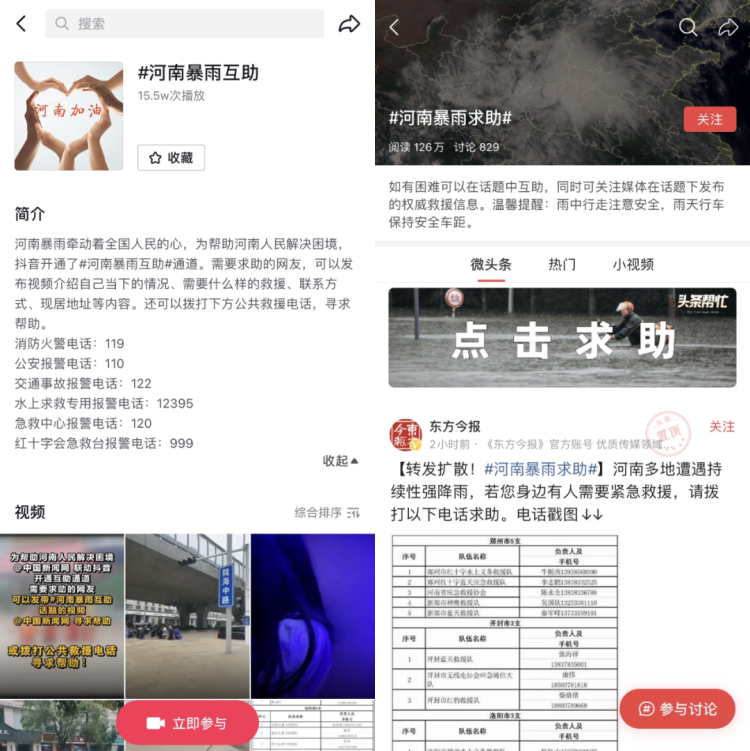 Besides the following suit and making a donation of 100 million yuan, local services giant Meituan is also utilizing its massive span of services to help in any way it can.
For example, the company made all of its power bank renting stations in the Zhengzhou area completely free, so users who might have lost their power due to the flash floods can at least keep their phones charged and maintain a connection with their families and the authorities in case there is an emergency. Meituan is also directly subsidizing an increasing number of hotels in the region to help with emergency stays for people whose homes are flooded.
Other emergency services the company provides at this moment include on-demand care for elderly citizens living in disaster-affected areas alone, provided by local persons in charge of the company's community groceries group-buying service, as well as free cancellations and adjustments of travel orders to and from Henan Province.
Smartphone giant Xiaomi made a 50 million yuan donation, plus all kinds of arrangements in its logistics network as well as Henan-based subsidiaries to help with disaster relief. But OPPO, another phone company, went one step beyond. The company posted that besides a 50 million yuan donation, it keeps many of its local smartphone shops open, allowing people to charge their phones and even giving them temporary phones to make necessary calls, should their own devices have been lost to or damaged by the flood.
Traditionally, Chinese internet and tech companies have been very active in early participation in disaster relief; besides the obvious humanitarian and social responsibility reasons, they also see these activities as an opportunity to improve their public image.
Nevertheless, the more help comes in, the better the relief will be. These big techs have long held a vested interest in their effort to reshape the country's society and economics, and it's not bad optics seeing them giving back. More importantly, this ongoing disaster showed that the country's public emergency management apparatus, particularly on the provincial and municipal level, is still lacking technologically, leaving ample opportunities for those in the private sector, especially big techs, to help improve.
Image credit: China Daily