Sea Group's Shopee is expanding its food delivery businesses in Southeast Asia (SEA) by ramping up hiring in Malaysia.
According to its job posting on its Twitter and Facebook account, the Southeast Asia e-commerce giant is recruiting delivery riders in Malaysia's Kuala Lumpur and Selangor.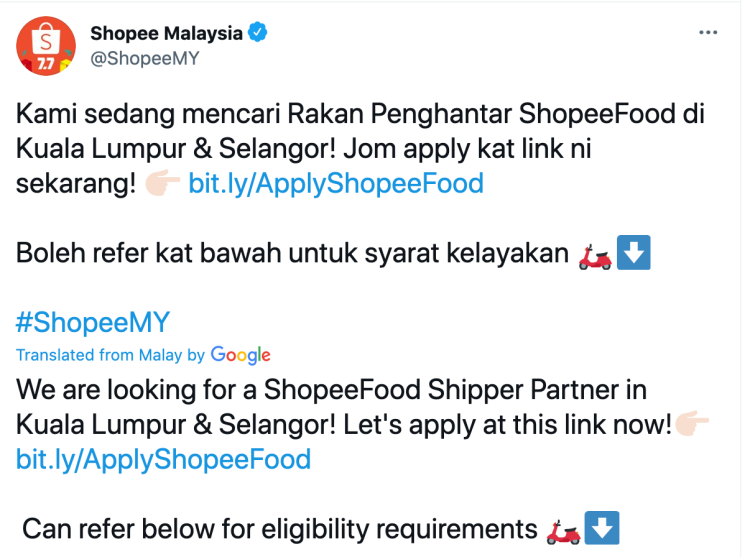 The qualified riders have to meet several necessary conditions, including being a Malaysian citizen at the age of 18 and above, having a motorcycle license, and no record of crimes and limitations or bans on the Shopee platform.
Shopee has not yet posted any official statement for its entry to Malaysia. Still, the e-commerce platform followed a similar entry strategy for Indonesia in April 2020 when it started with a social media post for job recruitment before making an official announcement via a short introduction video.
Malaysia will be Shopeefood's second target market in SEA after Indonesia, where Shopee has announced to cover more cities and ramp up hiring in a statement.
Indonesia and Malaysia immense huge market potential because of the population and high penetration rate of internet users. The top 3 countries by population in the region are Indonesia (276 million), the Philippines (109 million), and Vietnam (97 million), Malaysia ranked 6th with 32 million people. According to data released by Statista, Malaysia has the second-highest internet penetration rate (89%) after Brunei, where 97.5% of the country's citizens gained access to the internet. Indonesia ranked 7th with 71.1%.
"Food delivery in Southeast Asia is incredibly competitive at the moment, but the market is far from settled," said Zennon Kapron of research and consulting firm Kapronasia.
According to a report by Momentum Works, Indonesia was the largest food delivery service market in Southeast Asia in 2020 in terms of gross merchandise value (GMV).
Despite its lower GMV compare with Indonesia, the food delivery landscape in Malaysia remains competitive. Service platforms like FoodPanda, Hungry, Dahmakan, Bungkusit, and Delivery Eat intensely compete with each other for market share, but none of them are as competitive as Foodpanda and GrabFood.
According to a survey released by Rakuten Insight, around 75 percent of respondents in Malaysia stated that Foodpanda was the food delivery app they used the most. At the same time, Kantar's research claimed that GrabFood has the highest market share of nearly 50% in the country.
While service platform like Foodpanda offers pure food delivery service with its standalone app, Shoppee and Grab's food delivery services are part of many broader service offerings under their respective super apps. Shopee has a competitive advantage over pure food delivery service platforms because the company can convert existing customers from e-commerce, digital payments, and thus more cost-effective marketing and branding.
Food delivery is one of the beneficiaries of the Covid-19 pandemic as a consumer avoids physical contact, and restaurant owners dealt with plummeting demand for dining out.
Surging demand for online delivery presents a golden opportunity for Shoppee to expand its business beyond e-commerce and financial services.
The total food delivery GMV in SEA reached an estimate of USD11.9 billion in 2020, representing year-over-year growth of 183%, the analysis's report showed.
Starting in 2017, Shopee's parent company SEA group ventured into the food delivery sector by acquiring Vietnam's Foody Corporation for USD64 million.
"Shopee has already won leading position in E-commerce and digital payment, it's only a matter of time for it to expand food delivery service," said Roshan Raj, a partner for consultancy RedSeer.
In general, Sea, Grab, and GoTo will continue burning through cash to compete across south-east Asia, as three giants increasingly focus on offering comprehensive services from their ecosystem and super apps.
Goto is a new entity that was formed from the merger between Gojeck and Tokepedia. It is believed that Shopee's rapid rise as a solid force in e-commerce and digital payment is the catalyst for the merger.
Image Credit: Paolo Feser on Unsplash