If you have followed China's tech scene in recent years, you might have used, or at least heard of Douyin, the popular short video and live-streaming app, commonly referred to as the Chinese version of TikTok. With 600 million daily active users, Douyin, owned by Chinese internet giant ByteDance, was essential in reshaping Chinese people's, particularly younger generations' lives.
Douyin and TikTok basically run on algorithms that exploit users' attention. Anyone who has ever spent five minutes on the apps knows how easy it can be to get hooked and lose track of time. Douyin records an average of 80 minutes of usage per user per day, while TikTok has occupied its users 19.6 hours every month, which is ahead of Facebook and its other three major apps: Instagram, WhatsApp, and Facebook Messenger, according to a report by App Annie, a mobile industry data aggregator.
As a service that contributes over half of ByteDance's 2020 yearly revenue, Douyin has its nature to keep its users staying and scrolling. But little did people know, Douyin also operates a digital wellbeing system to keep the users away from the app to curb smartphone addiction, in attempts to brighten its brand image and address user concerns.
Hey you, stop scrolling
In an algorithmically driven app like Douyin, it's common that you might blink and, surprisingly, realize that hours have passed.
To brighten its brand image and address user concerns in this regard, Douyin published its first piece of in-house video content to remind users of their screen time in March 2018, PingWest has learned. Nowadays, the app also recommends such videos made by collaborating content creators, to remind users to take a break every once in a while.
This series of videos advertises digital wellbeing, an idea that is rarely talked about by Chinese internet companies compared to their global counterparts. The way Douyin went about it was inviting creators (even famous pet accounts on the platform) to break the fourth wall in an engaging way, reminding people to put their phones down and maintain a healthy balance between their actual and digital lives. Such videos can be found on both accounts run by the platform itself, and individual content creators.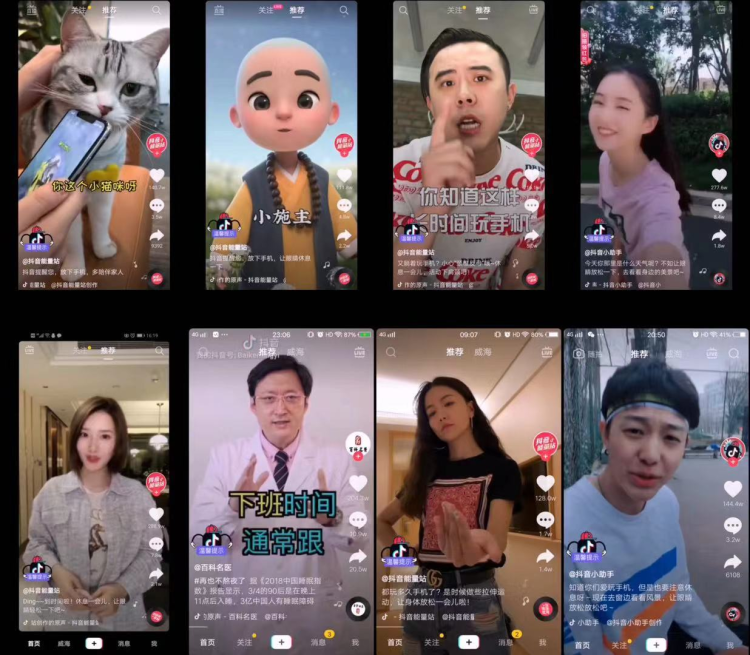 Specifically, it pushes such educational videos into the feeds of users whom the algorithm detects excessive stickiness to the app--a non-stop usage of 60 minutes in most cases. Also, when users are detected using the app continuously for over 90 minutes, a warning bar with a tea cup emoji will appear on the lower of the screen, suggesting that it would be best to take a break now.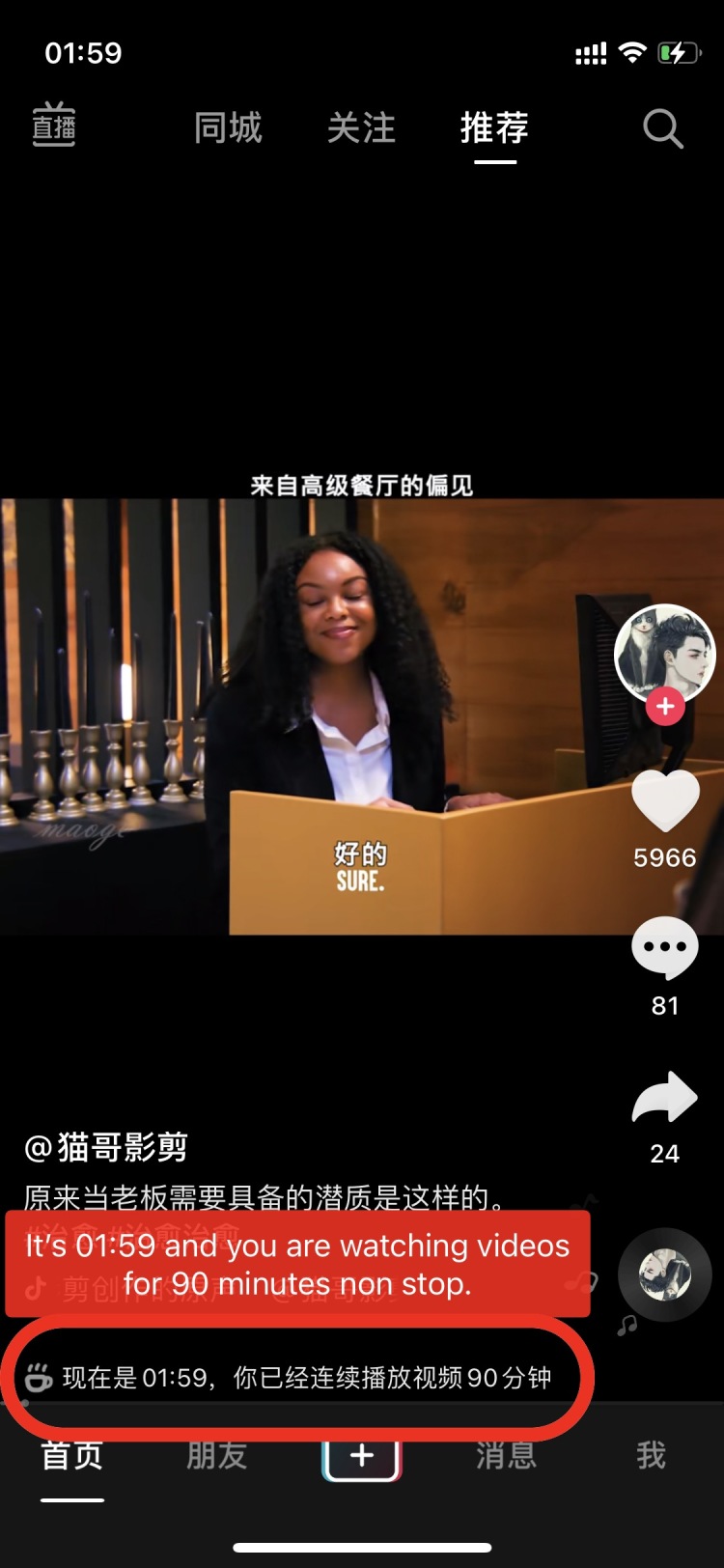 From children to adults
The screen time reminder videos are an addition to the 3 existing digital wellbeing utilities on Douyin. According to a company spokesperson, Douyin introduced an anti-addiction system as early as 2018, and is constantly making improvements to it.
Interestingly, for the time being, these reminder videos are the only digital wellbeing tool that is being turned on for all users by default. The other 3 are internally categorized as "underage protection" by the app, despite that they can also work for every user (see screenshots below.)
For example, users can activate a time lock to force themselves to not spend too much time on the app. There's a feature called Family Pairing to help parents manage their kids' use time.
And there is the teenager mode, which is mandatory for all short video platforms at the request of the Cyberspace Administration of China (CAC), China's top internet watchdog. In this mode, underage users won't be able to use the app for more than 40 minutes per day, and would be under curfew from 10 pm to 6 am. Teenager mode is also the only feature that pops up every time the app is opened, which is mandated by relevant CAC regulations.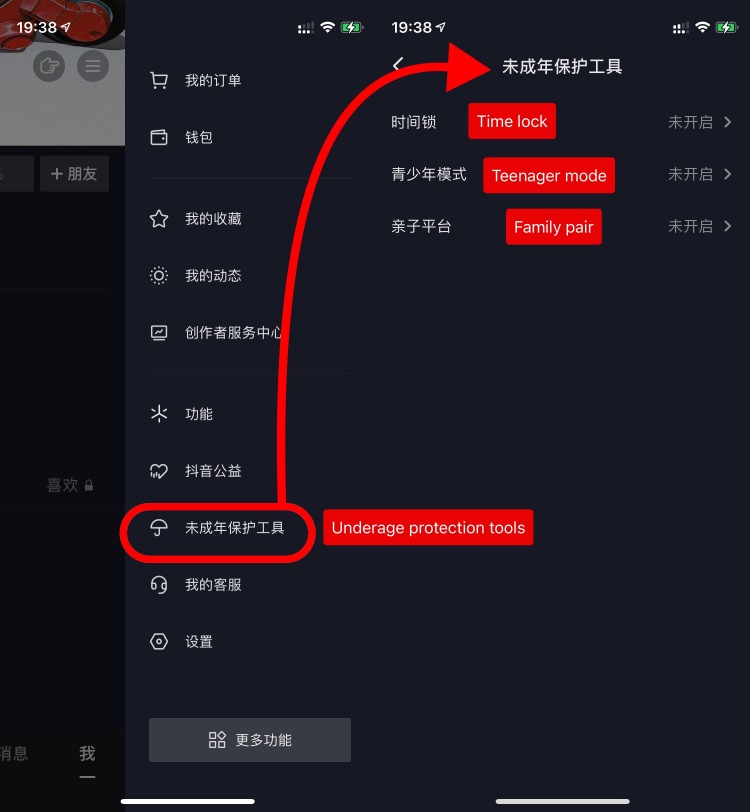 The situation is somehow understandable because the idea of digital wellbeing is still new to the Chinese cyberworld. "Every product in China is like 'how do we increase stickiness?' or 'how do we build daily usage habits?'" said Matthew Brennan, author of Attention Factory, a book covering the rise of TikTok and ByteDance.
"I was kind of surprised to see the (features) at the first time," Brennan added.
From China to the world
In the West, digital wellness has become a buzzword and is on the minds of every major tech company. In the case of TikTok, however, its digital wellbeing and underage protection features have their roots in its Chinese sister app.
Although Douyin and its younger sibling TikTok serve two distinct markets, and diverge in many aspects in terms of app policies, product design, etc., due to the shadow of geopolitical tension between China and the rest of the world being cast onto ByteDance, the former has consistently dictated what functions might be coming up for the latter.
In February last year, 2 years after Douyin, TikTok launched a similar series of screen time reminder videos to its international users. Popular TikTokers with millions of followers on the platform, including Gabe Erwin, Alan Chikin Chow, James Henry, Cosette Rinab, joined the short video app's campaign making content that, ironically, encourages users to potentially spend less time on their other content. When continuous usage exceeds 60 minutes, users would see such a video from the account @TikTokTips, which is run by the company itself, reminding them to turn off the app.
One day before TikTok launched these videos, its parent control feature was also introduced to global users. The "Family Safety Mode" is just about everything Douyin's Family Pair has to offer. Once Family Safety mode has been set up, parents would be given extensive control over their children's linked TikTok accounts, including direct messages, daily time limits, and age-appropriate content.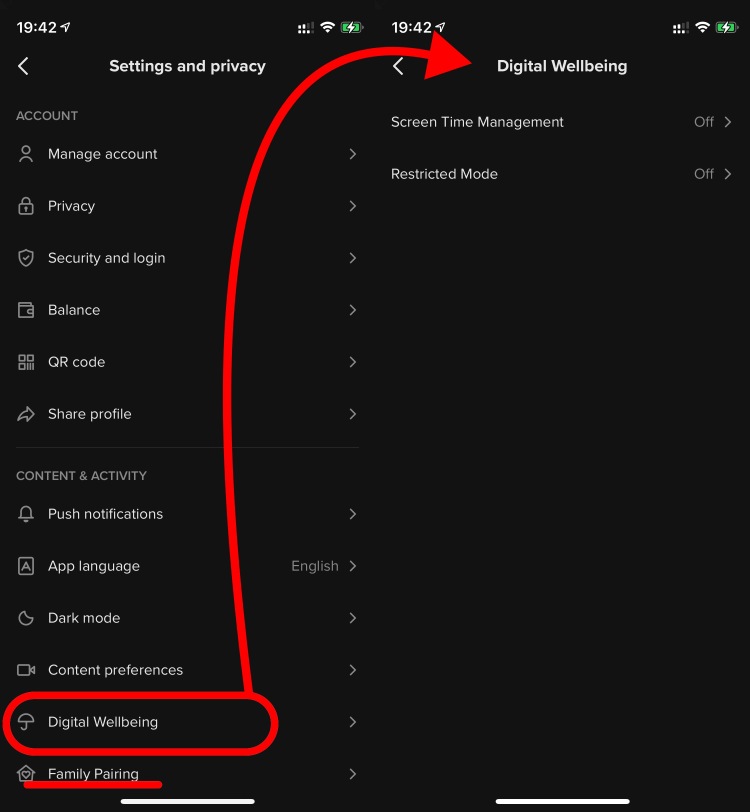 A long way to go
While both Douyin and TikTok provide useful tools helping users identify addictive behaviors, it is ultimately up to the users themselves to decide whether it's time to quit the app. Aside from the forced time limit for underage users, both apps do not automatically log users out even if multiple warnings are served.
But for Brennan, ByteDance's anti-addiction efforts are still good, and rare.
"The take from Douyin is very Alan Zhang (editor: Zhang is commonly referred to as the father of WeChat)," said Brennan, "Douyin and WeChat are like actively telling users to put their phones down. I don't know of any other products that do that."
Still, on public transportation and the streets, people are still staring at their phones all the time. Daily time spent with mobile internet per capita worldwide is set to increase 8.4% from 143 minutes in 2020 to 155 minutes in 2021, according to Zenith, a market research agency. There's still more the tech companies can do to solve the problems that come with this time increase.