Singapore has become the latest battlefield for Moomoo and Tiger Brokers, the two largest online brokers providing US stock trading to Chinese people.
Due to the loose monetary policy caused by the Covid-19 outbreak, the retail investing craze has become a global trend, and Singapore is no exception. Stockbrokers in the most-developed SEA country said they saw a spike in new account openings from retail investors, as well as the reactivation of dormant accounts.
For Moomoo and Tiger, it's also a rare opportunity to expand their footprints in the regional hub and even the entire Southeast Asia.
Tiger, which counts Chinese smartphone maker Xiaomi and American brokerage Interactive Brokers as investors, entered Singapore in March 2020. Moomoo, backed by Chinese social media giant Tencent, started services in the country in March of this year. The two trading platforms are respectively owned by Nasdaq-listed Chinese fintech companies UP Fintech and Futu Holdings.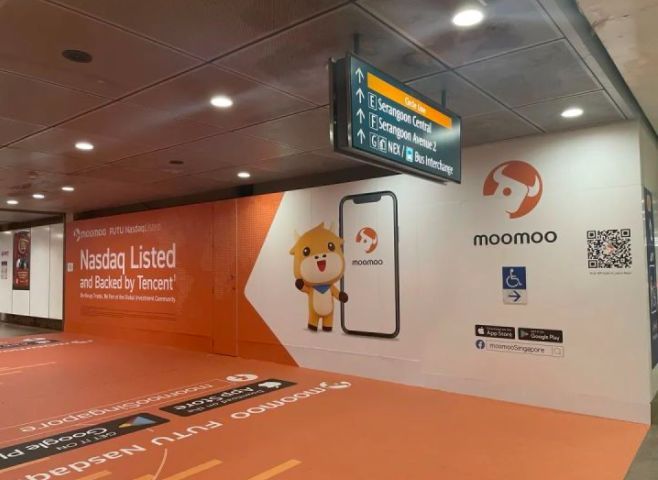 They have bombarded the city-state's consumers with advertisements for a while, from online to offline, attracting them with so-called zero commissions (practically not) and considerable referral rewards. As commuters pass through the country's MRT system, the brightly colored advertisements featuring cartoon tigers and bulls can be easily spotted. The bull stands for MooMoo because "moo" sounds like the voice of a cow in Chinese, and Tiger is obviously the mascot of Tiger Brokers.
As a country with a highly developed financial industry, Singapore's online brokerage sector is crowded, with both local and foreign players competing to attract investors and traders. By offering some of the lowest commissions in the market, along with practically zero minimum funding requirements, Tiger and Moomoo grab plenty of investors, especially the digital-savvy generation.
Both of them are mobile-friendly, providing technical indicators, stock ratings, free level 2 market data (note: clients can see live pricing and market depth, and that's where they can gauge market supply and demand and the number of sellers and buyers), and 24/7 financial news and other tools, which are more detailed than their American counterparts TD Ameritrade and other conventional brokerage firms.
One-stop service is another attractive feature of Chinese online brokers. By managing only one brokerage account, users can obtain more financial products and access markets outside Singapore, such as Hong Kong and the US.
Since the second quarter of 2020, the number of customers in Singapore has doubled for the third consecutive quarter, and Gen Z traders already make up 30% of the user base, according to Tiger.
"With over a million retail investors [in Singapore], we believe that there is huge potential in the local market which will serve as a strong growth driver for us as our products are quite different from other products in the Singapore market," Leaf Hua Li, founder, and CEO of Futu, said. The average age of Futu's clients is 35.
The vision of the Chinese brokers is not limited to Singapore, as the city-state is considered an essential link for them to open up the rest of Southeast Asia.
Futu has opened a new regional headquarters in March, saying it aims to better serve Southeast Asia. "The experience we accumulated here will give Tiger the potential to cover the entire Southeast Asian region," Liang Yijin, Head of Marketing at Tiger Singapore, told the press.
Unlike social software or e-commerce platforms, online brokerage firms may face more regulatory challenges when going overseas. Last year, New Zealand's Financial Markets Authority (FMA) warned Tiger Brokers for failing to have several adequate anti-money laundering protections in place and imposed a fine of NZD 160,000.
In addition, the implementation of an overly simple operating system and a low funding threshold will cause an influx of numerous inexperienced individual investors, aggravate market volatility, and put brokerages like Tiger and Moomoo at risk. Under the previous GameStop short squeeze battle, the trading volume surged, and prices fluctuated sharply, which caused the Depository Trust & Clearing Corporation (DTCC) clearinghouse to raise margin requirements. Therefore Robinhood has to raise $3.4 billion from its existing investors to keep the business running.
The confrontation between the two is far from over. According to a South China Morning Post report last month, Futu has launched a follow-on sale of new shares on Nasdaq to raise about $1.9 billion, as it seeks new funding to expand its margin financing business amid cutthroat competition. It is the Shenzhen-based firm second fundraising in the US equity market in eight months.