China, the world's largest electric vehicles market, saw more than 1.3 million EVs sold in 2020, representing 41% of the global sales, according to data from Canalys. That market still has plenty of room for growth, since the sales number only accounted for about 5% of the entire car market in China last year.
Driven by strong government directives and increasing market demand, the country has seen its fair share of NEV (new energy vehicle) startups quickly growing their sizes and beating their conventional competitors to the market. Three EV unicorns--Nio, Xpeng and Li Auto have raised billions of dollars through their IPOs.
China's State Council, the national government, has set a target for NEVs to account for 20% of total new car sales in China by 2025, and a majority by 2035."Pure electric vehicles will contribute a large part of new vehicles sold in China. Public sector vehicles will be fully electric, and highly automated driving vehicles will be applied on a large scale," said State Council in an industrial development report released in November last year.
Data from the Ministry of Public Security showed that new registrations of EVs jumped nearly 3 times to 466,000 vehicles in the first quarter of 2021, which signaled increasing demand of Chinese customers for electric cars.
As of this moment, the market is growing so fast, that even China's big techs are flocking into the sector, despite the fact that the earliest waves of government subsidies for NEVs are scheduled to completely phase out by 2022. Better financed tech giants like Huawei, Xiaomi, DJI, and Oppo, all of which are well established in conventional tech sectors such as consumer electronics and telecommunications, have announced their plans into EV making recently.
With its conventional revenue stream hurt by heavy US sanctions, Huawei is now seriously making EVs an integral part of its future strategies. At the Shanghai Auto Show, Huawei said that it will dedicate a whopping $1 billion investment on researching EV and autonomous driving technologies.
The global telecommunication giant has yet to manufacture cars under its name, but has been focusing on providing useful technologies to other car companies, and transforming its flagship stores across China into dealerships for brands that work with it.
Earlier this month, Huawei launched a slew of autonomous driving solutions, hoping that they will be picked up by manufacturers to use in their mass-produced models. Arcfox's Alpha S, debut at the Shanghai Auto Show this month, is one of the first production model cars that will be running on Huawei's Harmony OS, an internet-of-things operating system, and equipped with some of the company's solutions. Arcfox is a brand under state-owned carmaker BAIC group.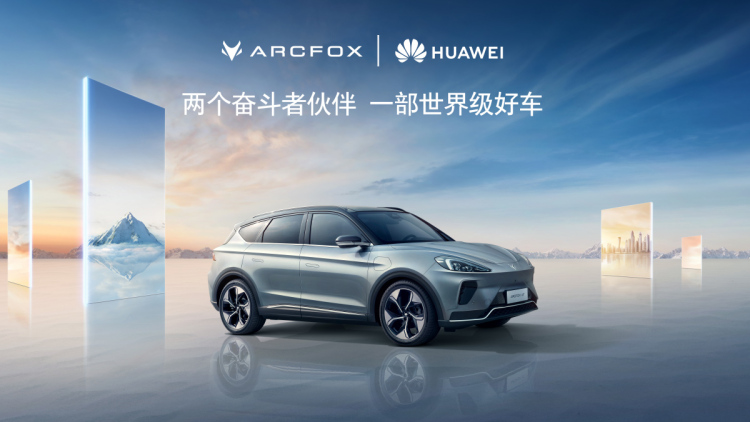 However, the Alpha S won't be the first car sold by Huawei in its stores. That place belongs to Seres SF 5, an extended-range EV made by Jinkang, the Chongqing-based company behind American EV startup SF Motors.
Meanwhile, rumors of Huawei's push into manufacturing EVs itself have been spreading on social media recently. Several outlets reported that Huawei plans to launch vehicles under its own brand. What's known is that Huawei is reportedly in talks with Chongqing Soken Industry Group, the parent company of Jinkang, to acquire controlling stakes in the EV company.
"The huge market size for smart vehicles gives Huawei an opportunity to offset its smartphone losses. 2021 will be a crucial year for Huawei to make a turnaround, especially with the support of the automotive and cloud computing businesses," Will Wong, an analyst at IDC, noted.
Similar turn of events have essentially forced Xiaomi, a Chinese company known for making all kinds of tech gadgets, into building cars. The company announced on its 11th anniversary that it is setting up a wholly-owned EV subsidiary, led full-time by none other than Lei Jun, the founder and CEO of Xiaomi and a well-respected figurehead in China's entrepreneur community.
An exclusive report by PingWest recorded that Lei had been demanded by board members, investors to start building cars, an urge that he was able to push back against for years. Then, earlier this year, the US Department of Defense accused Xiaomi of close ties with the Chinese military, which could potentially, but eventually did not, damage Xiaomi's global operation like what the US Commerce Department sanctions did to Huawei. However, the situation still triggered Lei to seriously put car making onto his agenda this time. He formed a task force to research the matter, and later on made the decision to designate this new EV company as the very last startup project of his professional career, allocating $10 billion from Xiaomi as start-up capital.
As of this moment, Xiaomi's EV development is still in very early stages, but unconfirmed rumor has it that the company plans to list Great Wall Motor, a publicly listed private car company, as its manufacturing partner.
Also on the car making bandwagon is search engine giant Baidu, which boasts its Apollo platform as one of the world's largest open autonomous driving platforms. In January, the company inked a partnership agreement with Geely, Volvo's owner, to set up a smart vehicle joint venture, leveraging competitive advantage of both Baidu's intelligent driving capabilities and Geely's manufacturing expertise. The two companies announced last week to extend their partnership by co-investing 50 billion RMB into the Ji Auto, the joint venture, over the next five years.
Baidu owns 55% of Ji Auto while Geely owns the rest. Xia yiping, CEO of the JV, said recently that his company is looking to hire 2,000 to 3,000 employees, with one-fifth of them being software engineers, within the next 2 to 3 years.
Even drone and camera equipment giant DJI has entered the arena, with an announcement this month that it is working on releasing a solution for smart vehicles. The company introduced a new business unit dedicated to the development, production and sales of intelligent driving systems, called DJI Auto, at the Shanghai Auto Show. Job postings on DJI's website also indicate that the company has been seeking self driving engineers since January this year.