Chinese search engine and artificial intelligence giant Baidu is speeding up its catchup game in the short video sector, as a part of a major ecosystem upgrade to maintain competitiveness against major rivals such as ByteDance-owned Douyin.
At a recent annual conference held in Qinhuangdao, Hebei Province, Baidu unveiled new short video tools and features and plans to incubate more than 10 thousands content creators in the next few years. However, what separates Baidu's plan from others', is that it focuses on knowledge sharing, which has historically been one of Baidu's strong suits, instead of entertainment.
"Online users have an increasing demand for knowledge as the average daily search volume for knowledge and content at Baidu's platform has surged," said Song Jian, head of Baidu's Haokan Video, at the company's Wanxiang Conference, "There has been a shift from the tendency of entertainment to more rational knowledge sharing in China's short video sector, I think the knowledge-based content will be the major theme in the next 3 to 5 years."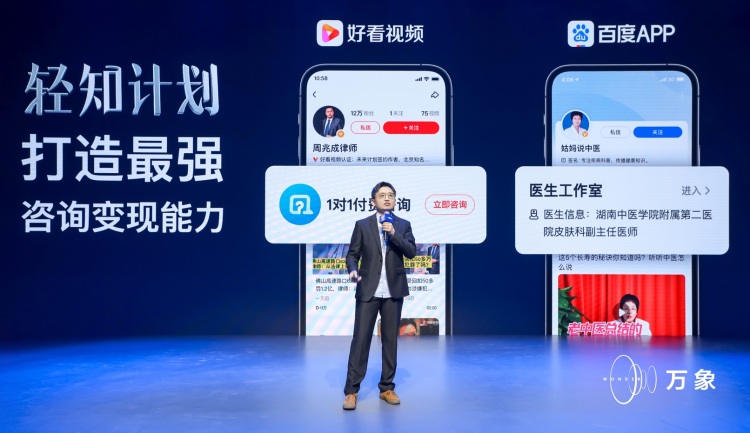 Baidu plans to invite roughly a hundred experts from various aspects of the society to join its short video platform, and help incubate more than 10,000 knowledgeable content creators who are expected to achieve an average annual income of 100,000 RMB through the Haokan Video. The company is also launching a campaign to market these influencers, letting viewers go behind the scene of their production .
For example, one of the experts invited to shed light on writing is Jiang Fangzhou, a popular writer who has authored nine books and shared tips of becoming better storytellers, such as her creative process and work routine, with creators in the audience invited to the conference.
Baidu executive vice-president Shen Dou boasted that the company now has about 420 million content creators across its many platforms, including Wenku, a document sharing service, and Baijiahao, a publishing platform akin to WeChat's Official Account.
With this broader ecosystem, content creators are able to cross-publish content on Baidu's wide range of PC and mobile-ready services. Creators on Haokan Video can also cross-publish short videos to other platforms within Baidu's ecosystem, including iQiyi, giving their content a wider audience and more exposure, and in turn further help the company enhance the interconnectivity of its own services.
Short video in China saw a big boost during the Covid-19 pandemic, which had citizens locked up indoors since late January last year, shifting even more of their time spent on content consumption towards online. According to reports jointly issued by the National Bureau of Statistics of China and National School of Development at Peking University, the average time spent daily on online entertainment increased by 24 minutes in 2020, and the top 3 entertainment options are short videos, online games and TV dramas. The studies also showed that online users are paying much more attention to more serious topics such as science, politics, law over the past year, an emerging trend which was also observed by baidu.
"Previously, online users mainly watched live streams, shows, and played games to entertain. But since this year, we've increasingly seen people use live-streaming for a lot of other purposes such as learning," said Song.
Baidu also unveiled a new video editing tool called Duka at the conference. Compiled with the company's image recognition technology, Duka can streamline the video editing process and increase creators' efficiency by importing production material from Baidu's cloud storage service with a simple click. The tool is part of Baidu's new "frame video concept", which essentially calls on creators, and provides them with tools, to improve the information density of their content.
Apart from Duka, Baidu had already introduced a smart video editing tool called VidPress in May last year. Also based on advanced machine learning technologies, Baidu claimed that VidPress allows Haokan's creators to generate video content automatically from URLs. The technology works by analyzing the webpage using natural language understanding, identifying media content, and aggregating relevant materials from a variety of sources, such as news clips, into users' content.
Baidu, a company that was once considered among China's 3 internet leviathans with Alibaba and Tencent, has in recent years fallen out of the first echelon and lost its placement of "B" in the "BAT" (the initials of the 3 companies) to ByteDance, the owner of global short video sensation TikTok and news aggregator Toutiao.
As it had fallen behind, the search engine giant doubled down on short video and livestreaming to catch up with everybody else, with one of its more recent actions being a May last year pledge to invest 500 million RMB into those businesses.
The company later restructured its short video units, consolidating its various offerings at the time, including Haokan and Quanmin Video, in November, 2020. The new business group is managed by Son, a short video veteran and former core member of Toutiao Video. Song was poached from ByteDance in August last year.
"With Baidu's two core businesses of search and artificial intelligence, we have competitive advantages to capitalize on the growing popularity of short video and live streaming, which has become an important medium for acquiring knowledge, entertainment and shopping," said Shen.
The Wanxiang Conference is held annually by Baidu's Mobile Ecosystem Group (MEG), which oversees search and mobile businesses.