Speaking at the Boao Forum for Asia on April 18, Li Bo, a deputy governor of the People's Bank of China (PBOC), said that the pilot programs for digital yuan are going smoothly after six more regions were added to the programs this year, plus the applications for the Winter Olympics.
The financial hub of Shanghai, Hainan province, the central cities of Changsha and Xi'an, as well as the port cities of Qingdao in Shandong Province and Dalian in Liaoning Province, have been chosen to participate in the program starting from this week.
"We have been preparing to launch digital yuan in the upcoming Beijing Winter Olympics, it will be available not only to domestic users, but also to international athletes and like visitors," Li Bo added.
China has an early start in the race to launch a digital currency. Last year, the country took the headline by rolling out the digital yuan trial issuance in cities such as Beijing, Shenzhen, Suzhou, Xiong'an, and Chendu despite the pandemic.
China Construction Bank was the first Chinese state-owned commercial bank to test an e-wallet feature for digital yuan. It launched the feature within its app on August 29, 2020 despite the bank quickly shut it down the same day.
This year, Spring Airlines is reportedly the first batch of airlines to cooperate with Chinese commercial banks to accept digital yuan for ticket payments. Spring Airlines recently received an order of 560 yuan paid with digital yuan for a flight ticket from Shanghai to Shenzhen.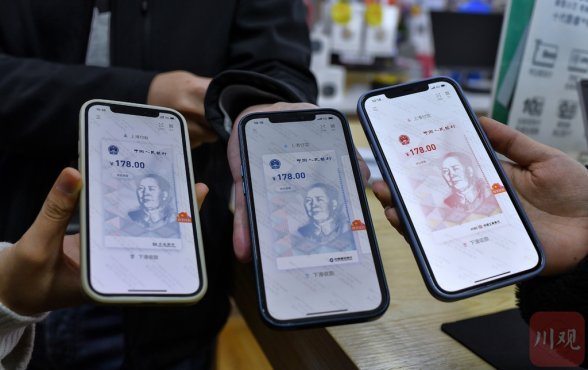 Li Bo said China's central bank is focusing on how the digital yuan will act in the domestic economy, rather than replacing the US dollar's dominance as the world's reserve currency.
"For the internationalization of renminbi, we have said many times that it's a natural process and our goal is not to replace the US dollar or any other international currency." he said.
Zhou Xiaochuan, the former PBOC governor, echoed Li's statement at the same panel, saying: "the largest demand of digital yuan is in domestic retail; financial retail system is the foundation of all. After building the foundation, we can gradually and properly promote the use of digital yuan in cross border payment."
While moving significant steps toward the goal of taking the lead in the race to launch a national digital currency, there's still no clear timeline of rolling out the digital yuan nationwide, according to Li Bo.
Interestingly, China has also planned to adopt blockchain-based anonymous technology in digital yuan despite the country's cautious view on cryptocurrency.
Speaking at a government-held economic forum in March, Mu Changchun, head of the PBOC digital currency research institute, said digital yuan would allow anonymous transactions in small amounts, which committee to protect individual privacy.
As the total market value of cryptocurrencies has exceeded $2 trillion, monetary authorities worldwide have increased their vigilance. The governments of Turkey and India are clamping down on cryptocurrencies led by Bitcoin, while China, known for its solid financial supervision, calls bitcoin an "investment alternative."
"We regard Bitcoin and stablecoin as crypto-assets... These are investment alternatives," said Li Bo at the Boao Forum.
Li's latest comments highlight a potential shift in tone from the central bank. Despite being the center of Bitcoin mining activities, China has always held a negative view of cryptocurrencies.
Citing concerns about money laundering and a threat to financial stability, in 2013, PBOC, along with other regulators, issued a statement, saying financial institutions and payment companies are not allowed to use Bitcoin as an investment objective in trusts, funds, etc., and issuing Bitcoin-related financial products are prohibited.
In 2017, the country had shut down local cryptocurrency exchanges and banned initial coin offerings (ICO) to raise money for crypto companies by issuing digital tokens.
Also, it marks "the first time that the Chinese government has recognized the asset value of cryptocurrencies," blockchain influencer Colin Wu commented on Twitter.
Talking about the motivation behind the PBOC's shift in tone, Vijay Ayyar, head of business development at cryptocurrency exchange Luno, told CNBC that governments realize that it is a viable and established, yet growing, asset class and need to regulate it. "China's regulation of crypto would be another massive boost to the industry in the country and globally," he added.
The explosive growth of cryptocurrencies has boosted the potential demand in the market. Therefore, some securities regulators are adjusting their policies.
Canada approved its first Bitcoin ETF in February, followed by three Ethereum ETFs in April. In the US, Grayscale, VanEck, Fidelity, and Valkyrie Digital Assets have reportedly filed Bitcoin ETF applications to the Securities and Exchange Commission. In March, the Hong Kong Securities and Futures Commission granted Huobi, a cryptocurrency exchange that mainly serves Chinese users, a license to issue a pure crypto asset fund.
"Like many other countries, China is also exploring how to regulate cryptocurrency investment and avoid serious financial stability risks," Li said, "They are not currency per se... and the central bank will keep its current regulations on cryptocurrencies."