On April 9, China Television Art Exchange Association (CTAEA), China Television Drama Production Industry Association (CTPIA), two of China's top entertainment industry associations, led a joint statement calling on short video platforms and video content creaters to respect the copyright, alleging that their content, often posted on platforms like Douyin and Kuaishou, involves blatant re-editing of the original content and constitutes plagiarism, and vowing to take legal actions.
"Short videos fulfil people's desire and demand for content creation, display, sharing as well as watching fmovies and TV shows during their short break or even few minutes between class or meeting, but copyright infringement issues are getting worse and harms the healthy development of the movie and TV drama industries in the long run. We will take legal action against short video platform operators for unauthorized use of content, accounts and channels will be terminated due to copyright infringement," the statement, which was also joined by China's top video streaming platforms as well as a group of top TV and movie production companies, wrote.

The statement mainly targets two types of common practices among movie and TV-focused social media content creators in China: re-uploading (commonly referred to as 搬运 by Chinese netizens) videos to specific platforms without the original rights holder's consent, and derivative editing and reposting (二创, or 二次创作 in full), that masks as movie commentary clips and involves at least some level of creative work but, still, often happens without consent.
A creator of a typical piece of "movie commentary" video essay extracts the storyline as well as key clips from a feature-long movie (or its publicly available trailer), ranging from Hollywood blockbusters to obscure local web series, and compile them into a short video that lasts several minutes, adding sensationalistic titles and dubs, and oftentimes reformatted into portrait to fit the smartphone screens.
Such videos have their roots in video sharing site Bilibili and have long existed on short video platforms, attracting hundreds of millions of viewers nationwide. Nowadays, this category (video made by Chinese creators) can even be found on US platforms such as YouTube and Facebook Video, which are blocked in China. Some of the channel has nearly 1 million subscribers and millions of views.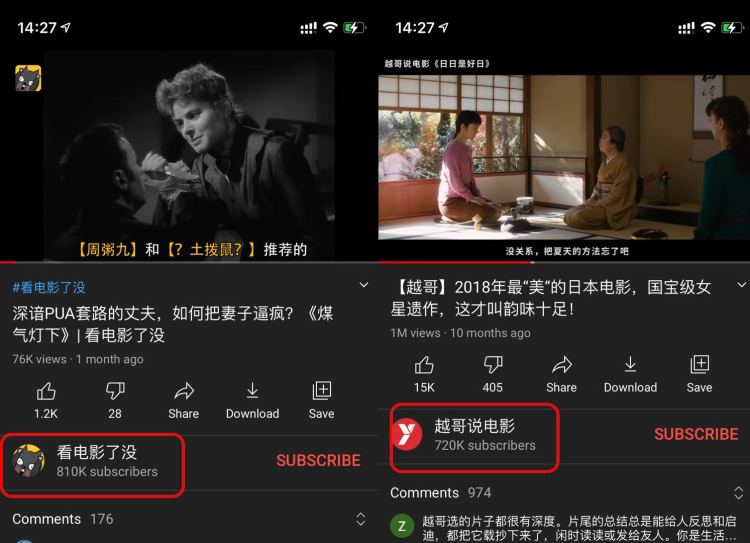 Normally right holders don't bother that much with these content since much of them are focused on past movies. However, what caught their eyes recently was the fact that platforms such as Douyin, the Chinese sister app of ByteDance's TikTok, commit funds to the creators of these content, that constitutes de facto organized plagiarism.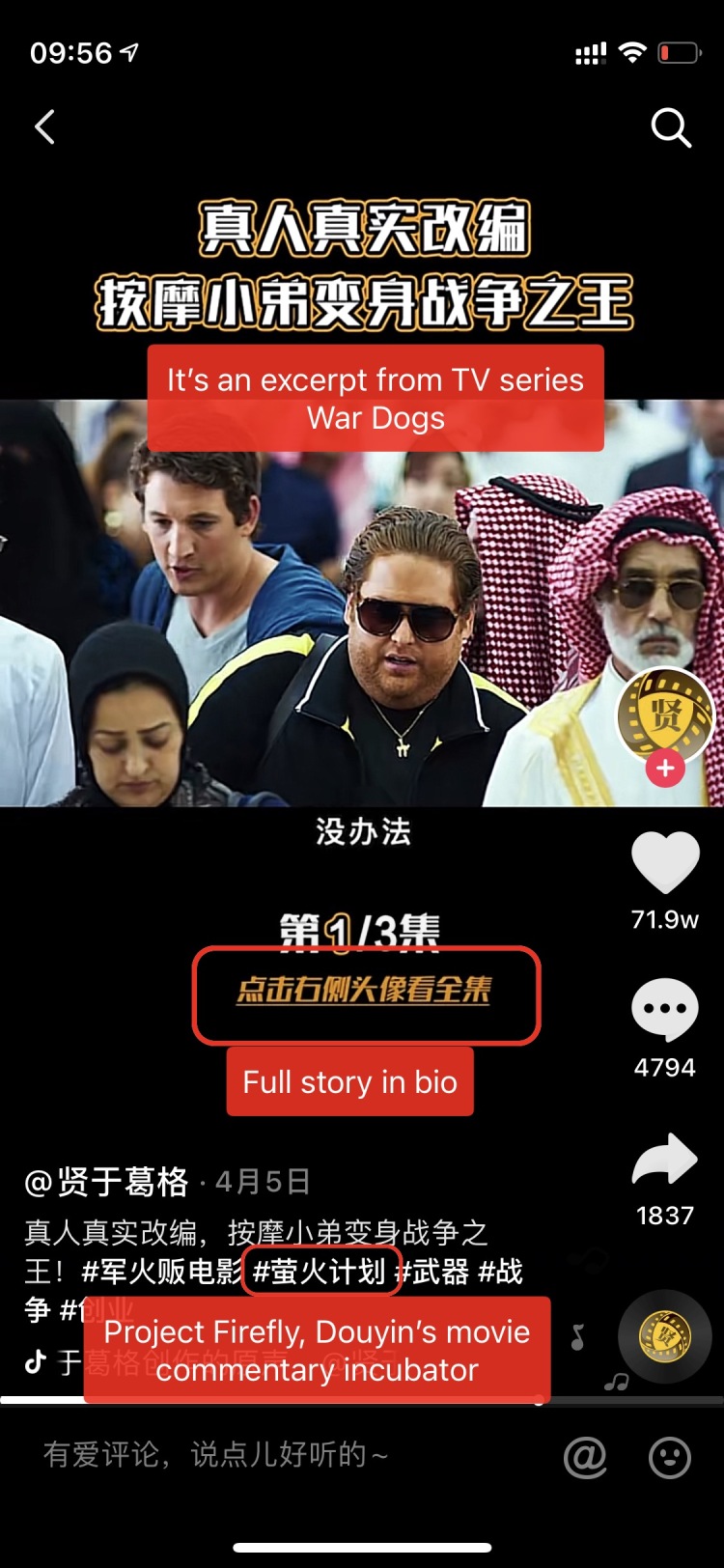 The Inevitable War
The rise of short video and streaming platforms has intensified the battle of over-the-top media service. According to the annual statistics and reports released by China Television Drama Production Industry Association in 2019, the monthly duration of users using short video apps exceeded for the first time that of the long video content providers, including iQiyi, Youku and Tencent Video, the top three video streaming platforms.
Movie studios and video platforms are throwing big bucks on content licensing and original shows production to retain their viewership. iQiyi, for example, had spent CNY 20.9 billion (roughly $3.2 billion) in this sector in 2020.
However, the heavy investment did not pay off as much as they envisioned. What's even worse, the combination of the pandemic, intense competition, and soaring content cost has pushed many of them into huge losses.
In May 2020, iQiyi, Youku, Tencent Video, and six Chinese movie production firms inked a proposal calling for industry self-rescue action to ride through the dark time partially Shadowed by the Covid-19 pandemic.
Struggling to turn a profit, video streaming sites reached agreements with studios on cutting budgets in all aspects of content production, including shortening the length of movies and TV shows, cutting the pay of actors and crew. In late 2020, both Tencent Video and iQiyi raised subscription fees.
While movie theaters nationwide were shut to mitigate the spread of the virus, In January 2020, Huanxi Media's feature movie Lost in Russia ditched theater altogether and streamed on Douyin following a USD 630 million deal with ByteDance. The deal also signaled an emerging trend that movie production companies are increasingly aware of, and embracing, the popularity of short video platforms in order to reach a broader audience base.
The Age of Cut and Pastes
Besides investments in feature-length movies, newer content platforms also host a big number of creators that make the aforementioned movie commentary videos. On popular video sharing site Bilibili, "movie reviews/recaps" is the fifth largest category. Recapping outside content has become an industry that an individual could quickly pick up with some cut-and-paste and dubbing skills to secure an annual income of about CNY 100,000.
"You can't count on it to become a millionaire." an article discussing this category of content claims. However, some creators did make a fortune out of it, with the direct funding support from platforms.
Having more than 50 million followers, Dushe Dianying is one such creator and the most popular movie clip uploader, as well as the number five most-followed account on Douyin. That creator is funded through Douyin's "Project Firefly" (萤火计划), in which the platform grants boosts to content recommendation, engagement, and various other resources. Accoring to Douyin data analyzer Duanyuer, The creator was able to gain 200 million followers in one week amid the nationwide Covid-19 lockdowns, a growth larger and quicker than any other creators' on Douyin. In August 2020, after closing a Series B funding, the company behind Dushe Dianying was valued at CNY 600 million.
Dushe Dianying is among a bunch of Douyin movie accounts that have 7 or even 8 digits of followers. According to sources familiar with the matter, the competition is cruel as editing becomes more of a streamlined workshop: free or paid tutorials and courses on how to be a recapper are easily found on the internet. And because of the short attention span nature of the short video platform, user loyalty cannot be guaranteed.
Zhong Weiding, best known as AmoGood, is one of the early starters of the game. Since 2017, the Taiwanese uploader has attracted several million followers on platforms including Bilibili and YouTube for his clips styled "Watching a Movie within X Minutes" show. He re-edits full-length movies into minute-long ones, and dubs his iconic sensational and sarcastic introduction and commentary. In 2017, AmoGood was said to have achieved an annual revenue of 2.5 million RMB. The fame in the cyber world had brought himself in a legal battle in Taiwan with Disney and four other rights holders on the ground that his act of putting together the snippets of original movies constitutes copyright infringement. He was eventually found violating Article 92 of the Taiwan Copyright Act by his act of adaptation that involves business interests.
Across the Taiwan Strait, rights holders and short video platforms are also having lengthy disputes over copyright.
In May 2018, iQiyi sued Bilibili for an unauthorized broadcast of its original hip-pop talent show, The Rap of China. Most recently, the China Audio Video Copyright Association accused Kuaishou of infringing music copyrights, asking the Hong Kong-listed company to delete more than 10,000 pieces of content from its platform.
Next Episode
Starting June 1, China's revised Copyright Law will take into effect, strengthening protections toward intellectual property holders and original creators, and is expected to impact the movie recapping industry, both positively and negatively.
Streamlined chopshops with minimal creativity involved are expected to inevitably exit. But what's next for those who want to be the "Weird Als of Movies?"
Wang Banxian, a Chinese entertainment reporter, told PingWest that the ambitious content creators would have to figure out a way to comply with the copyright laws and cooperate with the movie industry. If they do so, the rights holders would continue to value their influence and marketing potential.
Meanwhile, short video platforms themselves are working to establish better relationships with the production industry. In 2019, Douyin announced a strategic partnership named "Project Vision" with six Chinese production companies to promote their movies, including campaigns such as movie-related short video challenges, and in-app events that legally use movie soundtracks.
Next month, Universal's blockbuster Fast & Furious 9 will hit China's theaters. On Douyin's For You page, copyright law-compliant clips of John Cena, who stars in the movie, speaking Mandarin Chinese on various occasions. are being actively pushed. And this could be a common scene after June 1, the day the new copyright law activates.