Digital wallets are gaining popularity globally for their convenience to complete payments and to send, receive, and store money via smartphones. According to a GSMA report, 1.2 billion people have opened a mobile payment account by 2020, and 2.1 billion USD is processed daily by the mobile payment industry.
The development of mobile money also boosts financial inclusion in the economy, benefiting more people who were barred from the traditional financial system. What's more, the low-cost transaction fee favors merchants, agents, and ordinary people who count their pennies.
However, unlike traditional banking services, mobile wallets tend to fend off from one to another because of business competition. There are around 310 mobile wallets globally, but sending mobile money directly from one e-wallet to another has not been a built-in function in most products.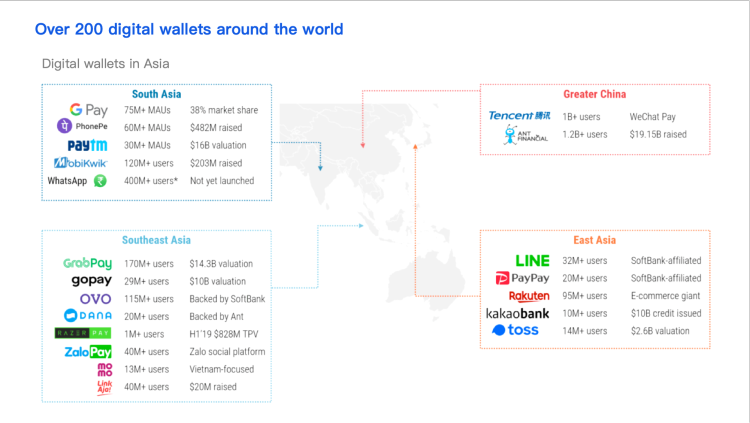 Started in Hong Kong in 2019 by three Chinese co-founders, WalletsClub provides a clearing service via an API called WalletsNet to link mobile wallets from all regions and help achieve an around-the-clock, real-time, low-cost way to transfer money or make a cross-border payment directly using mobile money.
"WalletsClub is a technology driven clearing house. We focus on fast and secure cross-border remittance and payment, and aim to be the Visa/MasterCard of the mobile world." Xue Zhixiang, the co-founder and CEO of WalletsClub, told PingWest.
A clearinghouse is usually a 3rd party organization that collects, sorts, and distributes payments, securities, transactions, and all the business between the banks that use its services in the financial market.
For WalletsClub, its clearing service links up only e-wallet issuers, merchants, acquirers, and users, evading systematic financial risks.
"Although we are a young company, but we do have years of experience on cross-border payment and transaction." He added. Before starting WalletsClub, Xue was a technical expert at Alibaba and Ant. He was also a member of AliCloud's founding team.
WalletsNet, the mimic of VisaNet of Visa Inc, or BankNet of MasterCard, is a clearing system that streamlines the transaction process, improves delivery speed, and reduces costs when sending money across borders via different digital wallet accounts. According to Xue, WalletsNet transfers only take few seconds, while traditional bank transfers sometimes take up several days.
"Our team is engineer mindset driven - so that we don't have to get our hands on client's cash flow, so it's about pure intermediary that facilities the exchange of payments. In fact, that's what we think fintech is." Xue said.
There's some existing use case to send money from one digital wallet to another directly. AlipayHK, Chinese fintech giant Ant's Hong Kong branch, allows users to send remittances in real-time to a GCash account in the Philippines. Given that more than 130,000 Filipinos reside in Hong Kong, a majority of whom are domestic workers, it's a faster and cheaper option for them to send money back home than costly bank transfers or Western Union.
In China, Alipay and WeChat Pay have poured money into more than 50 countries and regions to lure Chinese tourists into using their cashless payments outside Mainland China. Also, the Chinese payment behemoths invest heavily in overseas payment services through mergers, acquisitions, and collaboration.
Unfortunately, not all e-wallet operators have a deep pocket like Alipay and WeChat do. That's what WalletClub tries to solve. Currently, WalletsClub is developing an ISO 20022 standard financial date exchange platform and a universal QR payment code that follows EMVco specifications. Digital wallets that implement WalletsNet API can mutually recognize each other's QR codes and immediately make the local currency's payment at a competitive exchange rate. Meantime, WalletsClub charges a fee of few US dimes for each transaction, which cuts at least 90% of the traditional bank transfer fee.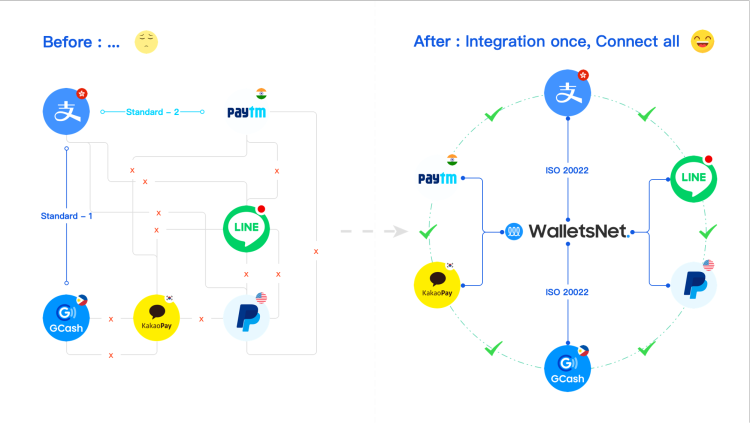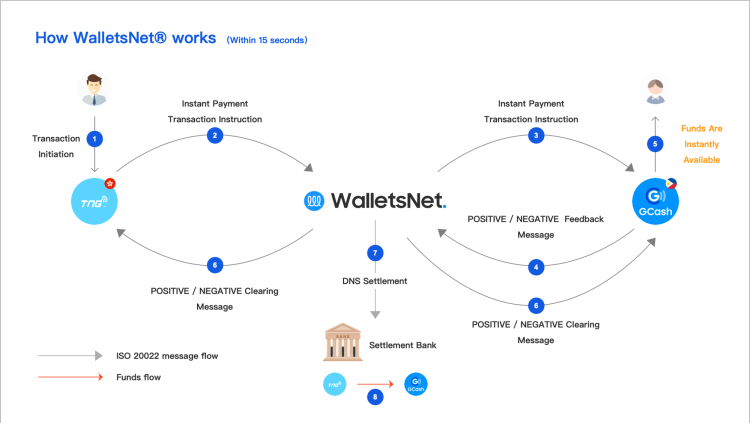 "The lack of clearing service in e-wallet industry is dragging the whole cross-border payment/remittance experience down. So we are here to help accelerate the scenerio." Xue said.
When asked whether Alipay or PayPal would make a clearinghouse, Xue said when Bank of America, the biggest bank in the States, issued "BankAmericard", the first credit card in human history. It had the ambition to take all the market share. But it soon began to license the program to other financial institutions and finally gave up direct control and formed a consortium that is Visa Inc. He implied that no winner takes all market situations, even if the player is big enough and is actively expanding its ecosystem.
"Citibank once also wanted to monopolize America's ATM network, but that was unrealistic. When you tried to keep off other competitors, certainly they could form a similar association to confront you. It is better to open up early, and let everyone invloved, so that everyone can gain more revenue," Xianru Zeng, the co-founder and COO of WalletsClub, explained, "BofA did not lose its leading pole in the business, and also made a lot of money from Visa."
According to McKinsey Global Payments Report 2019, the cross-border payment market size in 2019 is 130 trillion USD. Meanwhile, in a Deloitte report, the adaptation of e-wallet is steadily growing at 10% YoY. The demand for cross-border transactions and payment via e-wallets is on the rise.
"In terms of payments, the policy barriers for overseas e-wallets to enter China are slowly being broken through, and for China to become a major consumer country in the world, it is bound to attract consumption from around the world, and how can this be achieved efficiently? Only by connecting overseas wallets with domestic acquirers through clearing houses. And we'd be pleased to build the new infrastructure." Zeng added.
As for cross-border remittance, fintech unicorns like Wise and Airwallex have already disrupted the money transfer service to small businesses and individuals. Alipay is also trying to implement its blockchain technology into its digital bank portfolio. Besides the aforementioned AlipayHK/Gcash realtime fund transfer, Malaysia's fintech firm Valyou also use Ant's blockchain-based remittance service to facilitate instant transfers from Malaysia to bKash of Bangladesh because Bangladeshis working in Malaysia are in such huge numbers that the remittance makes a major portion to the nation's foreign currency reserve.
"The value of e-wallets is still underrated, given that there's more than 1.7 billion unbanked people around the world. Ant Group's two remittance use cases reveal the great equality and inclusion of e-wallets to more than 200 million working migrants." Xue said, "we have the resposibility to enhance the e-wallet industry with interoperable infrastructure that is clearing network, standardized communication methods and standardized interactions so that all players can share the benefit of technology."