The Bitcoin frenzy has put the mining business in the spotlight again.
Currently, China accounts for more than 60% of all bitcoin mining globally. Southwest China's Sichuan Province alone accounts for about 70% of domestic mining due to its cheap electricity.
Also, China is the world's biggest market for cryptocurrency mining hardware. According to mining equipment manufacturer Ebang's prospectus, its sales revenue in the Chinese market is considered for 91.4% and 87.5% of its total revenue in 2018 and 2019, respectively.
Based on decentralized networks, Bitcoin requires that every transaction recorded on the blockchain must be verified by miners. These miners run purpose-built computes to solve complex mathematical problems that effectively allow a bitcoin transaction to happen. In return, the miners receive bitcoin as a reward.
The whole process is hugely power-hungry because it needs a lot of computer calculations to verify transactions. Bitcoin mining consumes around 121.36 terawatt-hours (TWh) a year— more than entire countries such as Ukraine and Argentina, Cambridge University's analysis suggests.
Rural Sichuan is inconvenient in transportation and economically underdeveloped, but its natural resources, especially cheap hydropower, are abundant. In many cases, the local powerplants produce more hydroelectricity than the local grid can absorb, thus wasting a lot of electricity.
Besides, due to the geographical disadvantage, it is troublesome for the manufacturing industry to develop, so crypto mining is somewhat of a "gold mine" opportunity that local governments don't want to miss.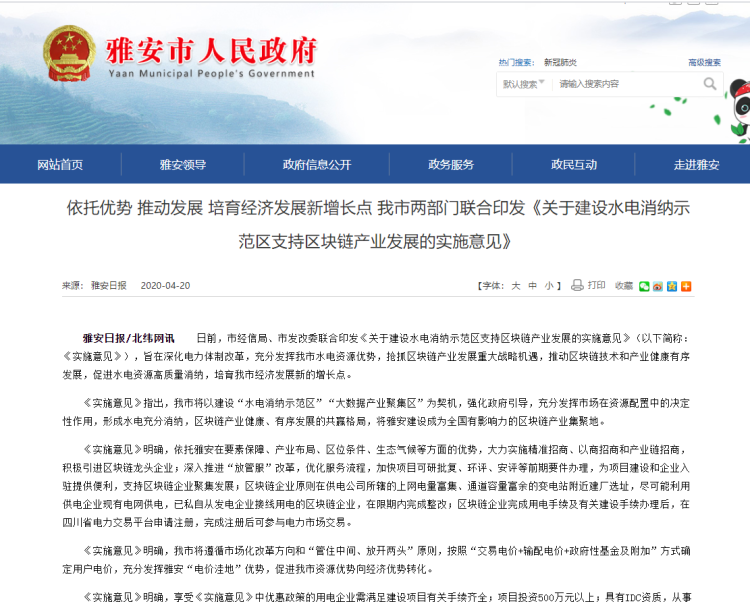 The Ya'an Municipal Government of Sichuan Province issued a document in April 2020 claiming to give full play to the advantages of hydroelectricity and promote the blockchain industry's orderly development. "(We'll) build Ya'an into an influential blockchain industry cluster in the country," the document reads.
However, the favorable policies are not stable and sustainable. Soon after Ya'an introduced the policy, the Sichuan Provincial Finance Office requested the evacuation of mining companies. "In order to prevent risks such as illegal fund-raising, pyramid schemes, and fraud, all regions, especially those with rich hydropower resources, we need to strengthen investigation and stop the introduction of mining companies," said the regulator.
Although the central government, especially financial regulators, embrace Bitcoin's underlying blockchain technology, they do not back cryptocurrency trading and mining. In 2017, Beijing banned initial coin offerings and cracked down on businesses involved in cryptocurrency operations.
China's top economic planner, the National Development and Reform Commission (NDRC), pointed out in 2019 to list cryptocurrency mining as an industry that should be eliminated, citing concerns about safety, waste of resources, and pollution.
China is also pushing to become more environmentally friendly, targeting peak carbon dioxide emissions by 2030 and carbon neutrality by 2060.
In response to the central government's call, Inner Mongolia, located in northern China, recently announced that it plans to ban new cryptocurrency mining projects and shut down existing activity in a bid to cut down on energy consumption.
Cryptocurrency farms in Inner Mongolia reportedly have begun transferring their mining rigs to other locations, such as the Sichuan province.
So far, mining activities have not been explicitly prohibited by the Chinese government. Still, as stated in the prospectus of Sichuan-based mining Farm SOS Limited and Ebang, if the government pressure on the sector grows in the future, their businesses will be significantly affected.
For underdeveloped areas with excess energy and heavy debt, mining farms can contribute a certain fiscal revenue amount. It is difficult to give up the industry, even if the central government does not like it.
Most of those mining farms still refused to disclose their specific location to the outsiders, which seems to be a consensus reached with local governments.