Five state bureaus had jointly called in Tesla China regarding recent safety incidents and marketing controversies. China's top market regulator announced on Monday evening via its Weibo account.
The State Administration for Market Regulation, the Cyberspace Administration of China, Ministry of Industry and Information Technology of China, Ministry of Transportation, and Fire and Rescue Department of Ministry of Emergency Management have instructed Tesla to intensify internal management to take responsibility for safety and quality control, and protect consumers' right under the Chinese law.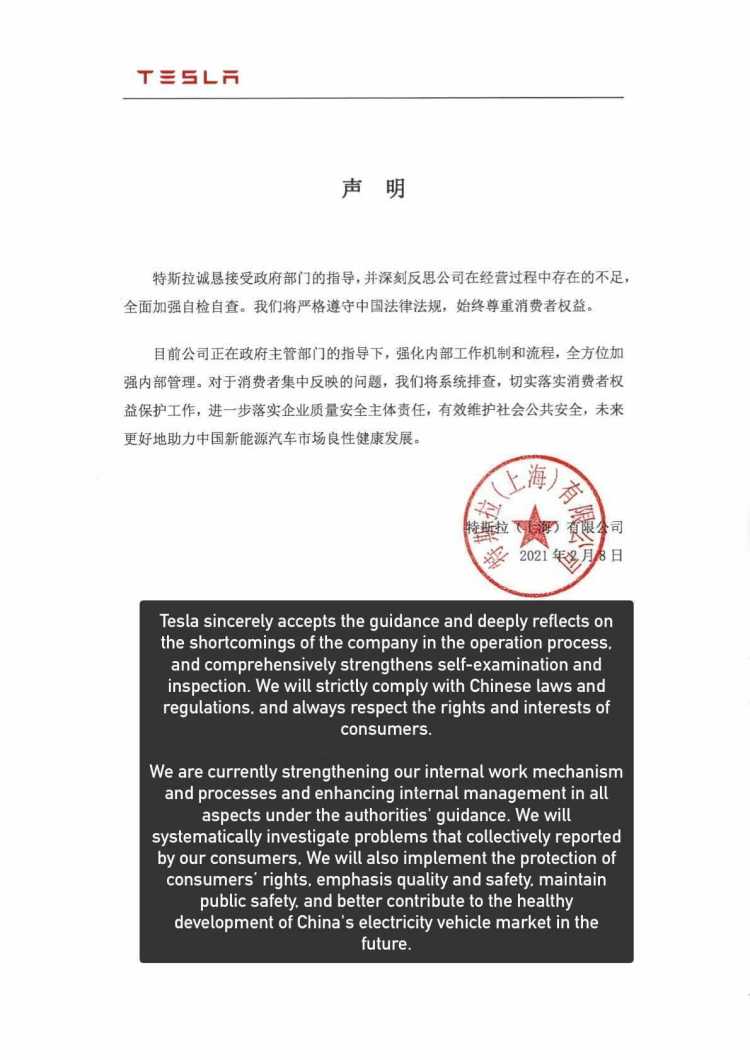 Tesla China soon issued a response stating that it will "deeply reflects on the shortcomings of the company in the operation process" and "strengthens self-examination comprehensively."
Tesla has been a dominant player in China's EV field, selling nearly 140,000 units locally in 2020. Meanwhile, the US EV giant also has support from the Chinese authorities to keep expanding its plants and production.
Nonetheless, the company is also frequently blamed for avoiding responsibility when having disputes with its customers.
Last week, a video clip showed that a Tesla employee suggested a Chinese Tesla Model 3 owner blame State Grid's power system for damaging his car, insisting the car has no problem. Tesla issued an apology after the video went viral.
In 2020, Tesla cars were reportedly responsible for several accidents. In August, a Model 3 suddenly sped up and rushed into a parking lot in Wenzhou, Zhejiang. Another driver from Hangzhou reported in May that her Tesla once accelerated for no reason.
PingWest reported in December 2020 that Tesla has problems such as inadequate quality control and allegations that workers are forced to work long hours to handle the excessive works. Tesla China has sued PingWest over the reporting. In response, PingWest has sued Tesla for infringing on PingWest's right of reputation via the internet.