The GameStop frenzy has shocked the Wall Street. Retail investors have flocked to the going-long war, trying to squeeze institutional short-sellers. It turned out that the craze soon spread to China as it was happening, and many Chinese individual investors also participated in the battle against financial institutions.
Behind the "blow-out-the-short-sellers game" is a saga led by the Reddit group "wallstreetbets" (WSB). Consequently, equity shorts lost $91 billion in Jan. alone, according to S3 Partners.
Short sellers, led by hedge funds, are betting that the price of the stock they sell will fall in price. If the stock does drop after selling, the short seller buys it back at a lower price and returns it to the lender. The difference between the sell price and the buy price is the profit. If the stock rises, short-sellers could suffer theoretically unlimited losses. Therefore, when the bet fails, short sellers will rush to repurchase the borrowed shares so that they can return them and exit the trade.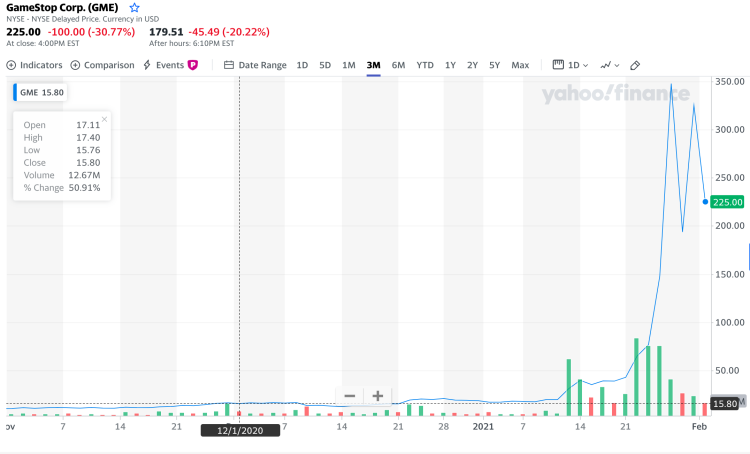 This was what happened to GameStop. Although hedge funds and other institutional short-sellers bet that the stock is destined to decline further, WSB called on individual investors to do the opposite, buying stocks and call options as much as possible. Last Friday, the gaming merchandise retailer's share price had risen by more than 1,700% since Dec. last year, which forced short sellers to repurchase borrowed shares at higher prices, causing huge losses.
Redditors named this action an unprecedented "revolution" because, in most cases, institutional investors make money while retail investors lose. This kind of stock trading, which can create considerable profits in a short time and symbolizes resistance to corporates, swiftly flew the other side of the Pacific Ocean.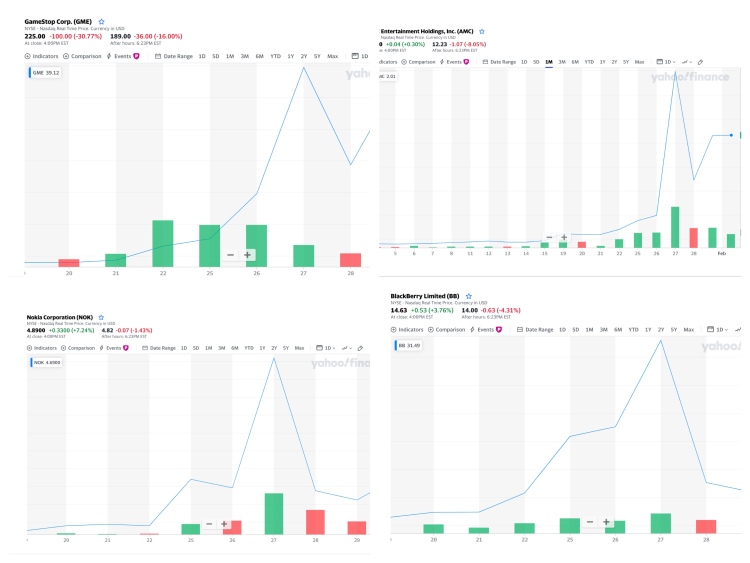 Chinese retail investors' participation began to surge on Jan. 27, when GameStop, Nokia, AMC, and BlackBerry all experienced tremendous increases. Prior to this, discussions about WSB's "meme stocks" were like scattered sparks, not big enough to ignite a bonfire.
Some Chinese users joined the Reddit channel and Discord group of WSB, and shared the trends of meme stocks with more people through Chinese social networks like WeChat, Xiaohongshu, Weibo, and other stock forums.
After knowing which stocks American individual investors are going long, they bought in one after another, creating the slogan "support the American brothers, bring down Wall Street."
On Jan. 29, when some mainstream US brokerages restricted the trading of these WSB-related stocks, Chinese retail investors enthusiastically said on social media and stock forums, "We haven't been limited yet, so we'll buy more and never sell them. Remember, we'll always stand with you guys."
Ironically, only the earliest birds got to eat the worms as a small group of Chinese retail investors profited, and most Chinese investors who entered the market after knowing about the frenzy through Chinese media when the stock price rose to its highest, suffered losses.
Although it is impossible to tell how much money came from China in the GameStop incident, the Federal Reserve-driven stock market has indeed attracted the participation of numerous Chinese investors since 2020. Data from online brokers Futu Holdings and UP Fintech Holding, mainly serving Chinese users who invest in US stocks, echoed this.
According to the Q3 2020 financial report of Futu, the total number of paying clients increased 136.5% year-over-year to 418,089. Total trading volume increased 381.1% to 1,014.7 billion Hong Kong dollars ($130.88 billion), in which trading volume for US stocks was HK$564.5 billion ($72.81 billion), HK$436.2 billion ($56.26 billion) for Hong Kong-listed stocks. The Tencent-supported broker has experienced sound growth.
UP Fintech Holding, jointly backed by Chinese smartphone brand Xiaomi and e-commerce giant Alibaba, also post a good-looking Q3 2020 financial report. Registered users increased by 142,000 from the same period last year, reaching 976,000 in the third quarter of 2020, and then exceeded 1 million at the end of Oct. The number of newly registered paying clients was 7 times that of the same period last year, and total clients assets increased by 188.1% year-on-year to $10.9 billion, both of which set the fastest quarterly growth rate in its history.
However, the surge in trading volatile stocks has substantial risk for online brokerages, resulting in the need for temporary suspension on transactions of those stocks,
Futu and Up Fintech (also known as Tiger Brokers) joined in the array of US securities firms that restricted users from buying shares of WSB-related stocks last Thursday, only those with existing stock were able to sell the stocks.
"New positions in the stocks were prohibited due to upstream restrictions," Futu said in a statement.
The temporary suspension triggered angry responses from Chinese retail investors.
Futu Holdings, Up Fintech Holding and Webull resumed trading in GameStop and AMC Entertainment on last Friday, just one day after restricting transactions amid volatility in the stocks.
According to statistics compiled by the China Securities Depository and Clearing Corporation, there are more than 177 million retail investors in China, accounting 99% of the total investor base.
Unlike the US stock market, short selling is highly regulated and incredibly rare in China, making it hard for Chinese investors to pursue different money-making strategies.
The country's regulators only started to allow short selling about 10 years ago and it remains well below 1% of the total market trading volume usually.
China is no stranger to market volatility driven by frenzied trading, some of stocks saw its shares skyrocketed during the first day of trading on the country's major stock exchange, but retail investors have a limited ability to participate in trading and boosting new stocks amid high barrier for capital and qualification. When the Nasdaq-style Star Market launched in Shanghai in June 2019, local institutional investors helped some of the stocks surged in market value. Shares in one company rocketed by 400% on the first day of trading.
Just like individual investors and Gen Z investors in the US have expressed repugnant feelings about the hedge funds and short-sellers that are part of the notorious Wall Street elite.
In China, many investors complain that they are being harvested like "leeks"- a common vegetable in the Chinese diet by the institutional investors-which is being accused of using untransparent information to cheat retail investors out of money they think they deserve.
That's why the ongoing GameStop events in the US has triggered a lot of reactions with many Chinese people sharing their view and supports for the "retail investors rally" taking place on WallStreetBets. Some of them have rushed into the WallStreetBets forum on Reddit to express their view and show supports.
On social media platform Weibo, some of them have joked "Leeks, stay together to rebel" to show their solidarity with American retail investors.
"Where there is oppression, there is resistance. As an individual trader in China, I am standing firmly with my American counterparts!"
"This feels like the proletariats around the world are coming together and rebelling."