Beijing (PingWest)-Electric car experts criticized electric vehicles manufacturers for bragging about their EV battery technologies and called it a marketing gimmick.
"If you heard somebody saying that EV vehicles are able to travel over 1,000 km (as measured on the very optimistic NEDC testing cycle) on a single charge with only 8 minutes charging, claiming the whole charging process is safe and low cost. Don't believe it because it is impossible to achieve at current stage," said Ouyang Minggao , Academician of the China Scientific Academy, deputy chief executive officer of China EV100 forum.
Ouyang's speech triggered a series of heated debate on China's social media and it came after GAC Aion, the EV brand of GAC Group, unveiled its super-fast charging graphene battery.
GAC Aion, claimed its new battery can be charged to 80% of its total capacity (a driving range of 1,000 kilometers) within only eight minutes and cost of battery is slightly higher that that of conventional power batteries on the market.
"Our graphene battery allows electric vehicle industry to enter into "monthly charging era", GAC Aion highlight the slogan on marketing poster for the battery.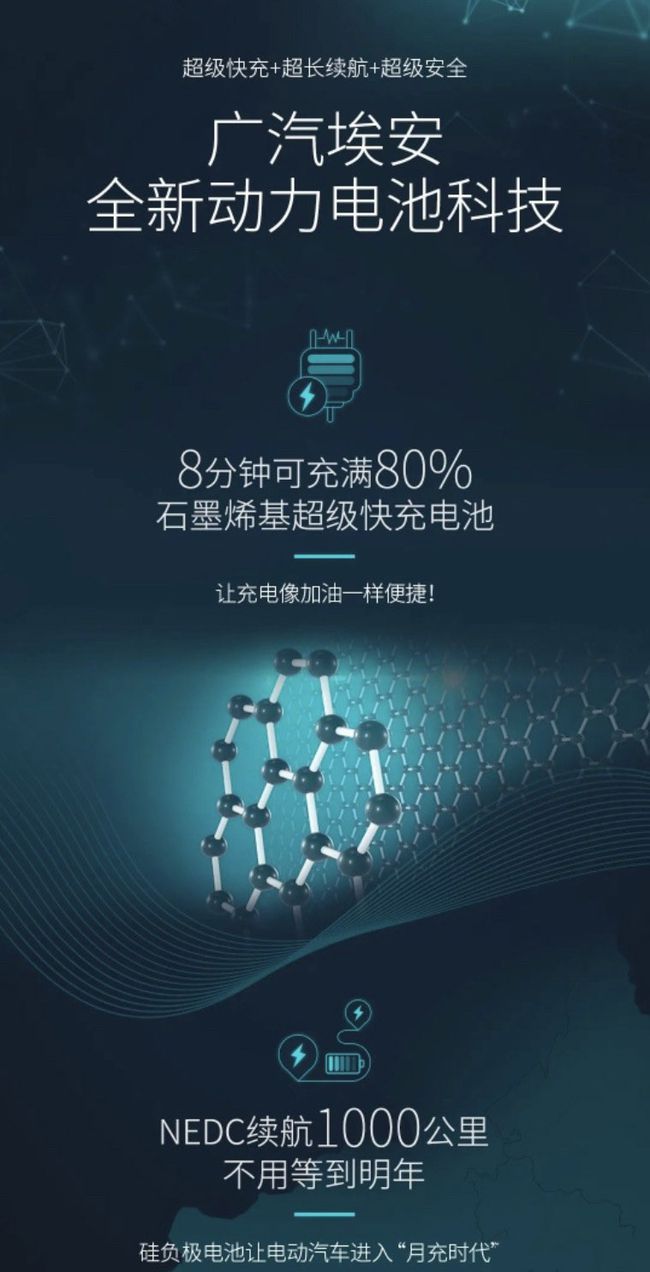 GAC Group introduced the battery in December, 2020 when it said research and development of the graphene-enabled battery was smooth and it would be likely to test the battery for volume production in vehicles at the end of 2020, but whether the mass production will be achieved still depend upon the testing result
Experts and industry analysts have voiced their concerns over the feasibility and safety of the GAC's battery in cars.
In response to the doubters, GAC Aion didn't directly answered the question, but instead hinted that it is applying two features, meaning the super-fast charging and the long driving range, in two different type of batteries, rather than combining both features into the one product, with the goal to test the features in separate programs for security concerns.
The company later confessed that this particular super-fast battery has a driving range of 200 to 300 kilometers, not 1000 kilometers as previously marketed.
"What GAC Aion is trying to sell here is not something that current technologies can realize, so it seems to me an advertisement fraud," said Ouyang.
Other Chinese electric vehicle manufacturers that involved in the heated debate were Nio and Shanghai-based Zhiji Motor.
Shortly after GAC Aion, Shanghai-based Zhiji Motor announced that it was working with CATL, China's biggest producer of automotive batteries, to develop a silicon-doped lithium supplement battery cell with a 1,000km driving range.
Meanwhile, Nio, Tesla's biggest rival in China's market, also said that it could be the first EV company to place the 1,000km range on its new vehicle model, that the ET7 sedan would be equipped with a 150-kilowatt-hour solid state battery that can go 1,000 km on a single charge when it is scheduled to be delivered in 2022. The company already sells the P7 sedan, with the longest range of about 706 km for any electric cars made by a Chinese brand.
High costs of EV batteries have been a major barrier for the price and sales. In order to lower the costs of manufacturing battery, Nio has developed a swappable battery complete with Battery as a Service (Baas)- a battery leasing service that allow drivers to buy an EV without owning the battery pack and swap spent battery packs for fully charged replacement.
Nio's offering sounded more realistic that GAC Aion's product poster given the facts that Nio gave actual timeline for realizing the 1000 km range. However, experts and industry players raise doubts and questions over the efficiency of such batteries as cost of developing them would be extremely high.
Feng Sihan, CEO of Volkswagen Group (China), emphasized that EV companies could fall into vicious circle if they race against each other in a batter for developing longer driving range batteries.
"Without technology breakthrough for batteries, the cost of developing car body could be high because new vehicle model needs to fit heavier batteries. I think EV companies could fall into a vicious circle if they continue to battle each other for superior batteries. Currently, Volkswagen has no plan to develop EVs that equip with 1000km battery," Feng said.
Shen Hui, CEO of Baidu-backed EV companies WM Motor, believed that it is not a necessity for EV companies to develop batteries with a driving range of 1000 km as more and more charging stations and battery-swapping stations will be established in the next two to three years.
"I think it could be a meaningless business solution if some EV companies launched a longest range EV model but it has to be waited and delivered in the next two to three years. Th battle will be wasteful and inefficient to society if all main EV car model fit with batteries of 1000km or longer driving distance. Battery efficiency is more important thing to me than driving range, actual electric spending efficiency and spending efficiency per kilowatt hour are the most important matter," Shen said.