2020 ought to be tough for Xiaomi. In 2019, its stock price was struggling at all-time lows. Before that year's Christmas, the tech giant opened its second headquarter in Wuhan - almost the same time the first outbreak of the coronavirus was identified in one of the city's wet markets. The rest are the pandemic, the lockdown, the xenophobia, and the turf war. The timing seemed to be just not right for this tech firm to celebrate its 10th birthday.
Under such circumstances, it would take some guts to predict the Hong Kong-listed tech major could triple-fold its stock price or even overtook Apple to return to the 3rd position of the largest phone brand worldwide. Thoughts that it would release one or two popular higher-end flagship phones and retain a strong fanbase at year-end could be insane.
Insanity is the year 2020, so is Xiaomi, which wrapped up reaching all the goals mentioned.
Against all odds
In January 2020, Xiaomi was full-on schedule arranging for its presentation of its annual flagship phones. The upcoming Mi 10 and Mi 10 Pro are powered by Qualcomm's leading Snapdragon 865 and have other chic specs. They are also the then world's 4th largest smartphone company's first attempt to tap into the high-end market - the $600 tier used to be filled mostly by Huawei and Apple in China.
Suddenly, the coronavirus breakout called it to halt on everything. The team faced delays and uncertainties from the supply chain amid the lockdown, not to mention that the atmosphere was in nothing but anxiety and fear.
Born and raised in Xiantao, a city lies southwest of Wuhan, Xiaomi founder & CEO Lei Jun decided to change the plan and fought Covid-19 as a priority. Meantime, Lei Jun and his team had a plan b of live streaming the event on the set date despite mass production delay. "It will be a good sign to boost the industry's confidence." Lei Jun said in an interview with Esquire China.
The first live-streamed flagship keynote was successful, attracting 2.99 million simultaneous viewers. Over 1 million Mi 10 series were sold in China by April. Giving that Mi 10 series were Xiaomi's most expensive flagship models, Xiaomi's premium strategy did begin to pay off.
In Xiaomi's Q3 financial report, its smartphones' average selling price (ASP) increased by 14.7% YoY. And premium phone shipments reached 8 million units as of October.
Xiaomi also acts fast to take up Huawei's vacuum, when Huawei's high-end model shipment is expected to drop due to US sanctions and the then sub-brand Honor spun off.
According to a Canalys report, Xiaomi's Q3 shipments grew at the highest year-on-year rate among the world's top five phone makers, and that it overtook Apple to move up to No. 3 in global smartphone shipments. It took Xiaomi 6 years to return to the spot.
Are you OK

In Lei Jun's Xiaomi 10th anniversary speech, the global business contributes more than half of Xiaomi's total gross revenue, of which India represented Xiaomi's first major international expansion. Since late 2017, Xiaomi dethroned Samsung and its five-year reign and has been a leading smartphone brand in India almost every quarter.
However, as a Chinese company, Xiaomi has been facing constant obstacles and challenges in 2020 amid the rise of COVID-19 and anti-China sentiments among Indian consumers.
A series of skirmishes erupted on the China-India border in mid 2020 where troops from both countries clashed, leaving 20 Indian soldiers dead.
Indian government retaliated by banning 177 Chinese apps "to ensure safety, security, and sovereignty of Indian cyberspace." Four Xiaomi apps, including its fan forum, a web browser and a video-calling platform, were caught in the purge.
Meanwhile, a nationwide campaign calling for a boycott of Chinese goods was wide spreading in India. According to local media, the campaign group identified 3,000 categories of goods that "must immediately be replaced by Indian products."
In response, Xiaomi began its counter strike by promoting a slogan "Made in India" to profile its deep Indian adaptation and connection. Few local Mi stores plastered "Made in India" signs in their windows that pointed to Xiaomi's local supply chain.
On the Xiaomi India website, there's also a "Made in India" page to highlight the numbers and scales of Xiaomi's manufacturing, investments, and employees in the country. It also goes further, showcasing the company's philanthropic deeds in the country, including donations to martyred soldiers' families and the PMCares fund set to fight Covid-19.
But reality bites after Samsung flooded the market, both online and offline, with a portfolio that covered every price point of Xiaomi's features and affordability. Between the first and second quarters, Samsung's smartphone market share in India grew 10 percentage points. In Q3 2020, according to data from Counterpoint Research, the South Korean tech mogul managed to clinch the lead position in the Indian smartphone market, overtaking Xiaomi by 1%.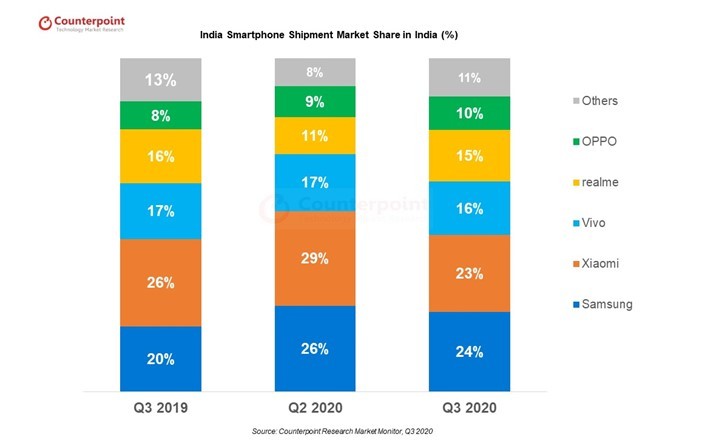 From Lei Jun to Lei Jobs
The moment Xiaomi CEO transcended an entrepreneur was the 2015 Xiaomi India event. He gave his first speech in English and called out "Are you OK" to greet the Indian Mi fans. It soon went viral back in China as a fun remake video of his performance has attracted 35.5 million views to date on Bilibili.
On top of that, Lei Jun has never been low key on social media. He's got 23 million followers on Weibo, 4.6 million fans on Douyin. When he started his Bilibili account in July 2020, it took him less than six months to get another 1.19 million pursuits.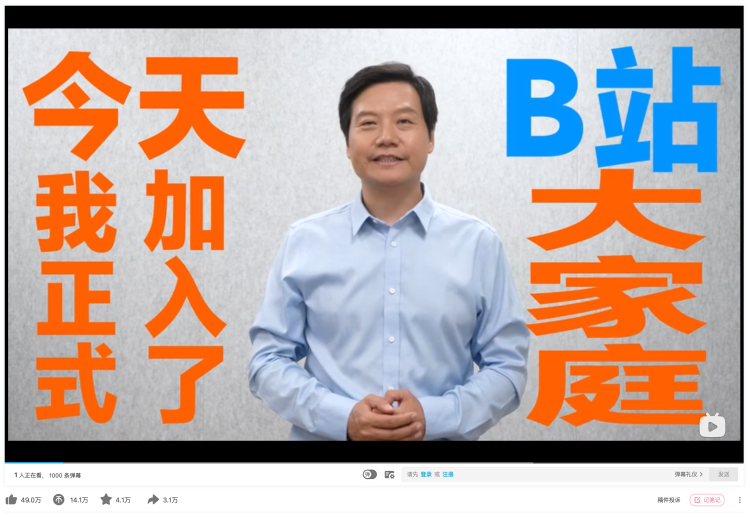 2020 also marks many debuts of Lei Jun himself, including a two-hour-long public speech reviewing Xiaomi's first decade and his live-streaming show that amassed more than 50 million viewers and racked up CNY210 million in sales. What's more, he even became the new brand ambassador of Mi 11 at fans' requests. The billboards of him holding the Mi 11 smartphone were put up at the T3 terminal of the Beijing Capital International Airport.
Next episode
At the end of 2020, Xiaomi kicked off the next decade by opening its 1000th Mi Store - it took the team three years to expand from 100 to 1,000. What makes it even crazier is that the milestone rapidly moved up to 2000, ten days after its 1000th store announcement, as it opened 1,000 stores simultaneously. Altogether, the stores are spread over a total of 270 cities and 30 counties in China.
The aggressive expansion goal is not only set in China. In an interview with China News Service, Lei Jun claimed his company aims to become a leading role in the European market in a few years despite a more complicated geopolitical environment.
As for India, whether Xiaomi will regain the No.1 position will depend on it shaking the anti-China stigma for good and fending off old and new challenges, including Samsung, and the most formidable newcomer, Google, and its new partner, Jio Platforms.