Editor's note: This article originally appears on PingWest's Chinese edition. Content has been modified for clarity.
Just about when landing at Shanghai's Pudong International Airports, passengers would be able to see through the clouds a circle-like artificial lake lying on the pointy land towards the Pacific Ocean, crowning the area on the southeast suburb of Shanghai known as the Lingang free-trade zone, home to the 860,000-square-meter Tesla Gigafactory 3.
On the road to the Gigafactory, through the vast surrounding farmland, runs truckloads of Model 3s, ready to be shipped across China and even around the world.
On July 13, 2018, Tesla signed an agreement with the Shanghai Municipal Government to build its first factory in China. Then in just six months, the factory broke ground. A year later, the first batch of Model 3 was delivered. By October, the Chinese-made Model 3s are already shipping to Asia and Europe. There's no better example of "China speed" than the existence of the Gigafactory 3.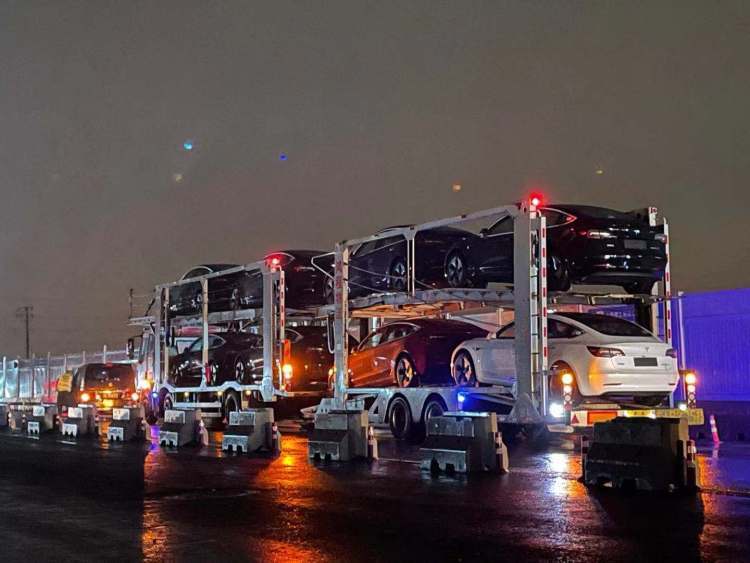 White shuttle buses filled with Tesla workers are also commonly seen around the factory. 2020 saw Tesla's stock price rose six-fold. In the third quarter, the production of Tesla EVs reached 145,000 units, a 51% year-over-year up. It is, however, these workers, who are barely distinguishable with their reflective suits and safety hats, that contributed the most to Tesla's record-breaking performance throughout 2020, as output at Tesla factories located in both US and Europe continue to suffer from the extended COVID-19 pandemic.
Tesla's utilization of China Speed brought its market cap to around $610 billion, stunning Wall Street analysts and Silicon Valley peers, making the company being seen as a beam of hope that is going to ultimately change the world.
However, the behind-the-scene stories inside the non-stop Shanghai Gigafactory have been much darker than the seemingly bright, miraculous outside, PingWest has found.
Disappearing defective parts
"Tesla is doing whatever it can to hit the production goal, including lowering its quality standards," several current and former Tesla China employees told PingWest.
An employee of the warehouse and logistics department said that there have been numerous cases where defective parts miraculously disappeared.
Sources directly involved said that this is because Tesla's in-house system managing the entire chain of these parts "is not smart at all."
The company replaced SAP's offerings with its own ERP systems a few years ago. That system has not received much positive feedback from Tesla's Shanghai-based workers, who said tracking defective parts could become tiresome and sometimes impossible, requiring too much manual labor instead of being automated, resulting in spotty inventory.
One source told PingWest in at least one instance defective parts have been loaded onto production vehicles.
The existence of these parts in Tesla's supply chain may also have been the result of speed pressure. "We simply can't make enough parts that meet quality standard. It's stressful," said a representative of a Tesla supplier who wishes not to be named, "the solution has been straightforward: just take the defective parts, and send them to Tesla."
Several Tesla supply chain sources also confirmed to PingWest that this is already an open secret among their peers.
Tesla's internal quality control department share that secret. A current employee told PingWest under the condition of anonymity for fear of losing his job that he often overhears QC colleagues talking in open areas about how their standard kept dropping following the reduction of supply chain quality. At one time, the situation worsened to the extent that no cars would be sent out according to the original QC standards. And instead of switching to better suppliers, said Tesla workers, they lower the pre-delivery inspection standards.
"Let's say, in the past, our vehicles need 80 points in order to leave the factory, now it's only 60." said the employee.
One Tesla China engineer told PingWest that despite looking like a Tesla product, the EVs out of Gigafactory 3 reeks of QC problems, and are " basically entirely different cars, essentially defective products."
Tesla China management is not helping to resolve the QC issues. In fact, they have been known to ignore them internally, which most definitely lead to safety concerns.
In one such case, some Tesla Model S vehicles sold in China were found to have defective ball knobs that could protrude their places in extreme cases and severely affect the control of the vehicle.
Sources said internal data referenced by Xue Juncheng, the head of Tesla China's after-sales department, confirmed that there were at last 100 cases of the same ball knob issue.
In light of the concern, Xue told employees at a weekly meeting: "we're not going to recall. Instead, we can change them secretly when we found such problems in vehicles brought in for service."
With such tactics, the liability to fix a defective part that could potentially lead to drivers losing control of their cars became what's known within Tesla owners as "free upgrade", which always makes the diehard fans among them happy.
Automotive veterans interviewed said that the ball knob could indeed wear out depending on usage. They added, however, that 100 cases is not a small number.
A Tesla employee at Xue's meeting told PingWest that such issues first emerged in 2017, and Tesla did whatever was necessary to avoid and defer a recall to save on cost.
In October, Tesla China finally agreed to recall about 30,000 Model S and Xs, the third recall it has issued. However, while facing NHTSA, the US federal agency for traffic safety, Tesla headquarters said that they did not agree with Chinese government watchdog's investigation that led to that recall. Instead, they blamed it on Chinese owners' "misuse" of their vehicles.
Ironically, NHTSA launched a formal investigation into the defect in the front suspension parts of Tesla vehicles in November.
Throughout the years, reports of Tesla quality issues come and go on media outlets throughout the world: center screen turns black all of a sudden, electronics-induced loss of control mid-driving, sunroof leakage, rusted horn parts, etc. There have been numerous severe cases where lives were lost.
At least in China, these quality defect and safety issues have not been much of a concern for Tesla, which is all-in on production capacity, partly for its own financial performance, as well as for keeping the promises made to Shanghai. The municipal government had high hopes for the Gigafactory to carry the surrounding region and related industries to move forward and upward, as a flagship project for the advancement of Chinese manufacturing.
It turns out that Tesla is not remotely interested in ensuring "made in China with higher quality". All that it cares about is increasing production.
Giga-sweatshop
"Tesla's production volume is insanely high," said many Tesla China employees and automotive insiders who spoke to PingWest. The barely 1-year-old Gigafactory 3 produced 22,900 electric vehicles in October this year, crossing the 20,000 monthly production volume milestone that took Beijing Benz Automotive (Mercedes-Benz' Beijing J.V.) 10 years. It would also take the 2 strongest domestic E.V. competitors the entire year to match that number.
However, PingWest has found that the insanely high production volume has not been the direct result of the technological advancement that Tesla is known for, but rather the same old high-intensity manual labor that still plagues many industries inside China. Such high-intensity production soon wore out the vision that many workers in Tesla's Shanghai factory once had towards their jobs and the company. Simultaneously, the rapidly shrinking benefits and increasingly harsh working conditions eventually made many had enough.
The ever-increasing capacity targets have allowed many factory operations to break, or even abandon entirely in some cases, their original rules and standards.
"The amount of sewage treatment when they ground broke the factory is completely different from what we have now," said Liu Zhuoli, a worker at one sewage treatment post who started working there 3 months after the factory completed construction. Instead of keeping the sewage in check, he found out that he's continuously working extra hours as production volume increased drastically. One of his superiors told him one night, "we are outputting 3 times the amount of normal sewage today. Handling that would be your own problem. I expect the sewage discharge to meet the environmental standards."
Liu, who was paid only as an operator, instead of a sewage system engineer, was in distress. The superior brought everyone in his department into the office. It sat there from 5PM through 11PM to "work out a solution," which eventually did not emerge since there wasn't really a possible solution to begin with.
Back in his last gig, Liu recalls, superiors would bring workers snacks and say nice things like "everybody did a good job today" to them, while senior engineers would even cook dumplings and share them with juniors. Tesla's Shanghai factory doesn't have dumplings. It doesn't even have snacks made available to workers. There was, however, extra boxed meals for employees who work shifts after 8:30PM, which soon downgraded to instant noodle, and eventually packaged bread that was easy to store. Many of whom used to the cuisines worldwide while working for other foreign-owned factories found themselves suffering from gastro reflux caused by chain-eating instant noodle, and their requests for more staple food such as steam bread declined, and even receiving expired packaged bread.
Like most manufacturing plants in China, the production line at Tesla's Shanghai factory runs non-stop with a three-shift pattern. Each lasts as long as 12 hours, meaning extended hours of standing and continually working. "Parts come every few minutes, and we're required to go install them as soon as possible. With such intensity, we can't really worry about other things," said one assembly line worker.
Liu said that sometimes the rage creeps onto him, "to be fair, we're not seen as human. We are laborers tools. We are nothing but mechanical arms that walk, eat, and go to the bathroom."
Workers at Tesla's Shanghai factory told PingWest that their benefits have been rapidly shrinking, causing many of them to quit and others doing extra and more extended shifts.
At the beginning of this year, Tesla China promised job seekers high base wage, all kinds of allowances, and even stocks. The promised overtime allowance could reach as much as a third of one's base wage, netting even the lowest ranking workers over 10,000 RMB monthly.
That promise was not kept in the end. Rumor of canceling the overtime allowance resulted in many at and near the assembly lines quitting their jobs. At some weeks, around 100 people queued to quit. The rest were moving to an even more exhaustive 2-shift pattern.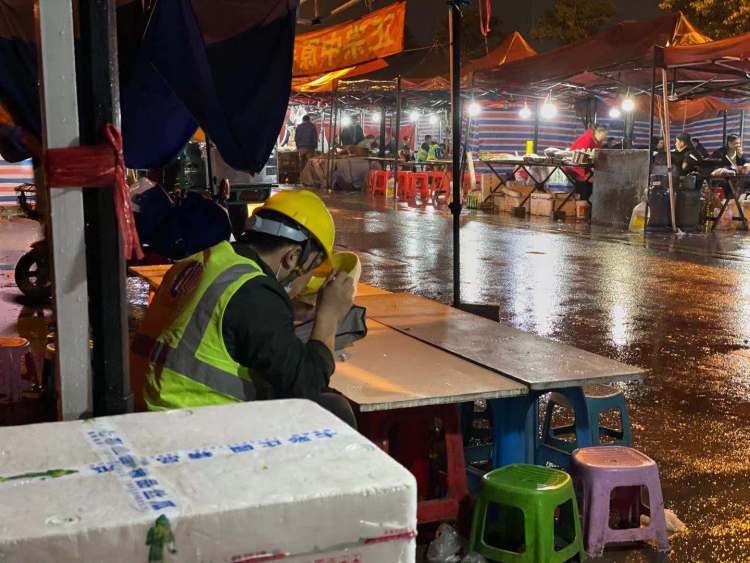 Many workers were also disappointed by the low-tech reality at their posts that was drastically different from Tesla's high-tech promotional videos. Massive precision mechanical arms moving in coordinated patterns were nowhere to be seen. Instead, assembly workers are crammed into tight workspace around the assembly lines that were barely maneuverable since there were just too many people and parts everywhere. Workers who spoke to PingWest said that in reality, Tesla's Shanghai factory was not much different from other automotive plants they've worked at.
Even outsourcing and contracting companies stopped recommending people to work for Tesla. A representative from one such company about 5 kilometers away from the factory told PingWest journalists, who posed as job seekers, "I really don't recommend Tesla. The company boasts lots of things, but in reality, the work is tough. Many people I put in there didn't put up with their management and got out quickly."
Current workers at the plant told PingWest that the most common scold their superiors use is "if you can do it, then do it. If you can't, just leave." Experienced Tesla workers said this hurts their confidence and potentially led to not meeting production quality standards and even defective products. In one instance, a worker at another post saw the window of a Model 3 that just came down the assembly line was open and immediately notified assembly line coworkers on his radio. After 15 minutes, no one came to close that window.
Many workers, who did not know each other and were interviewed by PingWest, said that the only thing that keeps them happy is Tesla's stocks. For them, the most relaxing time is into the night, when U.S. stock markets start trading, as they pull out the stocks trading apps on their phones during their minimal breaks and watch the line goes higher and higher.
Tesla China promised all employees, regardless of their posts and ranks, different set amounts of Tesla stocks on a 1-year lock-up period. But in May 2020 came the last straw as Tesla China officially canceled stock options as an incentive for most lower-ranking employees.
Tesla's Shanghai factory soon lost even more workers. The situation got so intense that people lined up in front of the human resource department to clock out from the company.
As China rises towards becoming the company's most profitable market, Tesla China now follows its own way of being managed as an almost isolated branch, thousands of miles away from the company's Fremont, CA headquarters.
Despite bad words about the plant going around among job seekers, the Gigafactory 3 still gets lots of interest on the job market. What they get from their superiors, according to recent hires, has been the same: "if you can do it, then do it. If you can't, just leave."
The corporate overlords
With the daily operations at Tesla's Shanghai factory increasingly removing its "smart" coat and appearing as just another traditional manufacturing plant found everywhere in southern China 20 years ago, the bad management exists on the ground and elsewhere within Tesla China. Office employees told PingWest that the experience working for Tesla China is not that different from other Chinese internet companies, with extended hours, office bullying, and other manipulative practices commonly found.
Many current and former employees point their fingers toward Tom Zhu (Zhu Xiaotong), Tesla's Global Vice President and President for Greater China, Zhu previously led the company's charging station expansion in China, then came to the rescue after former China head Veronica Wu (吴碧瑄) left the company abruptly in 2014.
Mid-level employees who have access to Zhu told PingWest that they often receive work-related calls and WeChat messages from him after midnight. The executive seldom gets to work late despite staying up late the previous day. He would then posts pictures of empty seats in work chats questioning why the owners of those seats are still not at their posts.
Tesla has no forced hours globally, and working from home is always available per the company's policies. But Zhu has his own style and forces others, especially those immediately around him, to follow his schedule. One employee told PingWest that Zhu requires them to be on-call 24/7. But some reports that many of the calls they receive from Zhu was more about venting anger rather than work-related.
Zhu can be even fiercer face-to-face, as those who work around him often hear him scolding subordinates loudly with a series of insults, which usually ends with a typical sentence: "say one more sentence now, I'll kick you out of this company."
According to sources, Zhu will exhaust all options to make delivery statistics look nicer, including forcing office employees to "volunteer" at delivery posts before releasing new quarterly results.
While many think of Zhu as a disrespectful executive, he appears to be normalizing the office bullying. At a quarterly all-hands meeting, he let out a series of bashing towards a silent, scared audience: "You are already working at Tesla! What more do you want?"
Numerous employees agree that with Zhu at the throne of Tesla China, many of his reporting executives are somewhat empowered to carry out these same corporate overlord style throughout the company. Tao Lin, a Tesla VP in charge of public relations affairs in China, reportedly told an employee who was at his father's funeral to "get back to the office asap."
Aside from the daily scolding, employees also always have to watch out for what they say in private or group chats and what they post on their social media accounts since the company is always watching and censoring.
For example, some Tesla China employees who worked for competitors would comment on their former employers' products or technology before receiving administrative and human resources personnel's orders to delete them.
In another instance, members of a group chat received a humorously articulated message from the group manager to stop discussing a specific piece of business news that was trending on social media referred to as "ChivesGate."
The notification went like this: "Chaps, today the leaders had a meeting. One of the people at the meeting may have had too much chives. Leaders would like people to stop eating chives, and don't even mention it anymore."
The most ironic case to date that PingWest is aware of is about a former Tesla employee's vent post. Several workers were found discussing inside a group chat for the company shuttle bus and were soon reprimanded by human resources, which undoubtedly did not go smooth. One of the reprimanded employees decided to write an email to Elon Musk himself—which was completely fine according to Tesla's employee manual—only to find that his work email had already been frozen.
The isolated branch
It turns out that sending an email to Musk was not as easy as one might think. It's even more ironic considering that Musk, on the other side of the Pacific Ocean, is also quick with firing his subordinates and even front line employees.
"On this point, you can see that Zhu's management matches with Musk's temper," said one current employee who was granted anonymity.
Those who agree with that comment said that this can be proven by looking at Zhu's rise to the top. By March, 2015, or about 3 months after Zhu took charge of Tesla China, Musk sent an internal email granting regional bosses complete autonomy in approval and removal of personnel.
That order was not a special clause for Tesla China, but Zhu might have been the most aggressive regional boss in terms of making sure it is implemented. Zhu told media outlets soon after becoming the head of Tesla China that he flies to California to report to Musk almost every two weeks because he values communications greatly. Such intensive communication basically turned the connection between Tesla China and headquarters into that between Zhu and Musk personally, which to some extent, blocked other senior employees' access to Fremont, CA, allowing Zhu to gradually lose other top executives the headquarters placed in Tesla China and Asia Pacific that could keep the China boss in check.
One such executive was Robin Ren (Ren Yuxiang), an airborne executive in Tesla's Asia Pacific region that theoretically had a higher rank in the company than Zhu's. Ren was a Stanford alumnus of Musk's, and took senior jobs at Silicon Valley big names including Rainfinity and Yahoo prior to joining Tesla. Sources close to the matter told PingWest that the addition of Ren to Asia Pacific was due to HQ's lack of confidence in Zhu at that time.
These sources also said that Ren, a Shanghai native, played a vital role in successfully securing the Gigafactory 3 in Shanghai, was personally involved in the negotiations with local governments and other scouting affairs, and gained the trust of both Musk and Shanghai officials for his effort.
But soon after securing the factory, a nail in the wood was removed for Zhu as Ren got promoted to global VP in charge of sales and moved back to California.
Employees familiar with both Ren and Zhu said that the two top executives operate in completely different manners. "Ren is very elegant and has a larger picture," said one employee. "Ren is more focused on the technological advantage in the manufacturing at Gigafactory 3, and spent much further effort on clearing Tesla's clean energy business to run in China. But what Zhu cares about the most is the production capacity and manufacturing efficiency, as well as the sales," added another.
To some extent, Ren's promotion to global VP and fading away from China can be seen as the result of Musk and HQ's compromise.
Senior employees told PingWest that Musk is not really into sales and focuses more on technology development and product planning. "The smartest thing about Zhu is that he improved sales and hit the short-term goal," which makes Musk happy and worry less.
Subsequently, when Zhu continued to strengthen his personal connection with Musk, reporting to him personally the progress Tesla China made and its problems, Ren became one of those problems, according to one of the sources, who added: "in the end, all sides reached a consensus. Ren's choice, as far as I'm aware of, was to back down, let go of the struggle. He's one of those people that get it."
In April, 2019, just as Ren finished his first 12 months as global VP, Tesla China carried out a massive restructuring, combining all reporting lines into the Greater China region hence forming the iron triangle of Tao Lin, Wang Hao who's China general manager in charge of sales and training, and Zhu at the pointy top. A month later, Ren moved on to global VP for business expansion.
In June, 2019, media outlets reported that Tesla moved Greater China outside of Asia Pacifc as a standalone region managed independently, with Zhu promoted to global VP and President of Greater China. Ren left the company a year later.
Sources indicated that while Tesla China is increasingly being managed like an isolated branch, the HQ is still not completely abandoning the idea of keeping China in check. Just as Tesla's Greater China region gained more independence, The posts of Wang Wenjia, the head of engineering for Asia Pacific, and Wang Meng, senior manager of customer service for Asia Pacifc, were assigned to Greater China, with some of their reporting lines directly going back to Fremont, CA.
But employees working with these 2 executives soon found out that they are more like generals without an army within Tesla China's structure.
Within this isolated China branch a lot, even those banned by the company, can happen as the daily operations are more flexible behind the China wall than people at HQ can comprehend and care, as long as the production is smooth and delivery numbers are good.
When that wall has a hole, core executives including Zhu will spare no effort to plug it.
Back in July this year, local e-commerce giant Pinduoduo and second hand car sales platform YiAutos had a sales event giving people as much as 40,000 RMB in discount to get a Tesla Model 3. While shutting down some buyers' access to delivery, Tesla China, as well as Zhu and Tao posted on social media accounts that this sales event has not been sanctioned by the company and is therefore illegal. Employees told PingWest that Zhu personally asked all peers to repost their messages and "defend Tesla's direct sale model."
But sources close to YiAutos told PingWest that long before the company launched the event with Pinduoduo, there were already discounted Model 3 orders being processed which Tesla China never intervened. These people said that this time Pinduoduo's massive popularity turned the event into trending news, and only after that Tesla China executives were forced to openly disclaim.
YiAuto did not comment on the supply origin of their discounted Model 3 orders, while on the other hand, PingWest has found out that even after the Pinduoduo incident, Tesla China's store sales personnel in Shanghai are still selling Model 3s at discounted prices through private channels that directly contradict the company's sacred direct sales model.
In numerous WeChat group chats seen by PingWest, local sales personnel are promoting heavily discounted like-new Model 3s that they said are either sold but unsuccessfully delivered or company vehicles.
To many who left Tesla China in distress, what it is seemingly fighting hard to defend is exactly what it is actively destroying.
Tesla China did not respond to PingWest's request for comment.