China's ride hailing giant Didi Chuxing launched robotaxi service, first of its kind in China, in Shanghai on June 27, allowing people to sign up through the main app and request on-demand rides for free. The autonomous rideshare service is limited to designated open-traffic areas in Shanghai's Jiading District as a pilot project. The company also plans to expand the offering to Beijing and Shenzhen later this year.
Although the leader in China's rideshare sector, Didi is only one of a few top domestic players in terms of self driving technology. Tech giants, including Baidu, Alibaba, Tencent, e-commerce giant JD.com, and even local services giant Meituan, plus dedicated startups like Pony.ai, and electric carmakers like NIO, all have their respective self driving research and/or business units.
These companies were able to advance their researches significantly within the past few years thanks to a relatively open road test environment, both physical and policy-wise, that matches their counterparts in the United States.
Companies can quickly apply their computer vision-based self driving technologies onto open test areas that are on public roads across 19 Chinese cities so far. Test roads in Beijing alone has a total length of 700 kilometers, or about 435 miles.
Baidu is no doubt the leader in self driving in China, in terms of kilometers covered.Among 13 companies whose self driving cars drove 886,000 kilometers in Beijing last year, Baidu's Apollo division covered 754,000 alone.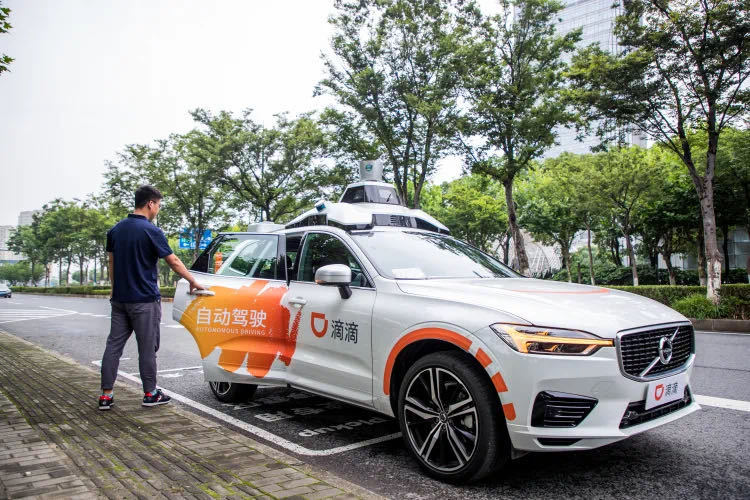 The Covid-19 pandemic might offer a unique opportunity for self driving to prosper in China, thanks to lighter municipal traffic across China.
Take Wuhan, the epicenter of the pandemic and the earliest city to go into lockdown, for an example. JD.com, one of China's most used e-commerce website, deployed its un-manned vehicles exclusively on the 600-meter route between one designated hospital and its fulfillment station in order to maintain deliveries and minimize risks the same time.
The company reported that the vehicle carried out 70% deliveries of medical supplies purchased on JD.com to the hospital. By April, when local transmissions of the deadly infectious disease had been largely contained, JD.com had deployed about 50 unmanned vehicles in Wuhan.
During the pandemic, self driving cars and robots in general have been extensively used in disinfection, food and drug deliveries, etc. Unmanned vehicles designed by a company called Neolix, outfitted with disinfecting devices, tour the roads of Shanghai's Zhangjiang district.
The pandemic moved up Meituan's plan for its own unmanned delivery unit by 11 months, according to Li Da, head of the unit, who said his team worked non-stop for three days to retrofit their testing vehicles to be commercially ready for food delivery orders.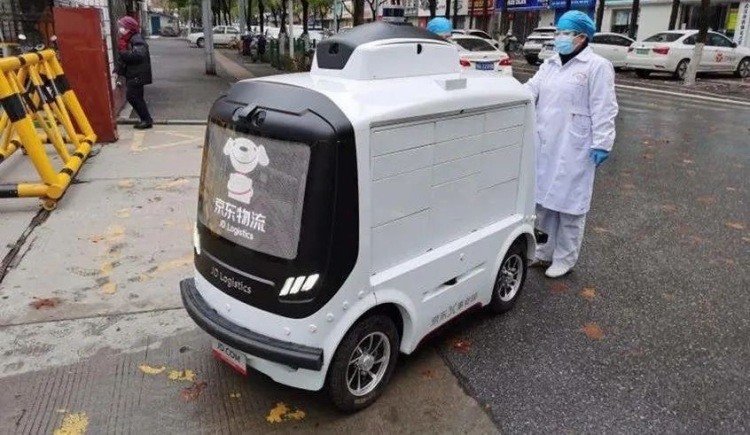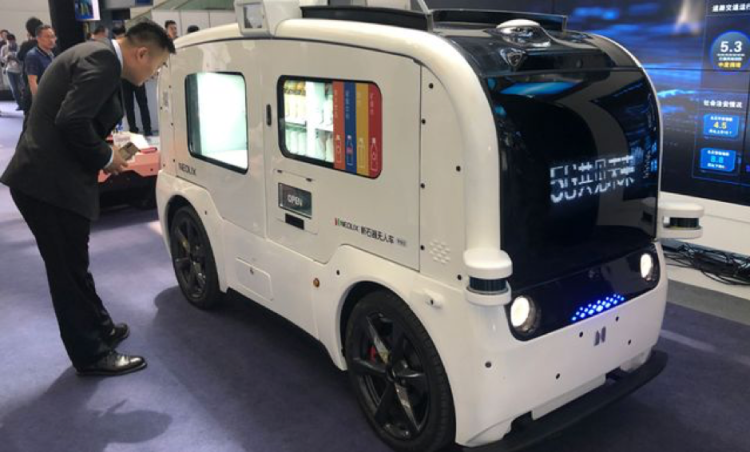 Chinese National Development and Reform Commission and other ten authorities jointly released a document titled Intelligent Vehicles Innovation and Development Strategy back in February. "The promotion of intelligent vehicle technologies will also stimulate industries of chip, software, information communication, data services, among others," it reads.
The policy's mention of information communication refers to key communication technologies used in self driving, including vehicle-to-vehicle, vehicle-to-road, and to everything else, which combined could make self driving safer for all participants in the traffic.
Didi's new robotaxi unit in Shanghai operates with a complex technological backend that include a first-of-its-kind fleet control center that monitors vehicles and assists in routing support in real time, with the help of a massive array of sensors, in the form of smart traffic lights, utility poles, etc. pre-installed in intersections within the designated testing area.
Didi is among the leading companies to leverage artificial intelligence, 5G connectivity and other technologies to construct Cooperative Vehicle Infrastructure Systems (CVIS), a part of the regime's "new infrastructure" strategy to transform China into a smart country. A number of provincial and municipal governments had also approved such systems during the pandemic to be built.
The fatal SARS outbreak in 2003 has been credited with boosting China's e-commerce. Now, there's little doubt that the Covid-19 may provide a kick to the country's self driving technology as well.