Amidst a historical shutdown of the many aspects of the society in order to curb the spread of Covid-19, China's cinemas have been closed for 5 month since late January.
The movie theater chain sector has been suffering to an unprecedented degree for it had never suspended operation for such an extended period. Compared with restaurants, stores, and factories which gradually reopened in late February to early March as the first wave of the new Covid-19 cases died down, movie theaters, which was designated by the government as high-risk due to its enclosed nature and lack of airflow, struggled to resume business.
Total box office revenue for Q1 2020 suffered a dreadful 88% decline from the same period last year to 2.24 billion RMB, and the box office losses for the entire year es expected to top 30 billion RMB, according to China Film Administration (CFA), a part of the National Radio and Television Administration, the regulatory body for the industry.
A report, properly named Movie Theater Survival Status Report, jointly released by China Film Association and major movie theater chains, found that 47% chains have non-existent cash flow as of end of May, and 42% are about to go bankrupt.
The report estimated that more than 30% of the chains, mostly smaller ones with less than 1,000 seats, have already or are planning to lay off employees. Another survey of 400 movie theaters in 28 provinces and municipalities, conducted by industry outlet SirMovie, found that half of the theaters laid off or furloughed employees, and nearly 80% of them cut salaries drastically.
PingWest was sent a screenshot of a WeChat Moment post, showing the original poster, an employee working for top movie theaters chain Wanda Cinemas, spreading information that the chain has launched a nation-wide service that let users purchase food from the theaters so it can at least generate some income.
One of Poly International Cinemas' Beijing locations posted on Weibo that it's pivoting to event space rental temporarily to make use of the empty theaters.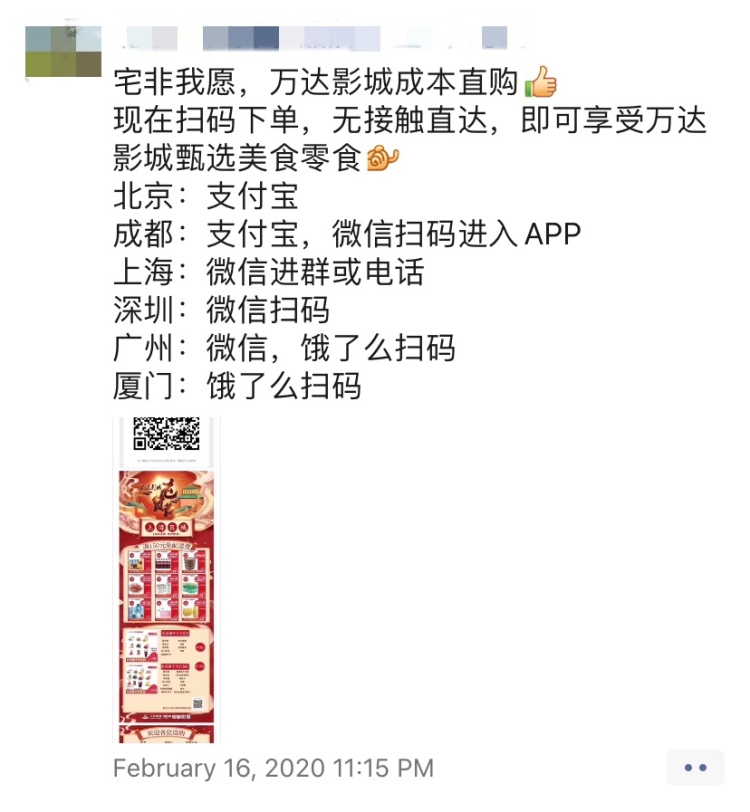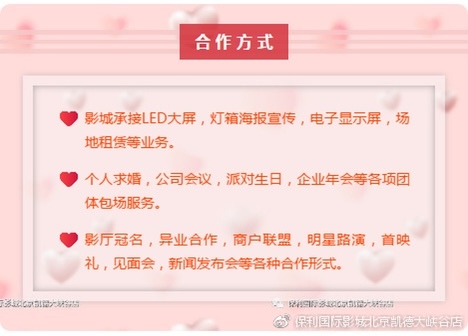 A few provincial and municipal governments, including those in Beijing, Shanghai, Guangdong, Jiangsu, and Sichuan, updated their policy in March to gradually reopen movie theaters with strict sanitation requirements.
A dozen locations, albeit in remote regions such as Xinjiang and Inner Mongolia where the threat of Covid-19 was low, did reopen by mid-March.
However, CFA issued an order to re-close the movie theaters less than two weeks after local governments allowed them to reopen.
Two months later, a turning point came again on May 8, with the State Council, China's central government, issuing yet another new order allowing to reopen theaters in low-risk areas with limited capacity.
But it would appear that movie theaters were already in an unsalvageable situation as most of them are still closed as of late June. The problem was with China Film Administration, who has direct authorities over theaters and never gave the go-ahead, according to Alex Feng, an employee working at a chain's department that deals with the CFA.
"Only with the State Council's permission is not enough, as we have to get permission from our direct superior, the CFA. They told theaters across China to follow unified arrangements of the date to reopen," said Feng, who added that such an arrangement has yet to be made.
In order to enforce the shutdown, the CFA has stopped sending them Key Delivery Message, or KDM, the data needed to decrypt digital files in order for in-theater playback to happen. Employees told PingWest that this left them with no other option but to show older movies, which aren't digitally encrypted in the first place.
Lack of new movies was another factor that led to theaters' situation. "No new releases, no profit," said Feng. Many new movies originally scheduled to premier during Covid-19 altered their plans and premiered on streaming platforms and short video apps, for free, as was the case with Lost in Russia, a comedy by actor-director Xu Zheng.
Health experts, including Shi Xiaoming, head of the Environmental Department of China's Center for Disease Control and Prevention, cautioned that movie theaters are enclosed space with insufficient ventilation where people gather at for extended period of time, increasing the risk of infection.
However, other places like karaoke clubs and restaurants have reopened, which according to some movie goers, share the same attributes with movie theaters.
"Many theaters have upgraded their ventilation systems," said Zhi Feina, a scholar studying the movie industry in China, in an interview with Southern Weekly, adding that watching movies are safer than taking a train, a flight, and eating in restaurants.
Feng said theater owners will need to be prepared for permanent shutdown if the ban isn't lifted by July, normally considered the second-biggest movie season in China after the Lunar New Year period.