China's leading self-service smart locker service Hive Box announced to end its free services on April 30. A new company policy mandated that non-member customers will be charged ¥50 cents ($7 cents) for every 12 hours of storage, up to a ¥3 maximum ($0.42).
The policy change caused huge controversy across China against the company, the largest owner of which is China's leading logistics giant SF Express. A residential district in Shanghai, issued a statement earlier this month calling to boycott Hive Box altogether.
The statement, rich in detail, exposed several key issues with Hive Box that allegedly stumped on residents' interest, including not noticing residents about the pricing change, forcing them to use the smart lockers and thus becoming the service's users without a proper user consent, etc.
It specifically accused Hive Box of automatically assuming all recipients of packages are its users", while a big portion of them are actually fed up with being forced to use the lockers.
A total of 116 neighborhoods in Shanghai alone are following suit as of May 14, refusing to use the smart lockers installed in their vicinity, with some even went as far as cutting power to the lockers.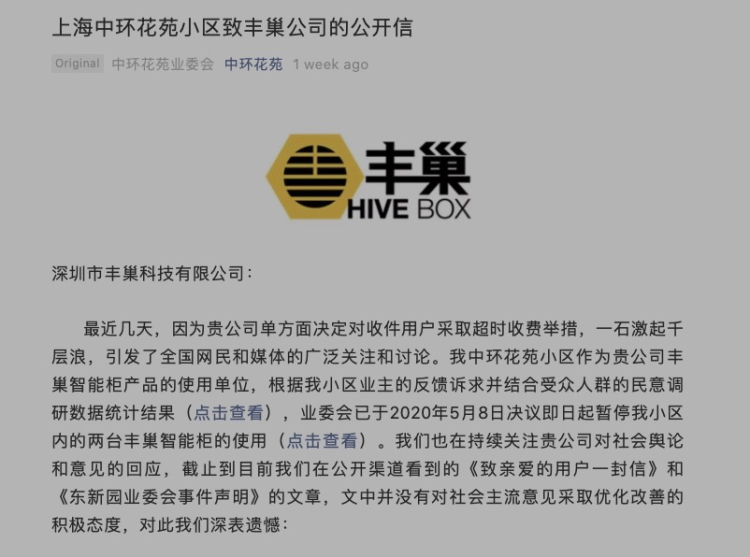 Faced with the backlash, Hive Box announced an amendment of the policy — extending the free storage period from 12 hours to 18, and all day on national holidays and weekends in office buildings. New policy is expected take effect as of May 20 in China nationwide.
However, the new policy did not address key issues raised by resentful residents, such as the fact that couriers often put packages straight into the smart lockers without notifying residents first, essentially depriving their right to make a choice, forcing them to use the service and become users of the service and subject to its terms.
The company previously said that it is crucial for the company to charge users for services to maintain profitability.
Prior to the policy change, Hive Box made money in two ways: advertising on the screens on its smart lockers, and charging couriers trivial amount of money to store otherwise unattended packages while keeping it free to the recipients.
However, recipients have long complained that couriers often don't ask for their permission before using Hive Box, causing them extra time and effort to pick up the packages from the lockers when they are perfectly able to receive them in person. In other words, the service increased couriers' efficiency while becoming a burden to many recipients.
"It's so annoying that couriers put my parcels directly in Hive Box lockers without asking me," a Weibo user complained, adding that "Once they even put my cold-chain food in the locker!" Many similar complaints were posted on social media websites.
E-commerce websites like Taobao state on their websites that customers have the right to refuse accepting packages if not consulted on the desired final delivery method.
The user said she had started reporting the prohibited behavior. "Although the courier explained to me that he does not have enough time to deliver my package, it's his personal problem. I shouldn't have to pay for it. I will continue reporting such behaviors in the future."
The largest smart locker provider in China was jointly invested by SF Express, ZTO, YTO, Yunda Express, and China's logistics solution provider GLP. In 2018, non-SF Express shareholders transferred their stocks in it and instead joined Alibaba's smart logistics network Cainiao, posing a big challenge to SF Express in the smart locker sector and logistics in general. SF Express now holds 70% of Hive Box.
Hive Box made the decision to end its free service as it reported a total loss of ¥2 billion from 2015 to 2019. The company struggled to convert recipients, who either enjoy the free service or wouldn't want to be bother with, into paid users. Local consulting company Yiou estimated that Hive Box could make ends meet if its paid users reached 36%.