Yinxiang (印象笔记), a Chinese note taking app that spun off of Evernote's Chinese business in 2018, was found to have squatted trademarks of Notion Labs, the San Francisco-based startup behind popular collaboration software Notion.
According to Qichacha, a Chinese enterprise information platform, Beijing Yinxiang Biji Technologies Co. Ltd filed, in two classes, a total of 4 registrations of trademarks that visually resemble Notion's logo.

An editor from local developer community SegmentFault first discovered the preemptive trademark registration and wrote about it on his company's website.
The applications were filed in July, 2019, and are currently pending regulatory review.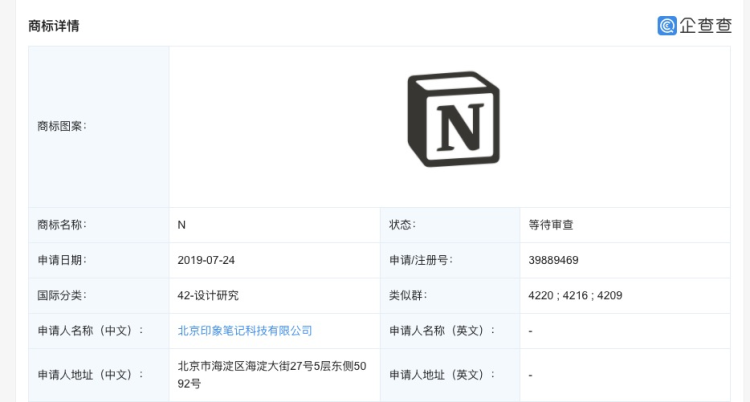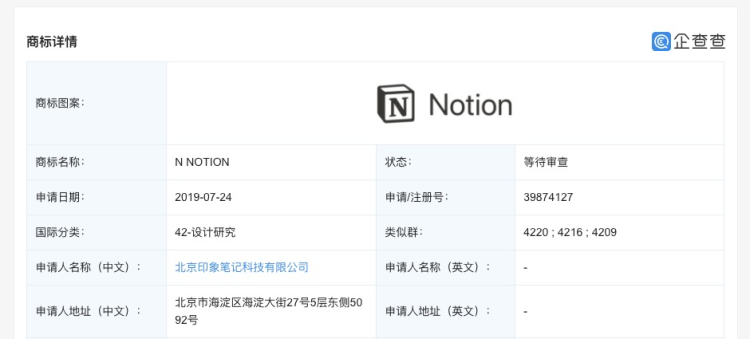 Yinxiang issued an official statement to PingWest saying that the company obeys the first-to-file principle of China's Trademark Law, and avoids filing registrations of trademark that already exists and/or is already well known in China.
It insisted in the statement that the filings were legal and reasonable, and that it currently does not have any business relationship with Notion Labs.
A Notion Lab-affiliated Chinese entity by the name of 概念实验室 filed for the same trademarks three months after Yinxiang's filings, according to Qichacha.
Back in 2018, Evernote, the original developer of the note taking app, spun off its China business to establish Yinxiang. The new joint venture is now independent from Evernote, despite being co-owned by the US tech company, Sequoia Capital China, and China Broadband Capital, after receiving hundreds of millions of RMB in new funding from a venture fund established by Sequoia and CBC together.
Notion Labs marketed itself by being a nice replacement for Evernote, and even provides detailed guide to users migrating from it. In China, Notion and Yinxiang is in a pseudo-competition, as the former does not officially operates in but is accessible in China, and has a growing fanfare in the tech communities.
A senior executive at Yinxiang, who spoke under the condition of anonymity, told PingWest that the filings were the result of mere regular business decisions from his company's trademark division, and did not have any strategic thinking or malice behind them.
However, the executive, who did not have knowledge of the filings until recently, said he was surprised by them.
"There will be a decision by the Trademark Review and Adjudication Board," said the person, suggesting that the chance the company actually receiving the trademarks is slim.
Despite not enforcing punishment, China's Trademark Law rules that applicants should not file for trademarks that are already used by others. Actual owners of trademarks are allowed to protect their legal right by filing objections to nullify the illegitimate applications.
Trademark reviews can often take months, if not years, to be processed in China. Even for non-use appeals, process can be lengthy and complicated. Yinxiang's filings could potentially pose regulatory hurdles to Notion Lab's decision makings, whether or not the latter eventually decides to operate in China.
Speaking to SegmentFault, Xie Jianyun, an IP lawyer and partner at SRFIP, suggested that Notion Labs could appeal if an unfavorable decision was made by the authorities, adding that the US startup can assert prior right in the trademarks by owning the copyright of the Notion logo.
Notion Labs did not immediately respond to PingWest's request for comment.