Online education is becoming a common model of teaching in China as education institutions ranging from primary schools to universities remained physically closed since January in order to contain the spread of the Covid-19
However, it has also brought dishonest behaviors such as class skipping and exam cheating to a new level, as a vibrant industry of professionals-for-hire is gaining popularity in China.
"Cheating online during the Covid-19" has become somewhat of a top trending keywords in Chinese search engine Baidu. A search on Baidu for "paying professional to take online exams" can return multiple platforms for potential customers to choose from. "Test-taking services", "paper-writing", "take Online courses for you," one advertisement from a platform called "Dabai" seen by PingWest, claimed.
Speaking on the condition of anonymity, an employee at an online platform offering such cheating services told PingWest that the platform only charge 60-80 RMB to complete a course plus an exam. All students would need to do is provide their username and password, and the platform will take care of the rest. The person says his clients range from primary to high schoolers.
"Normally, students of higher education are charged higher prices. We also offer tailored service," said the person.
Most of these service providers claim to hire people to attend the online classes, but people have found out that a lot of them often use automated software to finish courses at a speed several times faster than it normally take to finish the class.
But or millions of Chinese students who are seeking for higher grades, the offers proved irresistible for some.
Social media, including Weibo, WeChat, and QQ, has become a hotbed for discussion on the cheating-related topics. Many of the providers post their portfolio directly onto, and even host discussions on Weibo about their services.
Some of these providers can even falsify the IP address when logging in to avoid triggering anti-cheat mechanisms.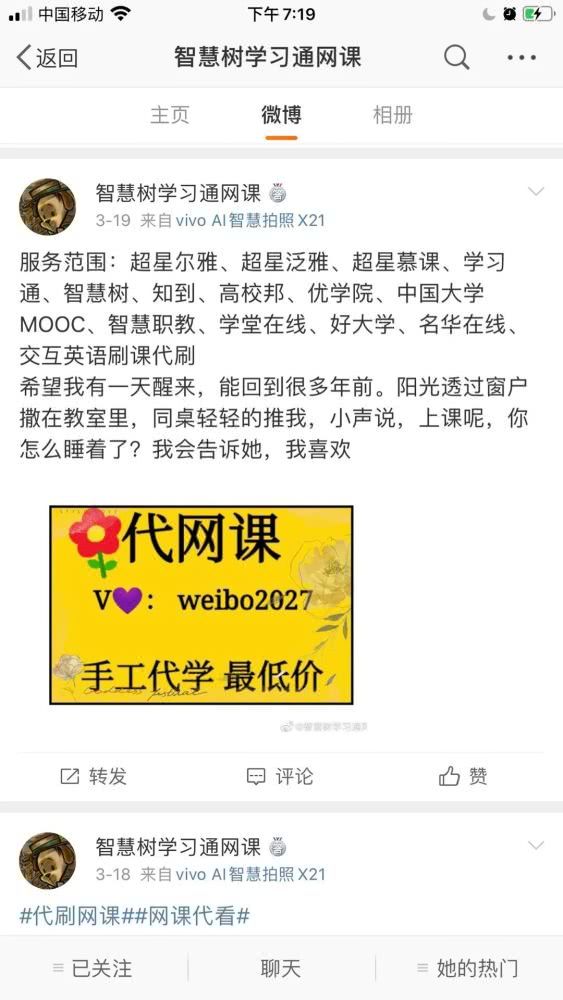 For those students stuck at home and trying to avoid infection, the Covid-19 pandemic has lowered the threshold for them to resort to cheating. Some students are also using computer softwares to generate essays automatically and turn them over as original homework. These tools are advanced enough to handle high school level tests and can easily fool anti-plagiarism checks.
A Chinese media report indicate that hundreds of homework-writing advertisements pop up every day in the social media groups of WeChat and Weibo that help students to cheat in online education platforms like Zhihuishu, Talk-Cloud.
Wang Xiaoxiao, who now works in the gaming industry, told PingWest that he did part-time homework writing for students a few months ago, for that it pays well for a university student like him who needs money.
However, Wang thinks that the business has becoming increasingly institutionalized, "an online course cheating agency can consists of teams of people, each with dedicated agents, writers, course takers, etc."
Paying others to attend classes could generally be subject to academic punishment in China. Many schools have said that they will punish those who were found to cheat the system using these services.
"Disciplinary action for those students using such cheating services will be serious, ranging from grade punishments. course failure, and the most seriously, expulsion from the university," Xi'an University said in an announcement, after it investigated dozens of students for cheating in their online courses.