Huang Wei, one of the top live streamers on Alibaba's social e-commerce website Taobao, sold a product that no one ever did before in live streaming — rocket launching service, on April 1, 2020.
"It is definitely the most expensive product I have ever sold in my live streams over the past four years," said Huang, who is recognized by her stage name Viya (薇娅), during in her live show on April Fool's Day. It also the most expensive item to date since live streamed e-commerce became popular in China.
And before one raises the question: no, it was not an April Fool's joke.
It's not the actual rocket that was sold by Viya, but the 45 million RMB launching services, of anything the buyer wants and deemed possible by the service provider, ExPace, an aerospace company owned by state-owned China Aerospace Science & Industry Corporation.
Huang also gave the customer an exclusive 500,000 RMB discount, a tactic used commonly by live streamers when luring customers. The buyer were also expected to pay a 500,000 RMB deposit.
Huang claimed to have sold 5 of these launch services during her live stream.
Reminiscent of infomercials that was fashionable late last century, live streaming is Chinese internet industry's latest trend to revamp the e-commerce experience that remained largely unchanged in the last 20-plus years. Most popular short video mobile apps now have the feature that lets users watch hosts promoting products that are often provided by third party merchants and buy them live. These streams can last 2-3 hours and feature hundreds of products. Prominent hosts can sell hundreds of millions of RMB worth of goods in one stream.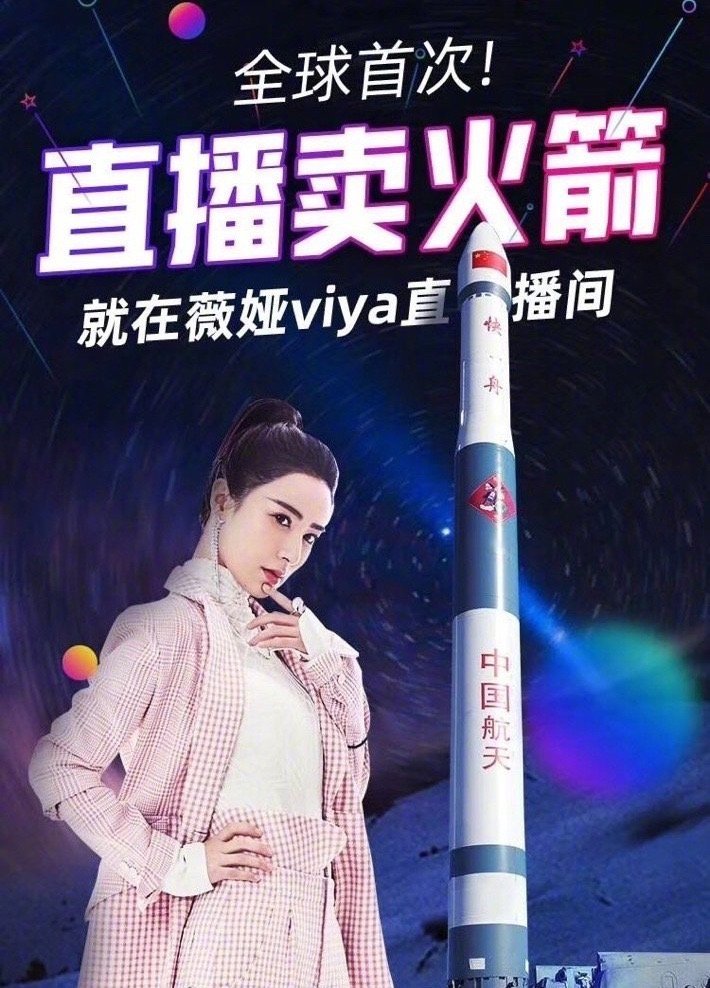 Products sold on live streams have been changing, starting from snacks, cosmetics, and other light industrial products sold on e-commerce websites, to more expensive products directly shipped from overseas. Some hosts even attempted to sell cars and real estates during live shows. Huang partnered with Alibaba's Tmall, a B2C platform, and sold 40 cars vehicles made by Volkswagen, BYD, and Rolls-Royce in 15 minutes last year. Despite the seeming success that 2.2 million people watch the live stream, she had to offer heavy discounts that are not usually found in dealerships to meet the sales goal.
Although goods and services priced at millions of RMB each have been successfully sold on live streams, people with deep pockets are more likely making purchases for the hype and thrill. Not every expensive product sells. For example, Rolls-Royce's Phantom EWB was the worst selling car on Huang's channel that no one ordered.
Huang expanded her scopes to commercial real estates a few days ago, selling special promotional discounts and opportunities to waive property management fee, but made numerous mistakes introducing the apartments, including falsely claiming that they are next to a top-ranking school when they aren't in that school's district. Mistakes like this are commonly found in live streams, as the hosts relies on their team members to connect with suppliers and aggregate information, while having to improvise according to viewers' feedback.
From snacks to cars to rocket launches, it seems that live streamed e-commerce is going a direction that there is no limit to what goods can be sold. However people have cautioned that the hype in the industry is present and hosts do whatever they can to attract eyeballs.
The lack of effective regulations, as well as excessiveness in the influencer economy in China has put consumer in a vulnerable position. According to a report by Black Cat, a consumer complaint resolution platform, users have published thousands of posts accusing influencers of selling counterfeit products or making misleading claims.