The shortage of face masks pushed China's home appliance, auto makers, as well as electronics manufacturers to switch lanes and contribute to the fight against the Covid-19 pandemic.
Stocks of face masks went out throughout China a few weeks ago when the country was still in its most desperate phase of the outbreak, as people went on a run on any sort of protective gears that help. "Demand is up to 100 times higher than normal and prices are up to 20 times higher," according to a Feburary UN report.
The unprecedented demand for face masks made big companies in China think of doing something for it.
Gree Electric Appliance Inc. of Zhuhai, a partially state-owned Chinese appliance maker and the world's largest manufacturer of residential air conditioning systems, started its production plan for protective gears in mid-Feburary, according to an internal email to staff from Dong Mingzhu, the company's chairwoman.
Dong said that Gree has to help facilitate the production of protective gear. On February 18, the air conditioner giant formed a subsidiary named Zhuhai Gejian Medical Technology Co. Ltd and began outputs of protective gears, UV disinfection devices, and more.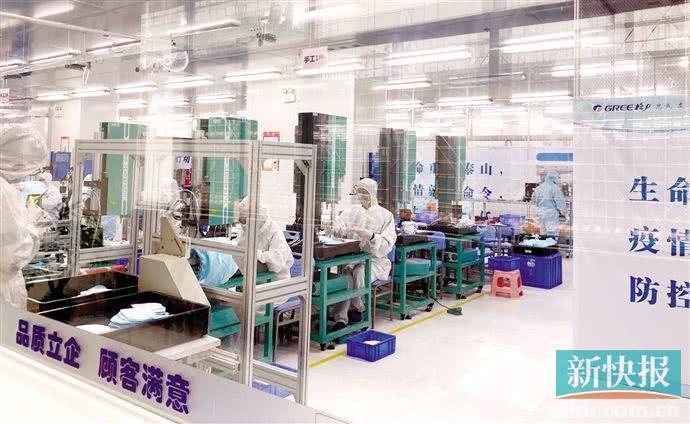 The company turned some of its production lines into making machines that manufacture face masks, but later on decided to make the masks on its own, said Dong Mingzhu in an interview with Southern Daily.
Dong advertised the masks herself on the internet as they began selling on March 9, attracting more than 70,000 people to pre-order online. Gree received orders from about 470,000 people in one day.
While making face masks, Midea Group, another Chinese electrical appliance manufacturer, decided to give out a portion of them to its employees first, and then its existing customers for free, before distributing them onto the market. The company can make 200,000 face masks per day and is at capacity constantly. according to National Business Daily citing an insider.
Besides appliance manufacturers, Foxconn, maker of Apple's numerous devices and other branded smartphones, is also pivoting some of its productions lines into make face masks. It added 5 production lines for surgical mask production and another for medical-grade N95 respirators in its Shenzhen site. Daily production reached 270,000 and the total shipment topped 5 million by March 1, according to a Government press release.
SAIC-GM-Wuling Automobile, a joint venture between SAIC Motor, General Motors and Liuzhou Wuling Motors Co Ltd., announced to modify its assembly lines to make face masks to support hospitals in Hubei Province. Daily production capacity was 1.7 million. The auto maker produced first 200,000 on Feb. 8 and delivered 1 million face masks on Feb. 14.
Data shows that more than 3,000 enterprises in China, added their production lines of face masks, protective suits, non-contact thermometers gun, and other epidemic supplies and equipment. Home appliance maker Haier Group, electronics maker Konka Group, Chinese auto manufacturer BYD Company, Phone maker OPPO and Vivo are among the companies.
The total output volume of surgical masks and N95 respirators combined surpassed 226 million per day, a significant increase compared to early February, according to data from China's National Development and Reform Commission. Prices dropped to normal rate in China as the country has brought new infections under control and seemingly heading to a safer situation than weeks ago.
With the rising cases in other countries across the world, including major countries like the U.S., UK, Italy and more, China is shipping some of its supplies to those countries as part of an official aid packages campaign. It donated 250,000 face masks to Iran and 20,000 to the Philippines. Besides, spokesperson at the Chinese Embassy in South Korea announced that China would export 5 million face masks starting from March 10.
As confirmed cases in the U.S. are rising rapidly, causing a critical shortage of face masks, Trump administration temporarily lifted tariffs on China's face masks and other coronavirus-related gears. However, the New York Times reported that China has been hoarding the most of its supplies available to other countries. Guillaume Laverdure, COO of Medicom, a Canadian manufacturer that makes three million masks a day at its Shanghai factory, said that outputs are still being claimed by the Chinese government and exports tightly controlled.