Huawei is bringing its Search app to overseas market.
The Chinese tech giant is recruiting users in the UAE to test its own Search app, according to a post on Feb. 26 on the company's website.
Huawei's Search app is similar to Google Search and will be pre-installed in Huawei and its secondary brand Honor smartphones.
Last May, Huawei was added to the U.S. Department of Commerce's "Entity List" as the Trump administration said that the Chinese tech giant and its affiliates posed a significant risk of involvement in activities contrary to the national security or foreign policy interests of the U.S. The move bans Huawei from procuring many key types of technologies, both software and hardware-wise, from the U.S. supply chain.
One of the most devastating aftermath of the ban was that while its smartphones can still use Android operating system, they cannot install a very important set of softwares and services, called the Google Mobile Services, or GMS.
GMS include some of the most important and popular bundled Google Apps, including Google Search, Google Play, Chrome browser, Maps, and YouTube. Without GMS, users of Huawei smartphones won't be able to download and purchase apps from Google, watch YouTube, and search with Google directly from the operating system, rendering the smartphone useless in a sense. (They can, however, use another browser, visit google.com and search.)
The lack of GMS has been causing a decline in Huawei's overseas smartphone shipment, especially in Europe as it is the dominant market outside of China. Users in western countries typically use Gmail, YouTube, Google Maps and other Google first party apps every day that they cannot live with them. Google account are often used to sign in third-party websites or apps, too. That's why Huawei had to create an HMS equivalent to meet users' needs of these features.
This launch of the Search app is part of Huawei's own solution to offer a full set of GMS alternatives, dubbed the Huawei Mobile Serivces, or HMS. The Search app, together with other key HMS apps, will be available on Huawei's official Android app store AppGallery very soon.
Huawei told Austrian newspaper Der Standard earlier that it won't return to Google's services even if the US decides to lift Huawei ban.
Much like the current version of Google Search on Android, Huawei Search features core search features and a news feed. It is able to display live-updated info in an organized manner, like Google's, for example in sports results. Huawei also says it's implementing privacy features similar to Google to let users delete usage history and manage data collected.
Huawei is also planning to spend $1 billion to gain developers's support. It announced to open up HMS Core capabilities, services, and as many as 885 APIs to developers worldwide, in hopes to build an ecosystem just like Google's. The effort also include showcasing apps from top developers in the AppGalary.
Richard Yu, CEO of Huawei Technologies Consumer Business Group, announced in Barcelona in February 2020 that Huawei developers increased from 910,000 to 1.3 million, and that monthly active users who download apps from AppGallery exceeded 400 million. In addition, he said that more than 55,000 apps are available on AppGallery and that HMS has covered 170 countries and regions.
The company had signed a partnership agreement with Turkcell, a leading Turkish carrier, who will sell 1 million Huawei smartphones. In the UK, Huawei partnered with News UK to distribute the latter's three apps' information and services. The Shenzhen-based company will also work together with Indus OS in India, to create an Android version for the latter's 400 thousand apps to be compatible on Huawei smartphones.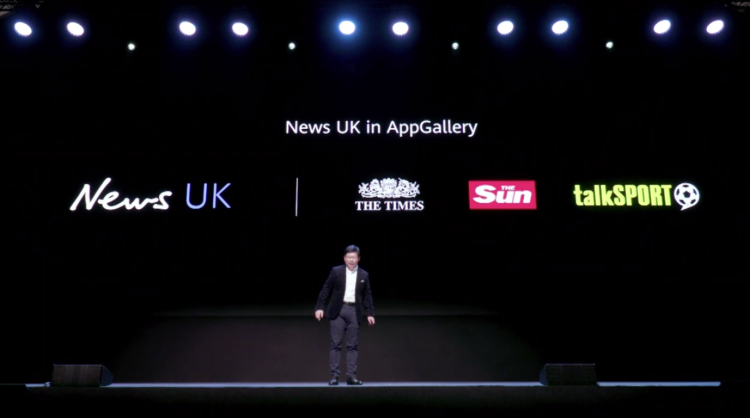 Huawei had teamed up with NavInfo, one of China's leading digital mapping company, as its maps data supplier.
By pushing HMS and Huawei Search, the company is making every effort to avoid the trivial situation where its phones are no longer desired after becoming "Google-less". The stakes are high since Huawei made the third most phones last year after Samsung and Apple, taking up 14% of the worldwide smartphone shipments volume.