China's Starbucks rival Luckin Coffee announced that it is stepping into unmanned retail market at its strategy conference in Beijing on January 8. Two unmanned terminal devices, smart unmanned coffee machine Luckin coffee Express and vending machine Luckin pop MINI, will roll out in a number of different locations, including office buildings, campuses, airports, bus stops, gas stations, as well as highway service areas.
The smart coffee machine is fully automatic and the vending machine sells coffee, beverages, nuts, chocolates, and other quick bites.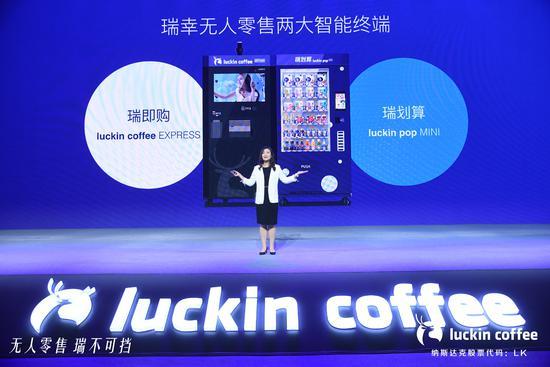 On the day before the event, Luckin Coffee raised $400 million from a five-year convertible senior notes, carrying a coupon of between 0.5 percent and 1 percent with a conversion premium between 27.5 percent and 32.5 percent, according to Reuters. Moreover, the Nasdaq-listed coffee chain sold 12 million American depository shares (ADSs). "Based on Luckin's close price of $35.11 on Tuesday, the deal could raise about $421 million before any over-allotment option is exercised," reported Reuters.
China's biggest coffee chain brand expanded with astonishing speed in 2019. It opened over 2,500 offline stores over the whole year 2019, reaching a total of 4, 507 offline stores. The company opens a new store every 3 hours or as much as 8 per day. In contrast, Starbucks has 4,100 stores in 168 cities so far, since it came to China in January, 1999, according to data on its official website. The rapidly growing Luckin surpassed the world's most celebrated coffee brand within around two years.
An Expansion of Space and Time
Luckin's previous 'spree expansion' strategy is a typical O2O commerce model. It attracts traffic on its app through offering coupons and discounts for drinks. After making ordering online, customers can pick up their coffee immediately because Luckin will never be too far away from you.
Now the rollout of the two types of machines is a method to attract offline traffics. When more machines come closer to you, you will see them and buy from them more often.
In fact the there are no big differences between the two kinds of machines and Luckin offline stores essentially. The machines can be considered as tiny Luckin stores, and even with no rent nor labor cost. In this case unmanned machines save a lot of money.
Efficiency is guaranteed as well, as it only takes the machine less than a minute to make a cup of coffee.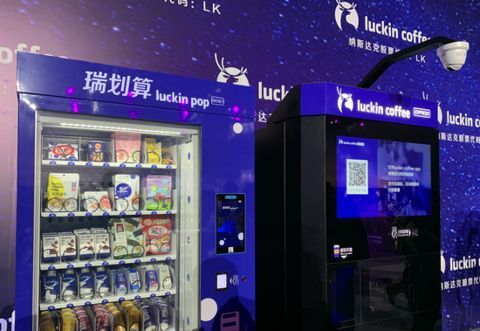 As stated at the beginning, the vending machine sells coffee, beverages, nuts, chocolates, and other quick bites. The profits from these side products are much more than that of coffee. Hence, the Luckin pop MINI is used for profit purpose.
Since unmanned machines have so many merits, such as saving rent and labor cost and keeping high efficiency, why is Luckin still rolling out offline stores at a furious rate? Because its services have impact on the brand's popularity and brand trust thus cannot be substituted by machines.
The unmanned retail strategy is a complimentary one to fulfill more consumption scenarios.