Amazon, the global e-commerce behemoth which seemed to have taken over the world except feeling nothing but frustration in China, announced a partnership with Pinduoduo, a four-year-old Chinese social shopping website that is popular among lower-tier cities and rural areas.
The content of the deal? To make Black Friday, the annual western shopping festival a thing in China.
Amazon says it will open a pop-up online storefront on Pinduoduo running until the end of December. The store will carry a selection of about 1,000 high-quality products of various categories from overseas. By this move, it is widely expected in the industry that Amazon will make yet another attempt to raise consumers' interest in the Black Friday shopping festival, which normally comes just two weeks later than China's own online buying frenzy, dubbed "Double 11" or Single's Day.
Brandished by companies including Amazon and local cross-border e-commerce platforms for many years, the idea that Black Friday could be a shopping festival for high-quality overseas goods for the increasingly affluent Chinese middle class never become a reality despite heavy marketing, discounts, and subsidies, mainly due to that the incumbent e-commerce giants have way more influence and a larger war chest, as well as the downward Chinese economy diminishing the purchasing power of China's middle class. In fact, the rise of Pinduoduo, which once featured a whole catalog of counterfeited goods at dirt-cheap prices, is an excellent testament to that.
Over the last four years since establishing, Pinduoduo has achieved insurmountable success and had already gone public on Nasdaq. Despite the fact that the shopping website purposefully refused to release sales number over the past Singles' Day shopping festival, Huang Zheng, the company's founder and CEO, told employees that its gross merchandise volume (GMV) had surpassed that of JD.com and the company actually became China's second-largest e-commerce player, trailing Alibaba, according to insider knowledge reported by Late Post.
According to Li Yanchuan, vice president of Amazon China, sales revenue on Amazon Global Store, its cross-border shopping platform, achieved double-digit growth in the first three quarters of 2019, with clothing, personal care products, cosmetics and shoes being the most popular categories among Chinese shoppers. He claimed that statistics are showing that cross-border e-commerce is penetrating into the lower-tier cities across the country with sales from lower-tier cities witnessing the fastest growth this year. Those areas are exactly where Pinduoduo's core customer base is located.
Furthermore, as income in the lower-tier cities and rural areas increases, e-commerce infrastructure such as logistics improving, people's buying habits are also maturing, with online shopping becoming more and more popular. A joint report by Deloitte, China Chamber of Internation Commerce and Alibaba claims that rural consumers' demand for quality imported goods with specific added value is rising.
After going public, Pinduoduo's management has expressed multiple times that it is working to get rid of the image of selling low-priced and inferior merchandise to residents in rural areas. As Amazon brings overseas products to join forces with the upstart, Pinduoduo has undoubtedly gained an influential supporter to not only repaint its image but also have a go at taking even more market share from Alibaba.
The partnership will likely be a win-win. For Amazon China, whose core e-commerce business suffered a defeat after it announced to stop operating third-party merchant business, the Pinduoduo deal will likely boost its numbers on the book in the e-commerce department.
However, considering China's economy, the result of China's "consumption upgrade," which refers to people gaining disposable income and making purchases on more expensive things, was not as fruitful as many industry and policy experts thought it could be. For Amazon's stuff on Pinduoduo to sell, more marketing and discounts need to be involved, which is highly unlikely for Amazon merchants already making bare cents on the dollar.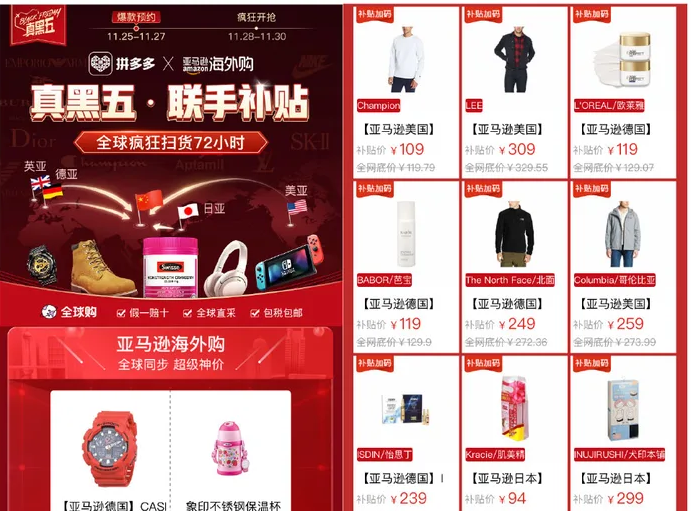 Nevertheless, Pinduoduo will do everything it can to keep the subidies going. saying that it pours 10 billion RMB a year so products on the website can be sold at lower prices.
It is worth noting that due to the implementation of huge subsidies since June, Pinduoduo's operating costs more than doubled in the third quarter ended September 30, posting a much wider-than-expected quarterly loss, driving its shares down by nearly a quarter and wiping almost $11 billion off its value on Wednesday.
"We always think the money we spend is an investment. When there is an opportunity, we should spend our money aggressively." said Huang, adding that the subsidies will continue.