All three of China's top cellular carriers, China Mobile, China Unicom and China Telecom, opened the their 5G network for public use on October 31 nationwide. Users in 50 cities including Beijing, Shanghai and Tianjin who have 5G-capable Android smartphones, subscribed to the carriers' newly unveiled 5G data plans will begin to receive the newer generation of cellular signals shortly.
Although slightly differentiated in terms of data limit and call time, all three carriers' starter packages offer 30 GB of data and 500 minutes of call time, costing RMB 128 or 18.25 U.S. dollars on China Mobile, and RMB 129 on the other two. The most expensive plans are from China Mobile and China Unicom, costing RMB 598 or $85 for 300 GB and 200 GB's of data, respectively.
However, not all customers who jumped on the 5G wagon will experience the fastest data. All three carriers cap the data speed at 500 Mbps while letting higher-end customers experience their plans to the fullest at 1 Gbps. This cap is in place at the beginning of the nationwide rollout and is likely to be raised or removed at a later stage.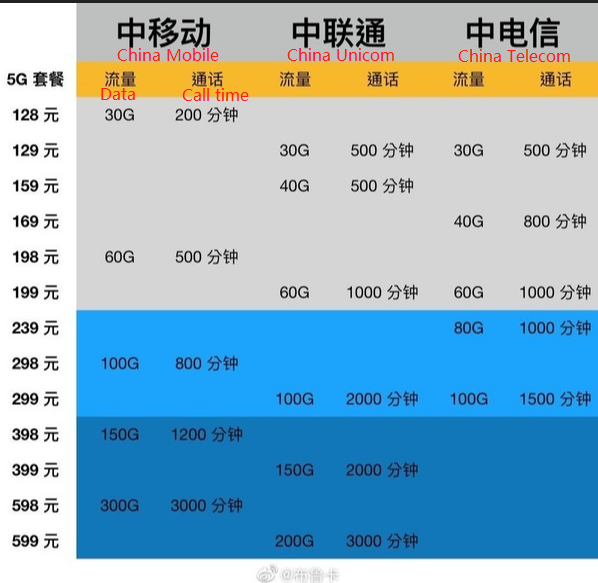 While offering significantly faster data speed than the past generation of 4G and LTE networks, 5G also features lower latency, greater stability, and strong ability to connect many devices at once, enabling newer and richer experience. For example, the three telecom providers are planning to offer as many as 50 new add-on services in their wireless plans, including augmented reality and reality, 4K video streaming and video calling, as well as cloud-based gaming streaming.
The carriers started their 5G plan application process on September 20 this year. Althought total applicants topped 10 million within 20 days, the carriers have yet to announce how many of them are selected.
Qualcomm estimated that there will be around 50 different smartphone models supporting 5G network by the end of 2019. According to an IDC report, Vivo leads the vendor market with 54.3% of the total shipments of 4.8 million during Q3 2019, followed by Samsung, Huawei, Xiaomi, ZTE and China Mobile with its white labeled smartphones. The top three accounted for 92.8% of the market share. The report also suggested that competition among 5G smartphone vendors is on track to intensify as China's 5G era comes in full force.