Consumption upgrade, a currently popular term in China, refers to the changing consumption behavior and the country's broader economic structure. In a sense, the term commonly referred to people buying better, more expensive, sometimes exotic stuff.
But throughout the world, as the economy experiences less-than-ideal growth, many people are buying cheaper stuff. The rise of Wish.com, a popular shopping website that features cheap and sometimes knockoff products made in China, has been a sign of that.
In fact, e-commerce platforms for cost-conscious consumers around the world are on the rise, while India may be the best market for the expansion of the model.
On October 11, low price e-commerce company Club Factory announced that it had raised 100 million dollars in the latest Series D led by Qiming Venture Partners. To date, the five-year-old company has raised about $220 million and boasts Bertelsmann, IDG Capital, and a few Fortune 500 companies as its investors.
Recently, the Hangzhou, China-based company eclipsed Snapdeal to rank among the third-largest e-commerce shopping apps in India, next to Amazon and Flipkart, according to a report by The Economic Times citing App Annie data.
Club Factory's rise coincided with Pinduoduo, the Chinese budget-friendly shopping website which recently surpassed search engine giant Baidu and fellow e-commerce company JD.com in terms of market value. Outside of Asia, San Francisco-based Wish, valued at $11.2 billion, has been the most downloaded shopping app in 2018 and is now the third-biggest e-commerce marketplace in the U.S. by sales.
Many of Club Factory's offerings share characteristics with Wish's: unbranded, trendy, and cheap. Average per-customer order value range from $6 to $8 on Club Factory, while Wish's are around $12. The merchandise on Club Factory is so cheap, that local YouTubers have long been making "Club Factory Haul"-style videos, where they show off how much stuff they can get for a relatively low amount of money, much like what U.S. influencers have been making with Wish.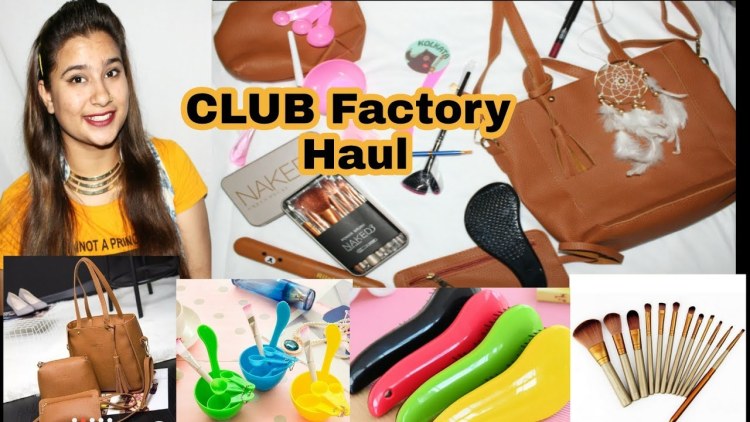 Club Factory aims to be more seller-friendly at this stage by offering its close to 200,000 sellers zero percent commission, thus allowing lower prices for end customers and merchants to make more on the platform. It claimed to have accumulated more than 40 million users in India.
Both Club Factory and Wish have offices in Hangzhou and were able to take advantage of the city's prosperous e-commerce infrastructure and abundant seller resources in surrounding regions in Zhejiang Province, China's product manufacturing and distribution hub.
Club Factory works with multiple local logistics companies that offer delivery service to India differentiated in speed and cost. "Normally, price-conscious users have weaker expectations for logistics," Aaron Li, founder of Club Factory, told PingWest.
Meanwhile, the company is working on improving its infrastructure in India, setting up five warehouses that cover roughly 70% of the nation's territories, and had successfully cut logistics time from 2 weeks down to one so that the growing demand can be met.
During the past Diwali Shopping Spree in October, the company saw orders increased by more than 700%, with traditional Indian clothing being the best performer, according to Li.
"Most of the sellers on Club Factory come from India, and the 'Made in India' products, which are mainly produced by small and medium-sized companies, account for more than 70% of our platform," said Li, who added that the company is still trying to improve on localizing its supply, as India becomes its most significant revenue market. Specifically, the company plans to utilize India's leather, electronics, and textiles, three prominent industries in the country that are most relevant to e-commerce, and sell more local products to local people. The plan also helps eliminate a portion of the China-India logistics cost.
The Indian e-commerce market is expected to grow to $200 billion by 2026 from $38.5 billion as of 2017. Much of the growth has been the result of the increasing penetration of the internet and smartphone. Revenue from the promising sector is expected to jump from $39 billion in 2017 to $ 120 billion in 2020, growing at an annual rate of 51%, making India the country with the fastest-growing e-commerce industry around the world.
Since 2014, the Indian government has announced various initiatives to promote the e-commerce sector, including basically removing the foreign direct investment limit in the sector to increase the participation from international players. Infrastructure-wise, the government pours tremendous investment into rolling out 4G and some 5G networks, serving to boost e-commerce in India.
"India holds a relatively welcoming attitude to overseas capital, and the country's foreign direct investment policy itself aims to make the local retail business healthier," Li told PingWest. "The market size and potential of India are still considerable, and we will continue to improve our presence here," Li added.