Founded in 2015, Singaporean startup Knocknock has served 3 million people and has become the No.1 on-demand laundry services provider in Singapore since 2016.
It is common in Singapore for families to hire domestic helpers with daily chores like laundry, as the country's GDP per capita was 57,714.30 USD, higher than that of other highly-developed economies in Asia such as Hong Kong and Japan. A report from Dollars and Sense estimate a total of 250,000 foreign domestic workers being employed in Singapore as of March, 2019, meaning that one in five Singaporean households employs one.
Different from most other laundry and housekeeping services providers, Knocknock chose the online-to-offline (O2O) business model.
Considering houses in Singapore are scattered all over the tiny country, opening conventional offline laundry stores is not a good idea, as staff at a store can only serve limited customers within a limited distance of generally 2 - 3 miles.
By developing a mobile app, Knocknock lets users put in orders and sends employees to pick up customers' laundry. After the laundry is done, employees will drop off the clothes back to the customers' homes.
In Singapore, one third of a traditional laundry shop's total revenue generally goes to rent and an additional 20% to labor. Knocknock, however, started operating without having its own laundry shop. Instead, it works with selected laundry partners, saving huge up-front cost for itself and giving the benefit of more business to laundry shop owners. It is estimated that even after factoring in operation and logistics, Knocknock is still able to keep more than 75% of its revenue.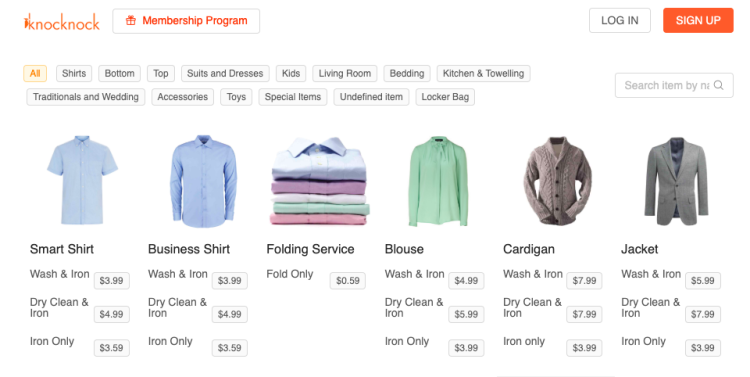 With a more competitive pricing than its local competitors, Knocknock grew its business rapidly and was soon able to expanded its services to match other household cleaning needs, such as curtain, carpet cleaning, home and office cleaning, upholstery and air-conditioning servicing. Its business thrived while other housekeeping companies in Asia withered.