WeChat Pay, the mobile payment service run by Chinese tech conglomerate Tencent, is causing fear in China's payment industry recently.
A September report from Shanghai Securities News, a state-run newspaper, suggested that one of the WeChat Pay recent changes to its policy may have been overstepping.
Last month, WeChat Pay added a second verification process, requiring businesses to link the WeChat accounts of their legal representatives, main financiers or business managers. New merchants will need to link their WeChat accounts starting from Sep. 10, while existing ones are required to finish the new process before the end of the year, should these businesses expect to continue using Tencent's service to process payments.
Analysys, a leading market research company in China, predicts that about 80% of brick and mortar businesses in China utilizes WeChat Pay. The service processed about 40% of China's 49.1 trillion RMB worth of mobile payments.
According to China's regulations, merchants' key information, like those mentioned above, can only be gathered by acquirers, a closely regulated group of financial institutions that process digital transactions such as mobile or credit car payments. In China, only UnionPay, NetsUnion(网联清算) and commercial banks are acting as acquirers. WeChat is not among them.
Tenpay, the Tencent subsidiary operating WeChat Pay, claimed that based on risk factors and user experience considerations, it has to reinforce the risk management of its services to merchants.
The legal basis of the move is a document released by China's Central Bank, the Article III of which emphasized that payment platforms shall carefully examine and verify the authenticity, validity, and the compliance of an account holder.
However, the move has triggered a wave of backlash in the payment industry, as some acquirers worry that WeChat Pay is moving into their business, and that the established system of mobile payment, in which payment solution providers like WeChat Pay and Alipay already have much leverage, might enter a new round of reshuffle.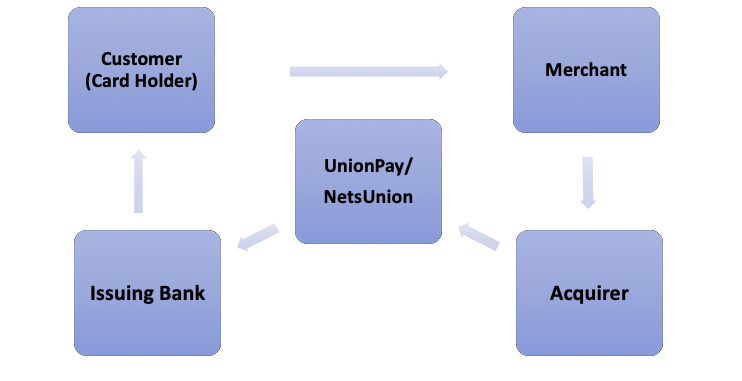 Speaking to Shanghai Securities News, an unnamed senior manager of a financial institution that act as an acquirer, said that "WeChat pay is more of an account institution that should not intervene in merchant's access permission and ID verification," adding that account institutions like WeChat Pay should only manage the risks of each transaction, not of the merchants."
For acquirers, main income comes from service commission from merchants at a rate of 3.82% give or take. They will further divide the income into three parts, giving less than 2.5% to WeChat Pay and roughly 1% to independent service providers, which are mainly local payment professionals that help merchants with printing their QR codes, setting up account with WeChat Pay or Alipay, etc.
WeChat Pay's rule change means that it becomes a substitute of acquirers, providing acquiring services to merchants. Thus, acquirers will not be able to earn incomes through commission.
According to the Shanghai Securities News report, the income of the independent service providers will also likely be affected because of the new rule.
Moreover, the rule change allows WeChat pay to directly process transactions between a customer's account and a merchant's account as they both are in Tenpay's system. This may also imply that UnionPay, China's largest acquirer, clearing institution, as well as the de facto financial regulation enforcer, would not be able to see through Tenpay's system and regulate its transactions like before. NetsUnion, another one of China's largest acquirer and clearing institution, will also be affected.
WeChat pay's reasons for adding a second verification of merchants seem reasonable, on the basis of the government document, but a more practical reason could be that it can benefit from the rule change from squeezing out acquirers to gain more revenues.