In China, where about 1.4 billion people lives, it is already widely known that several key exams spanning across a person's underage years are definitive in his or her future. Among them are the entrance exams to college, high school, junior high, and primary school.
Before you ask, yes. Even entry to primary schools are competitive enough now that schools host their own exams to find the most talented pupil. A popular saying goes that if a student improves score by one mark, he or she would defeat fellow nation-wide students enough to fit in a large playground.
That may explain why online learning has become a growing trend among K-12 students in China, as parents believe students who study more, earlier, and with the help of technology, smarter, will stand out in entrance exams.
China's K-12 online tutoring service market is rapidly expanding, doubling the size in just four years, according to data compiled by iResearch. And now, even major internet companies in China, especially those not historically invested in education, are capitalizing on the trend. Tencent, Alibaba, Baidu, three companies behind China's over-arching internet ecosystems, have been known for capturing every emerging field in tech, and online education is no exception.
Tencent, which dominated China's social network and gaming markets, was way back in the game in 2013, when it developed a payment solution for online courses in QQ, the dominant instant messaging service it copied from internet fossil ICQ. Online courses were available through QQ's chat groups, and its underlying features such as video and audio conferencing enabled teachers to give live courses to students.
The tech giant also partnered with New Oriental, China's very first Nasdaq-listed online education company, to co-develop a English-learning app called Uda for middle graders and college students. Leveraging Tencent-built optical character recognition algorithms, Uda allowed users to scan text-based questions with their smartphone and gets answers from New Oriental's database as well as its network of teachers.
With early investments in the K-12 market laying the groundwork, Tencent tweaked up its ambition to take on the sector at the company's Global Digital Ecosystem Summit in Shenzhen this year, where it announced 20 education products, ranging from online tutoring services for students and career development classes for adults, across all six of the company's business divisions, all under the same brand "Tencent Education".
According to Dowson Tong, Tencent's Senior Executive Vice President for its Cloud & Smart Industries, business divisions work closer together in making educational products than others, "the goal is to take advantage of technologies to upend traditional classrooms, help teachers better assess K-12 students and improve their learning productivity through different levels of customized teaching."
The Shenzhen-based company is also a major financier in the K-12 market. In 2018, Tencent led a USD300 million series-E+ round for Yuanfudao, a startup already achieving unicorn status. Most recently, Tencent is reportedly investing in VIPKID but backed out of the deal, according to sources.
Baidu entered the market with a different approach, setting up its online library of text-based educational content named Baidu Wenku in 2012, and later expanded it to form a portal for other types of content including video and audio. The search engine company also incorporated Zuoyebang, a mobile app backed by a startup, into its Quora-like Q&A platform Baidu Zhidao.
Most recently, Baidu led a multi-million dollars investment into Qkids, a platform offering online English courses for children aged between 4 and 12.
Sun Yan Biao, an analyst at market analysis firm iResearch, suggested that the idea behind Baidu's move into K12 English education is to expand its reach into various business lines and fend 0ff threats from Bytedance, which has forayed into Baidu's core business by setting up its own search engine.
In March this year, Bytedance made announcements to develop an online education business platform for K-12 students, with plans to hire large number of teachers, course consultants and operation specialists for the new venture. Bytedance's two existing education products, the first being Gogokid, an 1-on-1 English learning app, and aiKID, a live-streaming platform for language learners, haven't achieved much success despite heavy promotional efforts.
In 2014, Alibaba led a USD100 million series B for Tutor Group. It also teamed up in the same year with Peking University, one of the world's top universities, to launch an online course platform for the global Chinese-speaking audience and anyone interested in Chinese language and culture.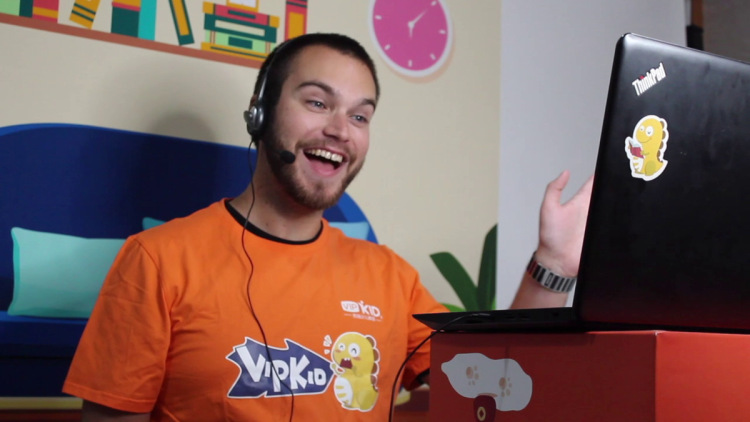 China's private education institutions have been actively seeking to ride the new wave of online education too.
VIPKID, founded in 2013 with Alibaba on the shareholders' table, provides online 1-on-1 English tutoring service aligned with elementary school curriculum in North America, and boasts real teachers with authentic pronunciation, sourced from over 60,000 qualified teachers mostly from the U.S., Canadam Indonesia and other countries. With a fresh USD500 million series D+ in June last year, the well-funded startup is itself a major contender in the online education business.
Online education is expected to grow into a $270 billion market by next year, according to iResearch. But the prominent industry isn't without its troubles.
Stocks in China's K-12 education sector suffered a slide on Sep. 3 after Liu Wei, president of China's Renmin University and a deputy director in an expert committee under China's Ministry of Education, suggested that authorities should ban education-related firms from sourcing funds from overseas.
Liu's comment targeted many prominent education tech companies. Due to China's ban on foreign investment in some critical sectors, Chinese startups have long been using a special structure called the Variable Interest Entity (VIE), setting up offshore entities to secure foreign investments and transfer the funds to Chinese entities, for that the local money scenes was once inadequate and that the founders and investors wanted these startups to go public in the U.S.
Though the government's official stance on Liu's comment isn't clear, it is still worth noting that while the tension between China and the U.S. is still high, many tech-related industries could be affected negatively by the unstable relationship, and online education isn't going to be an exception.