The race to robotaxi is officially on in China.
At the World Artificial Intelligence Conference (WAIC) in Shanghai, Didi Chuxing, China's current ride-hailing platform in China, said that it plans to deploy 30 self-driving cars in Shanghai's suburban Jiading District.
"Didi is likely to be the first company to provide large-scale robotaxis services in China," said Zhang Bo, Didi's Chief Technology Officer and head of the company's recently spun-off autonomous driving unit.
PingWest learned that one day before the WAIC kicked off, Didi acquired the necessary license to conduct self-driving road tests within Shanghai.
The company did not share detail as to how the robotaxi service operates and when will local users be able to fire up their apps and hail a self-driving car.
China is poised to become the most significant market for autonomous vehicles and technology. A McKinsey report found out that self-driving vehicles could account for 66% of the passenger-kilometers traveled in 2040, while more than a trillion dollars of revenue could be generated from mobility services operating on self-driving technologies. The consulting firm also expect the annual sales of autonomous vehicles to reach almost a trillion dollars in 20 years.
Given China's complex traffic environment, autonomous vehicles must adapt to road conditions and aggressive driving behaviors, which could hinder the adoption of the technology.
Jiading, the highly-industrialized district with high quality open roads on which Didi will be operating its robotaxi fleet, also hosts China's only Formula One track, the Shanghai International Circuit.
The green light from Shanghai authorities is another and the final step in Didi's road to commercializing self-driving technology. Cheng Wei, the company's CEO previously stated that in order for the public to accept the technology, a company would need to go through three steps, the first and second of which is to have a well-developed technology and sophisticated business scenarios.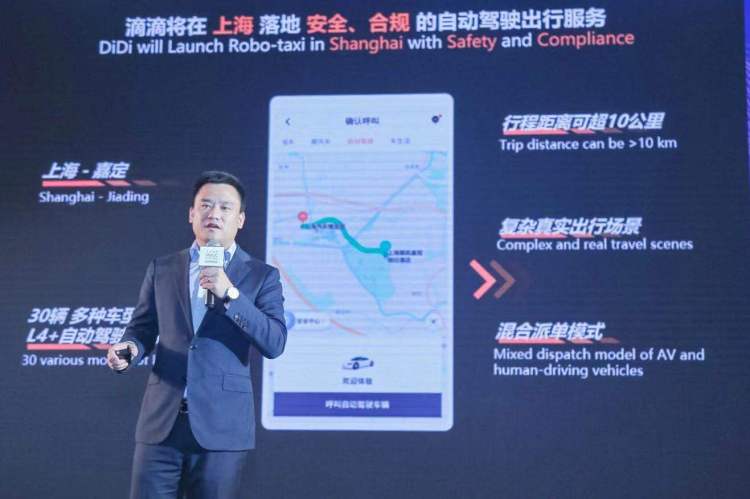 Much like what Uber and Google did, Didi spun off its self-driving unit to reduce the money-hungry business' negative financial effect on the company as a whole, paving the way for a potential IPO.
Zhang announced that Didi would inject more capital into the self-driving unit in the future. The company also expects to launch the robotaxis service in Beijing and Shenzhen, two cities with the most jammed streets in China, by as early as 2020; meanwhile, going to overseas markets is also on Zhang's mind, who opened the company's U.S. research office in Sunnyvale, California back in 2017.
Founded in 2016, Didi's autonomous driving unit has more than 200 employees in both China and the U.S., where it received a permit to conduct tests in California last year.
Zhang stressed that when working in fleet, robotaxi would become a better way of commercializing self-driving vehicles than sending individual cars onto the road. According to Zhang, human drivers make up as much as half of Didi's costs per ride.
Shanghai has been actively promoting self-driving road tests since 2018, and is the first city in China to open up enclosed areas and allow tech companies to test on public roads.
Moreover, when it comes to China, Jiading, where the joint venture between SAIC Motor and Volkswagen is located, has been the go-to place for global leaders in the automotive industry. Aptiv, the L4 autonomous driving company owned by Delphi, has its China Autonomous Mobility Center in Jiading and plans to test vehicles as well.
To sweeten the deal even more, Gan Pin, deputy director of the Shanghai Science and Technology Committee, said at the WAIC that the city plan to cut numbers of private cars by half within three years in the Jiading pilot zone, leaving more room and less traffic uncertainty for the self-driving companies.
How the city is going to achieve that is unclear.
In April, China's Ministry of Industry and Information Technology promulgated regulations for road tests of smart connected vehicles. The National Development and Reform Commission, China's top policy-making body, released guidelines in January stating that the country will grow into a global leader of smart cars by 2035.
Market research firm IDC predicted in a report released earlier this year that 30% of local governments in China will publish detailed rules and regulations regarding self-driving road tests by 2020 in accordance with the central government.