As is the tradition of PingWest, we will be hosting our annual technology conference SYNC 2019: Silicon Valley in Mountain View, CA, U.S.A by the end of this summer. This will be our latest flagship event in the Silicon Valley after many successful ones in Beijing, Hong Kong, Taipei, Ho Chi Minh City, Bali, London and all around the world.
This year's summit from PingWest features a speaker lineup comprised of high-level executives, engineering and research leaders from world-class companies like LinkedIn, IBM, Qualcomm, OpenAI, Google and Oracle, as well as a number of top investors from Northern California's venture capital scenes.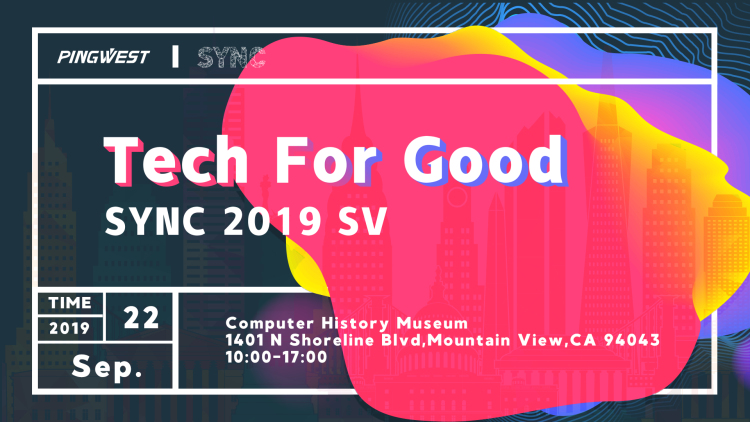 While we are still in the process of securing more speakers from the apex of the technology world, you are already in for a treat since the current lineup is no less of an all-star gathering. Check out our Eventbrite/ticketing page or official event info page on the PingWest website to learn more, but here's a glimpse of what you might get from SYNC 2019:
Listen to what Pieter Abbeel, a University of California Berkeley professor and advisor to OpenAI, the prestigious deep learning research institute, has to say on the topics of artificial intelligence.
Hear the story of former-CFO-turned-handicapped-robotics-expert using technology to improve not only many people's lives, but also his own.
Zhang Hansong, Niantic Inc's Fmr. Chief Scientist's candid share on why Pokémon GO, Ingress and Harry Potter: Wizards Unite became global hits.
Learn about how Kyum Kim, the co-founder of Blind made his app a Silicon Valley must-have in the age of job hopping.
Get an exclusive look inside Area 120, Google's in-house incubator through the eyes of Brian Liang, co-founder at Google Chatbase.
Plus in-depth talks from Sudeepto Roy, VP Engineering at Qualcomm Technology Licensing, Xu Ya, LinkedIn's Head of Data Science and Davy Wang, Technical General Manager at Tencent Cloud International.
SAVE THE DATE: SYNC 2019: Silicon Valley takes place on Sep. 22, 2019-less than a month away! In case you're interested to join but still contemplating, we got something to offer: Buy tickets now to enjoy early bird/promotional pricing, and save a few bucks. After all, our ticket price made this event close to a not-for-profit one.
Should you be in the region, you'd definitely want to check out this event. Will you be traveling to the U.S. around that time? If the answer is yes, we'd recommend you to make plans and stop by. Plus, you will definitely meet the writers and people behind PingWest's Chinese and English website. Also, you may want to keep this event in your browser tab and check back later when we print out our final agenda.
See you there at SYNC 2019!