Despite launching an artificial intelligence-centered strategy in as early as 2013, taking the lead among peers, Chinese search engine maker Baidu was criticized over the years for wavering over whether to take that strategy seriously.
Little known in the industry was that Baidu deep learning framework PaddlePaddle was developed and ready to use internally in 2013, two years earlier than the initial release of TensorFlow, Google's similar platform. However, it did not achieve major breakthrough until 2017.
During Baidu's early days of committing to becoming a company driven by advanced technologies, it gained, and lost shortly after, the support of a few top-tier scholars and industry leaders in deep learning, the driving force behind artificial intelligence.
Yu Kai, a former department head at NEC Labs, joined Baidu in 2012 to lead the development and production application of deep learning, and later on established Baidu's Institute of Deep Learning (IDL), the first-of-its-kind in a Chinese company. Andrew Ng, a world-class deep learning scholar, Google Brain's co-founder and Yu's long time friend, came onboard as Baidu's Chief Scientist in 2014. He brought in several of his students at Stanford University, whom made notable research contributions.
In 2017, Lu Qi, a former Microsoft Executive Vice President considered to be one of the few top tech executives with Chinese background, joined Baidu as Chief Operating Officer and announced the "All in AI" slogan.
However, after a few almost biannually corporate reshuffles, these talents' importance within the company faded away quickly. Much like many other distinguished researchers of Baidu's, they left the company after tenures lasting no more than three years.
On Wednesday, July 3, Baidu Create 2019, the company's third annual AI developer conference was held in Beijing. Theme for this year was set as the "intelligent transformation of industry".
Literally doused in water by a disgruntled member of audience, Robin Li, Baidu's founder and CEO, said during his speech that, "all kinds of unexpected things may happen on our way forward in AI development. But our determination won't change going forward."
This came after yet another huge executive reshuffle that happened less than two months ago, in which Xiang Hailong, a fourteen-year veteran in charge of the most cash-making search business, left the company bearing numerous misinformation scandals in his department.
Hours before Xiang's resignation, Baidu detailed delightable growth in its AI and cloud computing business in the most recent financial report.
Li's determination, combined with the financial report, sends a strong signal that Baidu is repositioning itself to stay as the leader in China's rapid growth of AI research and development.
At the conference, Baidu flexed muscles and announced new milestones and achievements in AI, including attaining nearly all existing self-driving test licenses in two separate Chinese cities, and new technologies such as an autonomous valet parking solution, an independently-designed audio chip to be used in smart speakers and cars, as well as a number of high-profile partnerships with top companies in the world, such as Huawei, Intel and Toyota.
A first for the company, Baidu released its low-power voice recognition chip Honghu (鸿鹄). The chip utilizes PaddlePaddle and can achieve far-field voice recognition and interaction. With little to no additional detail, collaboration between PaddlePaddle and Huawei's Kirin chips was also announced at the conference.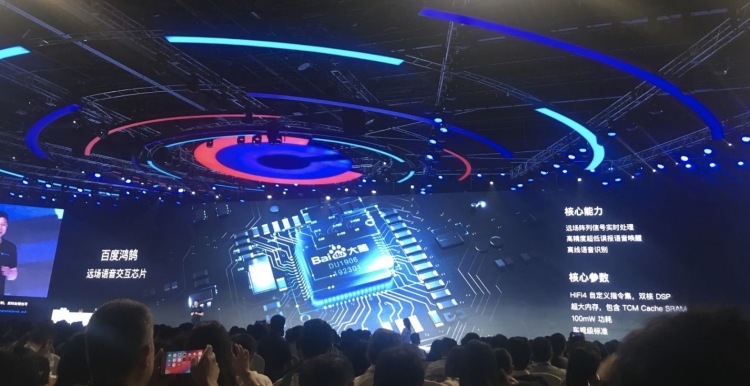 Baidu Brain, the company's overarching AI research project which was largely based on the now-defunct IDL, released its 5.0 version, focusing on the ambition to expand into commercial and industrial application.
On-site demo by Li showed Baidu's voice assistant performing always-on listening and working without activation keywords, demonstrating research advancements in deep learning model optimization.
The sales of Baidu's smart speaker, Xiaodu, has overtaken that of rivals', according to Jing Kun, Vice President of Baidu and General Manager of Baidu's Smart Living Group. New speakers were introduced this year, with added features like controlling smart appliances and contextual-aware smart replies.
On the self-driving side, the company announced a valet parking solution, utilizing on-car machine learning to search for parking spaces and perform automated valet parking. A number of carmakers have shown interest, according to Li.
According to a recent self-driving test report from Beijing transportation authorities, Baidu's cars were far ahead of competitors' in terms of distance travelled with self-driving mode enabled, as well as the number of test license plates received.
Li Zhenyu, Vice President and General Manager of Intelligent Driving Group at Baidu, announced that the company has teamed up with Chinese carmaker FAW Group to build and test autonomous-capable cars, adding to a statement last year that another local carmaker King Long has been mass producing self-driving buses with Baidu. The company did not issue an update on those buses.
Besides commercial applications, the company also noted that its AI has been contributing to humanitarian causes. More than 6,000 families have reunited with their missing members with the help of Baidu's facial recognition software.
(With additional reporting by Han Chen)