After getting everyone used to meal delivery in China, internet companies are going one step ahead, targeting those who still prefer to cook themselves: grocery delivery.
The new trend, championed by nearly every Chinese tech giant you can think of, is growing 40% year-on-year and could be worth 194.78 billion RMB or roughly 28.3 billion U.S. dollar, according to an iResearch report in 2017. Alibaba as well as other high-profile internet companies including Meituan and JD.com, are among the dominant players in this burgeoning industry.
Back in 2017, Alibaba launched a dozen grocery chain stores under the name Fresh Hema (盒马鲜生), with a large focus on fresh seafood. Fresh Hema later on expanded and now has more than a hundred storefronts. Its app promises a delivery time as little as 30 minutes.
In January 2019, local services provider Meituan launched its grocery shopping app (美团买菜) quietly in Shanghai, along with offline grocery stores to fill orders. In April, store numbers grew to 10 and allowed Meituan grocery's delivery time to be on a par with Fresh Hema.
Following Meituan, Suning, formerly a brick-and-mortar appliances chain store, also ramped up its grocery services (苏鲜生) earlier this year, leveraging its storefronts as pick-up locations for online grocery shoppers. Despite having less manpower, therefore taking longer to deliver than most competitors, the service promises fresher produce, from their places of origin to the closet storefront in less than a day.
JD.com, China's second largest e-commerce website in terms of sales volume, has been providing online grocery services for quite some time as well, but with no physical storefront set up.
Other data showed that the cold chain logistics market scale topped RMB 250 billion ($36.34 billion), up 28.35% yoy.
According to iResearch, adults between 26-35 showed the most appetite for using grocery delivery services. The report also showed that 43.6% of the people who've used the service have monthly income higher than 8,000 RMB ($1,165), and that families with monthly income over RMB 30,000 ($4,370) use the service four times or more per week.
These indicated that young middle class members in China are the major customer group for grocery delivery.
The report showed that the average size of online orders is 85 RMB ($12), compared to that of physical purchases, which is around 120 RMB ($17). However, as the online grocery business grows, order size is poised to increase, since the report also found that price is not the most important factor for online grocery consumers.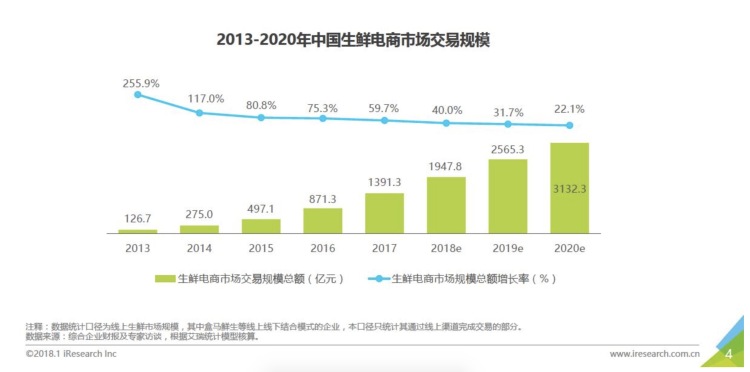 Chinese tech giants are taking on the booming business differently. Alibaba took the route of a grocery-restaurant hybrid, offering both delivery services and satisfying in-store experiences, such as on-site cooking and dining.
Started from a fresh seafood seller, Fresh Hema has now expanded its inventory to include raw meat products, vegetable, as wellas other general items such as kitchen appliances and care products.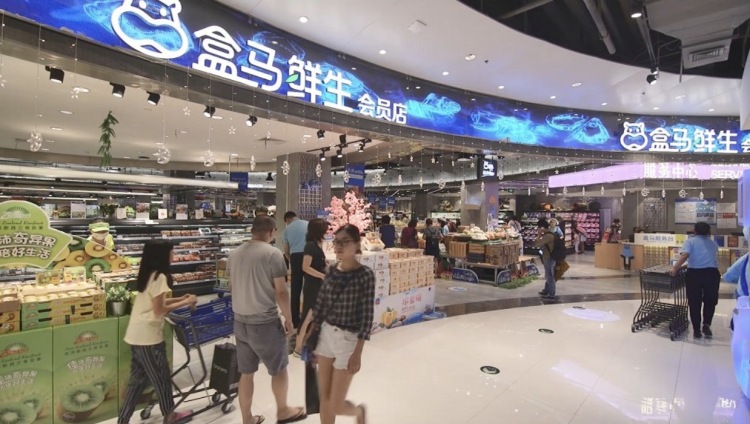 JD.com fresh food took advantage of its large and comprehensive e-commerce platform to set up an independent online grocery channel. It attracts merchants by offering internet traffic to them as an inherent advantage, saving them the costs to obtain new customers.
Since JD.com doesn't have its own physical storefronts, it has teamed up with well-known supermarket chains such as Walmart, Sam's Club and Yonghui Superstores. When customers shop for groceries on JD.com's website, they can choose to have the products sent from the closest supermarket. JD.com's more than 60,000 couriers can take it from there deliver to customers' doorstep usually in an hour.
What Suning has been doing is similar to that of Fresh Hema. The company has committed in 2018 to open 1,500 storefronts with restaurant zones (苏宁小店).
To supply these storefronts and increase efficiency, Suning is also planning to build "frontier warehouses", smaller-sized and densely distributed fulfillment centers in urban areas, with each covering several nearby locations. Depending on the situation, these frontier warehouses can also act as storefronts.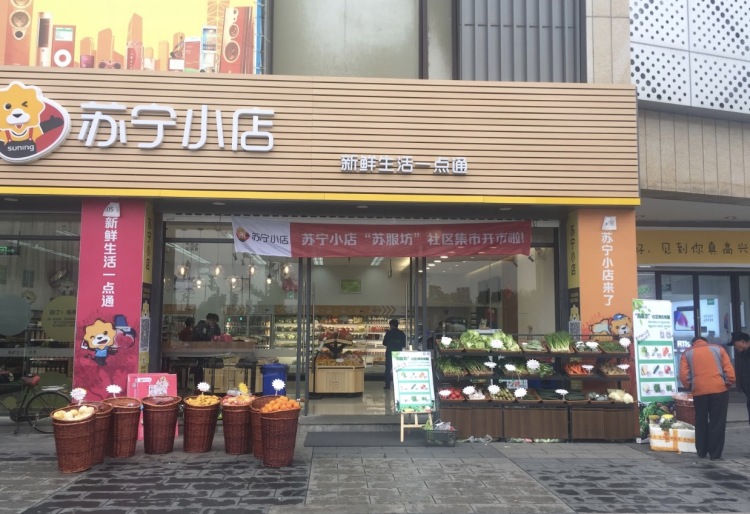 Earlier this month, Suning acquired 80% of Carrefour China's stake. By owning a majority share of the French retailer's Chinese operation, Suning has just gained a significant boost in expanding its grocery-related businesses. Carrefour has roughly 200 supermarkets in China.