Sneaker Con, known as "the greatest sneaker trading and reselling trunk show on Earth," was held in Shanghai on May 18-19, for which tickets sold out in minutes. Alan Vinogradov, co-founder and CEO of Sneaker Con, said it will be the biggest show they've ever produced, and China is going to continue to have a greater influence in the sneaker market.
Currently, China's sneaker resale market is flourishing. Platforms like YoHo!Buy UFO, Poizon and Shihuo enjoy the highest popularity among sneaker fans.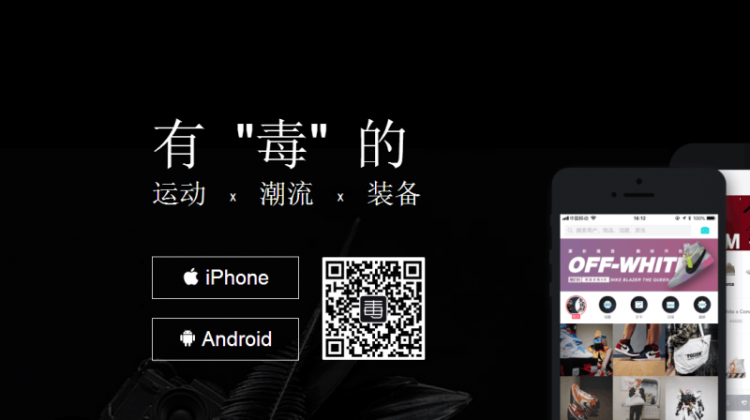 Poizon was founded in 2015 as a sneaker-reselling online platform, but now it offers anything from streetwear to luxury watches and smartphones. The platform works in a simple way: A seller posts a pair of shoes and interested buyers can either bid on it or pay a fixed price to purchase it immediately. Once the customer pays for an item, the seller sends it to Poizon for authentication and, if it passes, it'll be on its way to the customer within a couple of days.
As for Shihuo, it operates in a different way, more like a shopping recommendation platform. A dazzling array of shoes is listed on the website, as long as the purchase button was clicked, it will automatically jump to the third-party platform, Taobao (China's biggest e-commerce platform owned by Alibaba). The transaction between users and Taobao retailers has nothing to do with Shihuo. However, it does assure the user that the shoes of the recommended store are not fake, as they always run a regular check on the sellers.
YoHo!Buy UFO is another top player. It's worth mentioning that the entire identification process of the shoes was recorded on the blockchain by the company, and all certified shoes will be labeled with the platform's NFC label. Once the customer receives the sneakers, the NFC chips can be scanned to reveal the whole verification process.
"At present, the sneaker reselling platform is like a stock exchange, and different shoes are equivalent to different stocks...." Nate Guo told PingWest. "I collect shoes for the love of basketball and the NBA stars, not to show off. A couple of years ago, no one paid so much money, far exceeds the original price, to get a pair of shoes."
Born in 1985, Nate has been collecting sneakers for 10 years. In the senior sneaker fan's mind, the essence of the original sneaker culture is fading; meanwhile, Generation Z plays a significant role in the sneaker trading industry.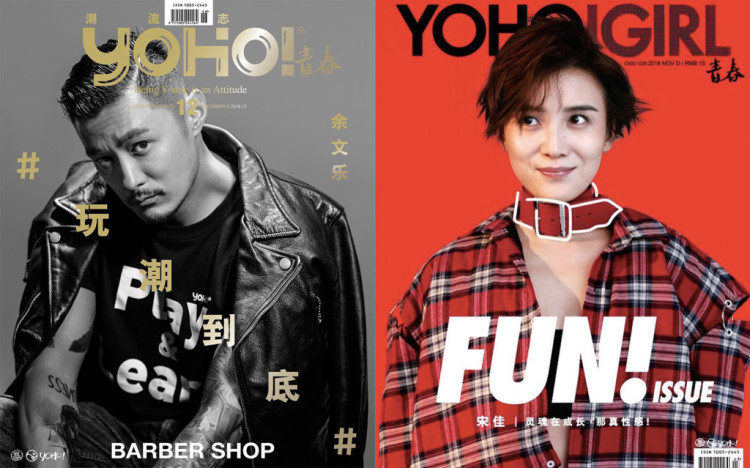 With the rise of street fashion in China, a growing number of young people purchase shoes to catch up with the trend. They are confident, carefree, and spend over US$7,000 a year on luxury goods. It is widely believed that they are the next 'powerhouse' of China's consumption economy since this group of people is more willing to spend money on their hobbies.
Personalized demands are imprinted on them. "Wearing a pair of cool shoes makes me distinguished. I have to admit that a little bit of vanity exists. When I got a pair of sneakers while others couldn't buy it, I feel like treading on air." Sheng Jie, the 21-year-old college student, told PingWest. "I have to buy at least two pairs of sneakers every month, all via the online platforms, and my friends are almost the same," he added.
Financing has become extremely stressful for startups when China is facing a dilemma of slow economic growth. Nonetheless, Poizon completed the latest funding round in April, led by Digital Sky Technologies (DST), which also invested StockX, one of the top sneaker reselling platforms in the US. After the new round of financing, Poizon's valuation has reached 1 billion US dollars.
Shihuo also got financial aid. Hupu, the parent company of Shihuo, just got $182 million from Byte Dance, world's biggest unicorn that owns TikTok. It's noteworthy that Hupu is a leading Chinese sports content platform which incubated Poizon.
Speaking of UFO, its owner YOHO Buy had already received tens of millions of dollars in series E+ funding round in October 2018.
Foreign sports shoes resale platform also noticed the Chinese market. Highsnobiety, the fashion media, published a report in 2019 saying that in the near future, for resale businesses that also means entering Asia — China mostly importantly — in a big way.The country's Gen Z demographics contribute to the sneaker resale boom.
GOAT is one of the top sneaker trading platforms in the US, and it also intends to expand its footprints to China. According to the firm, orders from Chinese customers ranked the top five of the total.
"To be honest, I understand why customers from China prefer international platforms like GOAT. They believe in our reputation. Chinese buyers often trust the shipping orders from the US instead of local delivery orders," said Eddie Lu, co-founder of GOAT.
The data from StockX is even more impressive: in the past week, 48% of the Air Jordan 1 Mid orders on the platform were sent to China. Josh Luber, CEO and co-founder of StockX, have said that the company is looking for a strategic partner from China.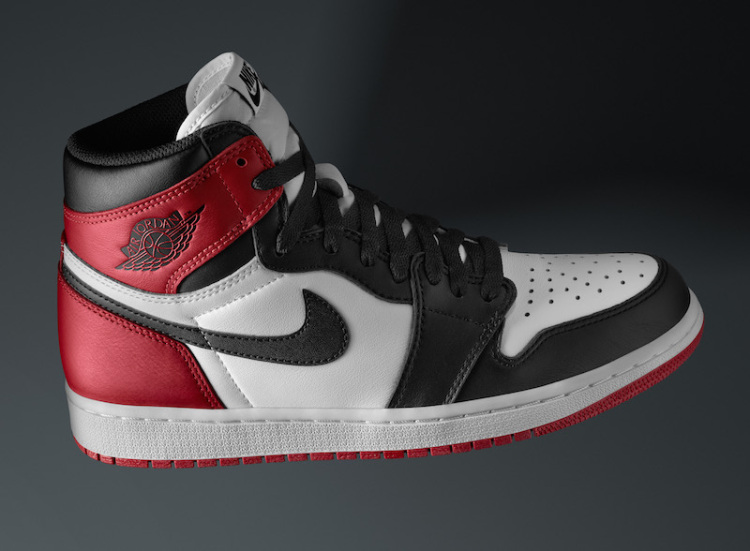 Before GOAT and StockX showing interests in the Chinese market, Stadium Goods, one of StockX's primary competitors in the US, has already teamed up with Alibaba's Tmall to run an online store in China. However, the sales of sneakers are far behind Poizon. Taking Air Jordan 1 Retro High OG-Black Toe for instance, 60 pairs were sold on the Tmall store of Stadium Goods; in the meantime, the sales of the sneaker reached 8309 pairs on Poizon's platform.
Therefore, it can be seen that it's not easy for foreign firms to occupy a dominant position in the Chinese sneakers reselling industry.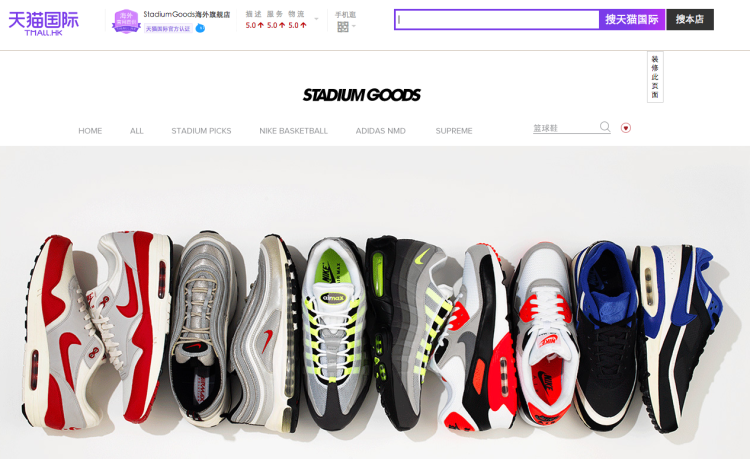 For the sneaker enthusiasts, they are eager for the coming of these American platforms. Nate, the senior collector, told PingWest that usually, the US would take more than 40% of the total when the latest version of sneakers released, however, very few shoes can be obtained by Chinese market. In terms of price, after the import tariff, the initial selling price of the sneaker in China is often close to that on the secondary market price of American platforms, or even higher.
Besides, the extent of made-in-China counterfeit is beyond imagination. "There is a funny saying that Putian, the center of the fake shoe industry, has produced 200% of the world's New Balance sneakers. That is crazy!" Nate joked. He also mentioned that some Putian suppliers collude with the domestic platforms, including Poizon, Shihuo and UFO, pass a fake product off as a genuine one. Such an ecosystem has led domestic sneaker lovers and customers to be passive for a long time.
Nate said he is now more likely to purchase shoes on overseas websites. "Utilizing blockchain technology to record the entire process is useless because you never know the dirty secrets between the platforms and the Putian sellers," he added.
China's market is very different from that of the US. E-commerce giants eBay and Amazon were defeated by the domestic platforms in China. Still, the future development of these American sneaker reselling companies in China is unpredictable. However, it is always beneficial for Chinese customers to have more choices.