June 18 is China's mid-year shopping festival popular among young people. It was created originally to celebrate JD.com, the second largest ecommerce platform's founding anniversary, while other ecommerce platforms and retailers, including Taobao, Pinduoduo, Suning, and more, have joined the carnival as well to promote sales of their products.
As the June 18 annual event just past, each online or offline retailer released their reports immediately.
JD.com reported its sales reached RMB 201.5 billion ($29.19 billion) within just 24 hours from 12 am on June 18 to 12 am on June 19. Such a tremendous amount of sales were generated by 750 million people from all over the world.
Moreover, Taobao, China's largest ecommerce platform, overturned JD.com to play the leading role this year, in spite of the fact that this annual shopping day is created by, and for JD.com. Taobao officially said over 100 brands, including both overseas and domestic ones, saw their sales surpassing that on November 11, also known as 'Double Eleven', last year, which was China's 'Single Day' that became a trend on which day people shop to celebrate their being single.
All B2C platforms or retailers reported strong results for the 6.18 shopping gala. Furthermore, what's noteworthy is, data shows that China's domestic brands are becoming more and more popular.
In only the first hour of 6.18 promotion, nine brands hit RMB 100 million ($14.5 million) in sales: Apple, Chinese electrical appliance manufacturer Midea, Nike, Chinese air conditioner maker AUX, Chinese electronics and home appliance maker Haier, French cosmetics company L'Oréal, French cosmetics company Lancôme, Adidas, and Chinese electronics company Xiaomi. In the 23 hours that followed, there were additional over a hundred of brands joining the "RMB 100 million" club, such as Chinese smartphone makers VIVO and OPPO.
As of the end of June 18, sales of more than 110 brands were over RMB 100 million, 60% of which were Chinese domestic brands, according to Taobao official announcement.
These brands with outstanding performance are in a variety of departments, ranging from home appliances to cosmetic make-up items.
As stated above, Chinese home appliance giants, Midea, AUX, Haier, and electronics maker Xiaomi are the spearheads who broke into the "RMB 100 million" in sales team. Probably because the unit price of these items are more expensive than cosmetic items and other smaller items that their sales soared faster, but brands of clothing, cosmetics, food and others crossed the RMB 100 million mark afterwards.
Reasons for Consumers to Buy Domestic Brands
The incredible increase in sales of different various items are essentially due to the following ones:
Many companies chose to launch new products during the 6.18 promotion, For example, the sporting and athletic goods company Li-Ning partnered with Tmall, which was spun off from Taobao to sell brand name goods, to launch a new line for fashion shoes - Counterflow - right before 6.18. This new line was so popular that it boosted the sales of Li-Ning dramatically to over RMB 100 million.This strategy revitalized Li-Ning from suffering a three-year loss, making up its deficits and getting it a surplus.
Over 80% of brands release new products during 6.18 every year. Additionally, over half of Tmall users buy new products, according to Retailer Inner Reference, which added that the 80's generation and 90's generation accounted for 74% of the total buyers and 76% of the total sales. Cooperating with Tmall is a well-known strategy among retailers to attract users, especially young adults.
Some products added new features to improved and reformed the old models to upgrade single-featured goods. For example, wind free air conditioners, multi-function dishwasher which can wash, dry, and disinfect dishes, electronic water heater which can filter water as well, and many more, were sold extremely well. Sales of the new-type dishwasher increased 300% yoy on JD.com, and that of electric water heater even soared 646% yoy on JD.com.
Specialized and Differentiated Products
The vintage-style mini refrigerator is popular since last year. This product is specifically to store makeup items. From 12 am to 10 am, June 18, 2019, sales of it increased over 260% yoy on JD.com.
Besides, JD.com also launched washing machines with infant & mom clothes washing feature, in order to prevent the spread of bacteria from adults to infants.
Moreover, this reason applies to cosmetic goods industry, as differentiation plays a more and more important role in brand power, up from 13% in 2007 to 22% in 2017, and in premium, up from 38% in 2007 to 51% in 2017, according to the BrandZ data from UK-based world leading research, data, and insight company Kantar.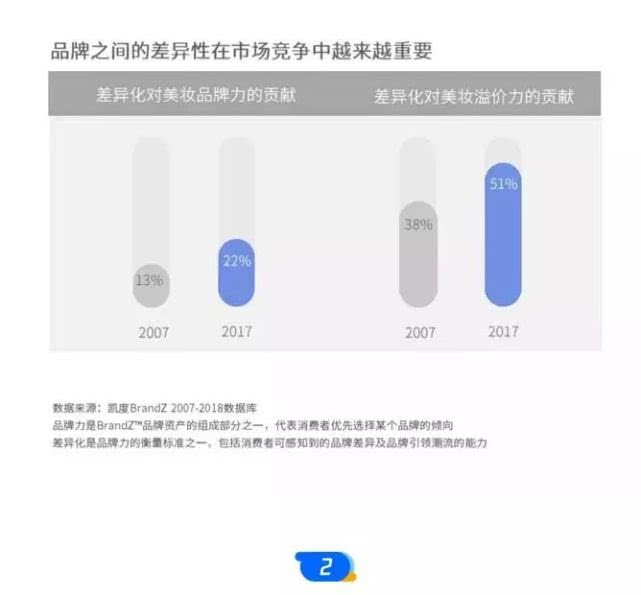 There is no doubt that home appliance is becoming more and more intelligent. For example, range hoods made by Robam can be controlled by a man's waving hands. Additionally, Xiaomi 65-inch MI smart TV was sold more than 20,000 within just two minutes starting from 12 am June 18.
Chinese people consider the function of products the most important factor of whether to buy them or not, according to statistics from the 2019 Chinese domestic cosmetic products insight report, while the factor of brand only accounted for 17% percent in comparison. Following the function of products is users experience of the product, indicating that Chinese people care more about whether the products are good in function and quality, rather than whether it is a world-renowned brand or not.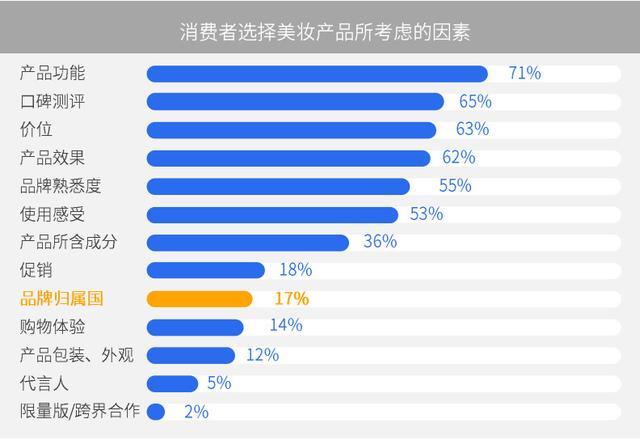 A number of new-created cosmetic brands, mostly niche brands, did an excellent job during this 6.18 promotion, such as Helius, Perfect Diary, and Huaxizi, all of which were founded in 2016 or 2017, just two years ago. They saw their sales grew dramatically: 2128%, 1192% and 7580, respectively, on Tmall. Moreover, Prefect Diary topped the cosmetic products sales ranking during 6.18 promotion.
From the Chinese domestic cosmetic report, it apparently shows that consumers are not price sensitive, if not taken it super seriously, for the indicator of it ranks the third, lower than product functions and reputations, meaning that they are willing to pay more for a better production.
In conclusion, diversity, differentiation, good quality, intelligence, and innovation of products make Chinese domestic brands more competitive and powerful compared with world famous brands.