From late May to early June, Huawei was dealt hard blows by a number of well-known multinational companies and global tech associations based in the United States.
In order to comply with the latest sanctions ordered by the U.S. Department of Commerce, Google, Arm, Intel, Qualcomm and Microsoft severed active partnerships with the Chinese company, while FedEx diverted several Huawei parcels to China and other Asian offices to the U.S. without noticing ahead. Additionally, the prestigious tech association Institute of Electrical and Electronics Engineers (IEEE), the Wi-Fi alliance, and the SD Association which is in charge of setting standards for the widely used storage card, all froze Huawei's membership.
However, a few of them quickly backtracked on their decisions to ban Huawei, which led to a confusing situation for them: should these US-based entities continue to comply with the regulation? And if so, which way is the correct way to go about it?
Coincidentally on May 24th, Wi-Fi Alliance, SD Association, microelectronics association JEDEC, and the Bluetooth Special Interest Group (Bluetooth SIG), four of the world's most important technology standards setting bodies struck Huawei's name off their membership lists. Even though they are mostly recognized as standards setting bodies and mechanisms for global companies to cooperate within, for which they should be immune to the U.S. government's sanctioning order, all of these associations are headquartered in the country, and are championed by major U.S. companies such as Broadcom, Intel, AMD and Kingston.
Being outside of the key tech associations would most unlikely forbid Huawei from using the technologies they represent, but prevent the Chinese telecommunication giant from having a say in developing standards for these technologies in the future.
Yet only five days after delisting Huawei, the aforementioned associations quietly reinstated Huawei as their member, backtracking from the less-than-a-week-old decisions.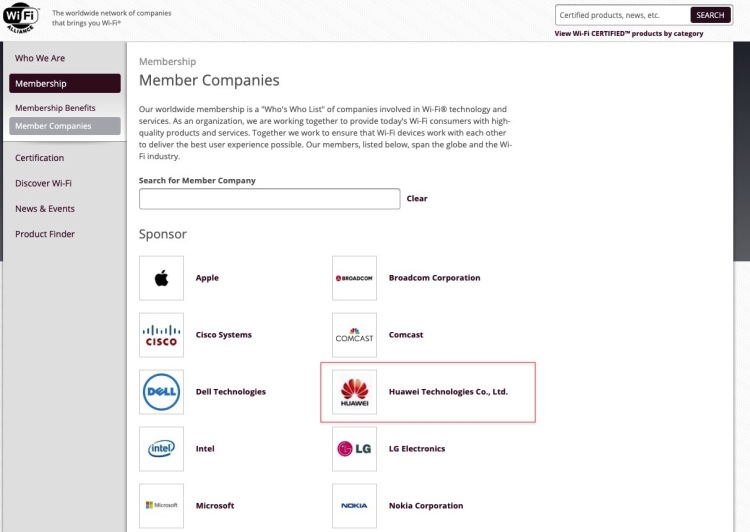 A spokesperson for SD Association said in an emailed statement sent to CNET that "Huawei's membership was never cancelled, it has been temporarily modified to ensure compliance with the US Department of Commerce Order. The name was missing from our website earlier due to a technical issue."
Wi-Fi Alliance claimed similarly via email that Huawei's membership "was not revoked, but its participation in specific activities was "temporarily restricted" to comply with the Commerce Department's order."
People familiar with the matter told the Chinese media The Paper that Bluetooth SIG and JEDEC each decided to "suspend Huawei's membership in compliance with the U.S. order, and would restore its membership after finding it is safe to have Huawei back."
IEEE, the world's top association for computer scientists and electrical engineers, did the similar. On May 29th, it banned Huawei employees from reviewing papers and technical documents submitted to the association, but lifted the ban on June 2nd, after several of its key individual members voiced strong opposing opinion.
IEEE stated that it requested a clarification from the DOC, which in response said that "employees of Huawei and its affiliates may participate as peer reviewers and editors in our publication process."
Different companies and organizations deal with Chinese companies like Huawei in different manners, but the existence of Export Administration Regulations (EAR), a list of entities falling into U.S. export control, is more of a general ban on entities, rather than a detailed guidebook for U.S. organizations on how to deal with Chinese companies from then on. It is clear that when the U.S. Department of Commerce issued the ban, organizations like IEEE were much confused to say the least.
But it doesn't get more dramatic than what FedEx experienced in the last few days.
The U.S. logistics giant intercepted four Huawei packages in total, of which two were sent from Japan and to Huawei's China offices, and the other two sent from Hanoi, Vietnam to separate addresses in Hong Kong and Singapore.
The two Japan-oriented packages were sent by a supplier to Huawei in Tokyo on May 19th and 20th, respectively, but were rerouted on May 23th to Memphis, Tennessee, where FedEx's headquarters were located. The two Vietnam-oriented packages were sent on May 17th by one of Huawei's shipping agents, one whose Huawei was not willing to spell out likely to avoid being put on the sanctions list, but were detained after arriving in Hong Kong and Singapore on May 21th. Huawei claimed that FedEx attempted to divert the two packages to the U.S., too.
FedEx China initially denied intercepting and rerouting the parcels on May 23th via a post on China's Twitter-like Weibo. However, it changed tone five days later on May 28th admitting that a few parcels from Huawei were indeed "misrouted in error" to the U.S., but denied any outside party ordering the rerouting.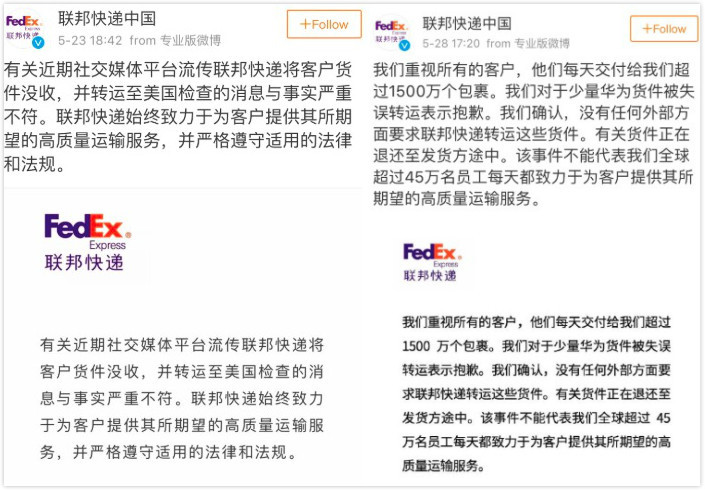 Huawei parcels' misfortune soon attracted Chinese government's attention. According to China's state-owned television network CCTV, FedEx is being investigated for violating consumer rights under Article 25 of China's Interim Regulation on Express Delivery.
The regulation specified that "express delivery business should deliver the consignment to the agreed receiving address, addressee or a third person designated by the recipient, and inform the recipient or third person on the consignment's arrival. The recipient or the third person has the right to check the consignment in presence of the delivery man."
FedEx had trouble deciding whose order should it adhere to. People familiar with the matter told the Wall Street Journal that FedEx's revision of its internal protocols to comply with the Huawei ban caused the rerouting of Huawei's two parcels. Now with the parcels enroute back to Huawei, FedEx is abandoning its original decision to comply with the Trump Administration's sanctions on Huawei.
Last week, China's retaliation against the American crackdown on Huawei went a step beyond. Chinese government announced the establishing of "unreliable entity list", the equivalent to EAR. The Chinese list would contain foreign firms which "severely damaged the legitimate interests" of Chinese firms by violating market rules, breaching contracts, and causing potential national threat to China's security.
All the chaos indicated that even leading American companies and tech organizations face challenges tried to fathom if they should follow U.S. orders, and more importantly, how exactly they should do that. It makes sense that these entities need to avoid legal risk, obey the local laws and regulations while protecting the interests of their members and themselves.
Ultimately, it is the U.S. government's responsibility to provide guidelines. Unfortunately for these entities, this Administration hasn't been sufficiently good at that.