This week, Ant Financial's Technology Exploration Conference (ATEC) was held jointly with Money 20/20 in Singapore, the first time for both to be hosted in Southeast Asia, and thus a special opportunity for Ant Financial and the region to get better acquainted.

This was also only the second time that ATEC has been held outside of China, the first occasion being in Silicon Valley this past January. This time, Ant's own specialists and some of its key partners were on hand to lay out a roadmap to greater financial inclusiveness and equal opportunity for the world.
Following a brief introduction from Ant's CTO and International Business Group COO, Cheng Li, on the company's five-point BASIC strategy (blockchain, AI, security, IoT, and computing), Giri Jadeja of IFC took the stage to provide a look at the big picture of what is at stake for Ant Financial and its partners: today, there are some two billion in the world who remain unbanked and excluded from the privileges and financial opportunities enjoyed by others.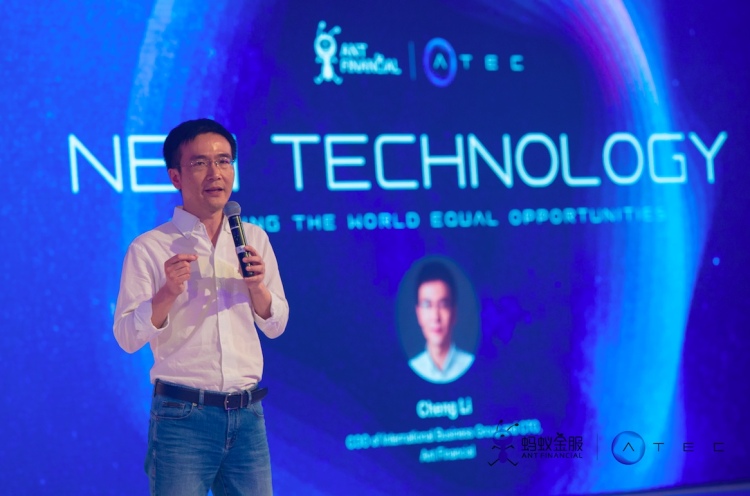 Sopnendu Mohanty, of the Monetary Authority of Singapore, then sat down for a chat about how Singapore itself is meeting the tide of technological change head on, with forward-thinking policy that means to leverage AI and blockchain to turn the city state into a Smart Nation.
Next, a series of speakers from Ant Financial's own technology labs went in-depth on the separate dimensions of their BASIC strategy. In the past year, Ant Financial has put AI to use in smart finance, automated insurance claims adjustment through image recognition, AI customer service, and more. Ant Financial's aim to give AI "financial-grade" capabilities, and it has made significant strides with deep learning, image and sound recognition, and natural language processing that could all enhance financial services. Already, customer satisfaction with the company's AI-powered customer service system is higher than that for human service agents.
Everyone's current favorite, blockchain, is also on the list. Ant Financial's blockchain platform is being put to use for transparency in food provenance and supply chain verification, as well as checking that charity donations go where they are meant to. Cheng Li emphasized that Ant's blockchain applications are all practical; none of them are related to cryptocurrency.
Ant Financial has also spent recent years advancing a shared and open payment system architecture, which can be extended for the use of its partners, including banks and other financial institutions. Particularly in the Southeast Asian region, this platform has already won over a number of other players.
Finally, Ant FInancial's International Business SVP Doug Feagin was joined by the CEOs of four separate payment firms from four different countries, representing the span of Southeast Asia's fintech industry: Anthony Thomas of Mynt (Philippines), Punnamas Vichikulwongsa of Ascend Money (Thailand), Syahrunizam Tan Sri Samsudin of Touch 'n Go (Malaysia), and Vince Iswara of Dana (Indonesia).
ATEC is Ant Financial's largest regular technology conference. The inaugural event was held in October, 2017, in Hangzhou. It is a presentation of Ant FInancial's technical advancements and insights to a global audience of partners and technologists. Following turns in Silicon Valley and Singapore, ATEC will next be paying calls on other global financial centers, including London, to continue sharing the company's work and mission to transform fintech.